Politics
AG Campbell certifies ballot questions on MCAS, rent control
Andrea Campbell's certification was the first major step, but more hurdles remain before these questions can be put before voters next fall.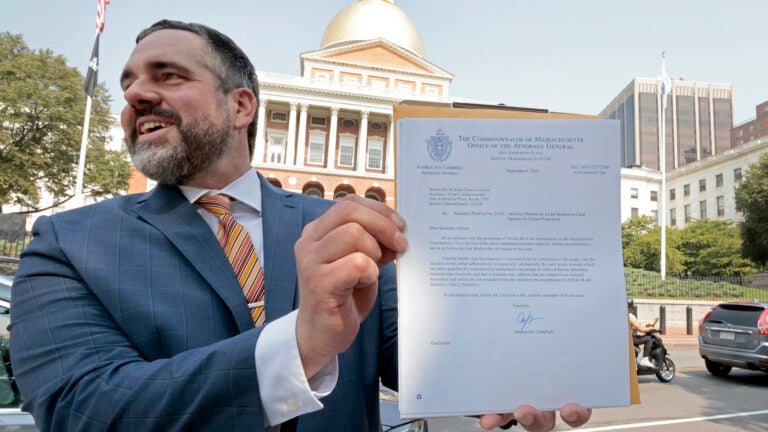 After about a month of deliberation, Attorney General Andrea Campbell announced Wednesday that her office had certified a slew of ballot questions, including one about eliminating the MCAS test scoring as a graduation requirement for students and another about undoing the state's ban on rent control.
Proponents have been waiting to see if Campbell's green light would come through, allowing them to take the next steps toward adding their questions to ballots in the fall of 2024. Now, those behind the proposed laws must gather just short of 75,000 voter signatures by Dec. 6. If that hurdle is cleared, the ballot questions would need to be reviewed by the Legislature beginning in January. More than 12,000 additional signatures would then be required by early July.
Other notable questions certified by Campbell include one that would allow State Auditor Diana DiZoglio to audit the Legislature, and others that concern how app-based rideshare and delivery drivers are classified.
Of the 42 initiative petitions that Campbell's office reviewed, 34 were certified, meaning that they met certain constitutional requirements. This includes 31 proposed laws and three proposed constitutional amendments. Campbell's office reiterated that certification does not represent support or opposition to these policies.
The measure to remove MCAS as a barrier to graduation was backed by the full weight of the state's largest teachers union. The Massachusetts Teachers Association has made an opposition to "high stakes" testing a core component of its work. The MTA has argued that using MCAS as a graduation requirement disproportionately impacts students of color and those with individualized education plans. Opponents of the test also argue that it causes educators to "narrow" their curricula by teaching for the test specifically. Massachusetts is one of only eight states that requires students to pass a standardized test to graduate from high school.
If passed, the measure would not eliminate MCAS altogether. Students would still have to take the test in 10th grade, and those that do not pass would be required to take it again in either 11th or 12th grade. Instead of using MCAS scores as a graduation requirement, school districts would have to implement their own "locally developed alternatives for certifying academic mastery."
The proposed law would also allow former students who were denied a high school diploma because of poor MCAS scores to receive their diploma if they met all other requirements. Information about a student's MCAS performance could not be included on their official high school transcript without their written permission.
In 1994, Massachusetts voters opted to effectively ban rent control. Now, State Rep. Mike Connolly is hoping to give voters the chance to bring it back.
Connolly filed the petition as a private citizen last month. It would give voters the power to eliminate the ban on rent control and replace it with a new law that gives local officials the power to implement tenant protection measures how they see fit.
Earlier this year, Boston Mayor Michelle Wu introduced her own plan to introduce rent control to the city earlier this year. It was approved by the City Council, but has so far stalled in the State House.
Connolly's petition was met with stiff opposition from the Fiscal Alliance Foundation, a government watchdog and advocacy group that argued it violated parts of the state constitution.
Newsletter Signup
Stay up to date on all the latest news from Boston.com