Politics
RFK Jr. is running as an independent, so who does that hurt? An expert weighs in.
Robert F. Kennedy Jr.'s announcement could throw a monkey wrench into the 2024 presidential election.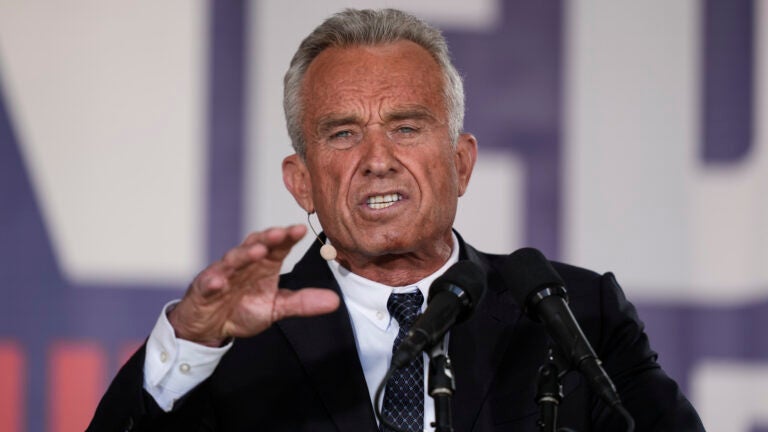 Attorney Robert F. Kennedy Jr. pivoted Monday, announcing that he would no longer run for president as a Democrat, instead pursuing the Oval Office as an independent. Although Kennedy's bid is still very much a long shot, his move could have major implications on the race.
As the country prepares for a likely rematch between Joe Biden and Donald Trump in 2024, Kennedy appears ready to relish the opportunity to make both parties sweat.
"The Democrats are frightened that I'm going to spoil the election for President Biden, and the Republicans are frightened that I'm going to spoil it for Trump," he told a crowd of supporters in Philadelphia Monday. "The truth is, they're both right. My intention is to spoil it for both of them."
Recent polling shows that Biden and Trump both have a solid base of support within their parties and are neck-and-neck with each other. But 14% of voters say they dislike both of the leading candidates, according to a PBS NewsHour/NPR/Marist poll. That data also shows that 17% of voters would vote for a third-party candidate over either Biden or Trump.
Third-party candidates have influenced elections in the past. Green Party candidate Ralph Nader, who in 2000 siphoned more votes from Democrat Al Gore in Florida than Republican George W. Bush, arguably swung that election in Bush's favor. In 2016, support for Green Party candidate Jill Stein may have tilted the election in Trump's favor in a few key swing states.
Kennedy's independent campaign might have similarly huge consequences, according to Thomas Whalen, an expert in modern American politics at Boston University.
"RFK Jr. potentially could have a huge impact in what surely is going to be a close presidential contest next fall. He could play the role of spoiler, and at this point it would seem he'd draw more voters from the Trump column due to his anti-vax views and bizarre conspiracy theories which are popular among the Republican rank and file. Even if he attracts only one percent of the popular vote in battleground states like Wisconsin and Pennsylvania, that would be highly significant," Whalen said.
Kennedy's conspiratorial views do appear to be more appealing to Republican voters. In a hypothetical general election between Biden, Trump, and Kennedy, 9% of self-identified Democrats would vote for Kennedy compared to 13% of self-identified Republicans, according to a recent Reuters/Ipsos poll.
Republican officials are already denouncing Kennedy, telling voters that he should not be seen as a person with conservative ideals.
"Make no mistake — a Democrat in Independent's clothing is still a Democrat. RFK Jr. cannot hide from his record of endorsing Hillary, supporting the Green New Deal, fighting against the Keystone Pipeline, and praising AOC's tax hikes — he is your typical elitist liberal and voters won't be fooled," Republican National Committee Chairwoman Ronna McDaniel said in a statement Monday.
A University of New Hampshire survey from September found that 34% of registered Republican voters in the Granite State would either be "enthusiastic" or "satisfied" if Kennedy were elected president, compared to only 10% of registered Democratic voters.
With this announcement, Kennedy could gain a bit of ground in the Rocky Mountain states and in the South, Whalen said.
The centrist group No Labels is flirting with mounting a presidential campaign of its own, worrying top Democrats who believe that candidate would pull voters away from Biden and hand the election to Trump. Allies of Biden are going all out to erode financial and political support for the No Labels movement, The New York Times reported this week.
Whalen said that Kennedy's decision to run as an independent did not come as a surprise, as the lack of enthusiasm among voters for Biden and Trump could galvanize Kennedy.
"The electorate is restless and dissatisfied with the current frontrunners in both parties. 2024 is shaping up to be a change election. That can't but help a self-styled maverick outsider like RFK," Whalen said.
Newsletter Signup
Stay up to date on all the latest news from Boston.com