Politics
Neo-Nazi group targets Gov. Maura Healey's Arlington home
"These Neo-Nazis and white supremacists are trying to scare people from exercising their rights and standing up to their hate," Healey said. "We won't tolerate it in Massachusetts."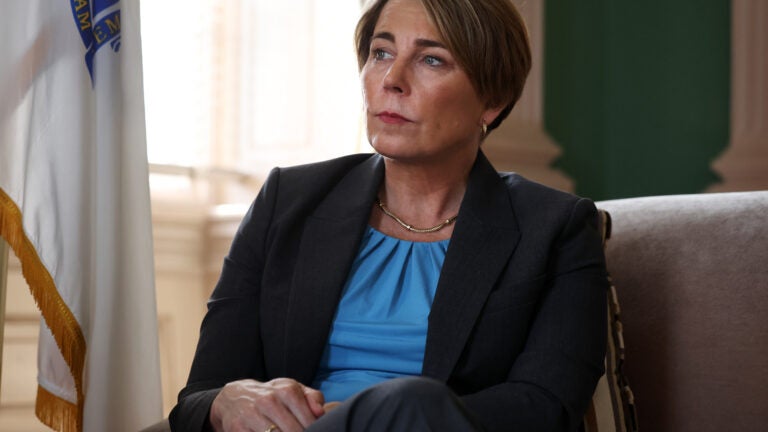 Gov. Maura Healey avowed that Massachusetts won't tolerate fear-mongering from white supremacists after a local neo-Nazi group held a demonstration outside her home in Arlington Saturday.
Massachusetts State Police said a group of about 25 gathered outside Healey's home around 8:43 p.m. A state police spokesperson said officials believe the individuals are members of NSC-131, which the Anti-Defamation League describes as a New England-based neo-Nazi group that "seeks to form an underground network of white men who are willing to fight against their perceived enemies through localized direct actions."
Saturday's group held a sign that read "New England is ours, the rest must go," according to WBZ-TV, which first reported on the incident. According to WBZ-TV, the group's chants seemed to reference the arrival of migrants in Massachusetts.
In video captured by a WBZ-TV photographer and shared to the social media platform X, the masked protesters could be heard shouting, "Whose streets? Our streets!"
State police said on-scene field personnel and the State Police Operations Watch Center closely monitored the demonstration, which dispersed around 9:40 p.m. There were no arrests.
Healey spoke out against the demonstration in a statement Monday, asserting, "These Neo-Nazis and white supremacists are trying to scare people from exercising their rights and standing up to their hate."
"We won't tolerate it in Massachusetts," the governor continued. "Local, state and federal law enforcement will hold accountable perpetrators of violence and those who threaten violence and will keep our communities and residents safe."
Newsletter Signup
Stay up to date on all the latest news from Boston.com