Politics
The House is set to vote on a new speaker. Here's what to know.
GOP lawmakers are expected to rally their votes behind Rep. Jim Jordan, R-Ohio, to be the next speaker despite reluctance from some who are wary of his hardline approach.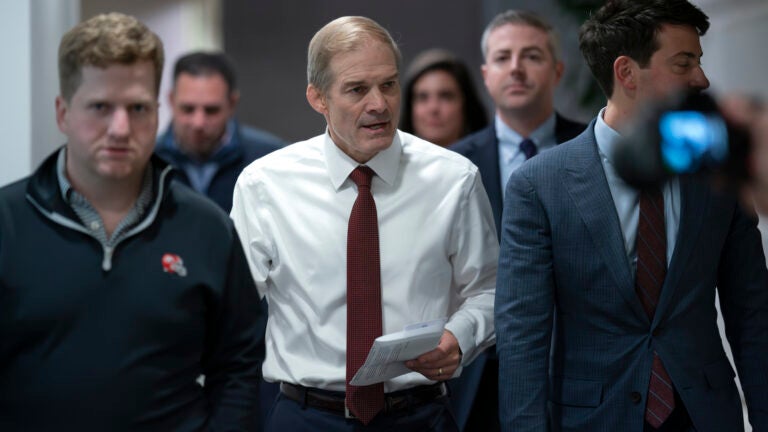 WASHINGTON (AP) — Republicans are heading to the House Tuesday for the second time this Congress to try and elect a speaker, marking what they hope will be a unifying moment for a party that has been in turmoil for weeks.
GOP lawmakers are expected to rally their votes behind Rep. Jim Jordan, R-Ohio, to be the next speaker despite reluctance from some who are wary of his hardline approach. Conservatives have been mounting an intense pressure campaign to persuade the final holdouts to support him.
Jordan, the chairman of the House Judiciary Committee, won the GOP's nomination for speaker in a secret ballot on Friday. But a second round of voting showed that more than 50 Republicans would oppose Jordan on the floor, leaving him well short of the 217 votes needed to win the gavel.
Since then, with the help of former President Donald Trump and some in conservative media, Jordan has managed to flip a substantial number of detractors in his favor. But he'll need the backing of nearly every Republican to become speaker, as Democrats are certain to back their own nominee, Leader Hakeem Jeffries of New York. Republicans control the House 221-212.
Here's what to know going into the speaker's election:
When is the speaker election? And how does it work?
The House is expected to gavel into session Tuesday at noon to hold what could be the first of several votes to elect a speaker. It's a speaker's election unlike any other following the removal of Rep. Kevin McCarthy, R-Calif., who was suddenly and unexpectedly ousted from the post after just nine months on the job.
The speaker is normally elected every two years, in January, when the House organizes for a new session. A new election can only be held if the speaker dies, resigns or is removed from office.
Once the House is in a quorum — meaning a minimum number of members are present to proceed — each party will put a name into nomination for speaker. Republicans will nominate Jordan, and it's possible another GOP candidate will come up in protest.
Democrats will nominate Jeffries and are expected to vote for him in unison.
House members are seated during the speakership vote. It's one of the few times — including for the State of the Union Address — that lawmakers are all seated in the chamber.
How many votes does it take to elect a speaker?
It takes a majority of the votes from House members who are present and voting.
Once the roll call for speaker begins, members of the House are called on one by one to call out their choices. The House, which currently has 433 members and two vacancies, will vote as many times as necessary until someone wins.
It's uncertain how many rounds it might take for Jordan to clinch the gavel, but his supporters are confident that the public floor vote will force the remaining holdouts to flip their way. McCarthy narrowly won the speakership in January on the 15th round of balloting, after five excruciating days.
It is unlikely to take Jordan nearly as long to triumph. House Republicans are exhausted by weeks of infighting over who will lead the conference and frustrated by the inability of the chamber to pass legislation, particularly in response to the Israel-Hamas war.
Who is supporting and opposing Jordan?
Jordan, a darling of the party's hardline right-wing base, still faces opposition from some members of the conference who doubt his ability to lead.
"Being speaker of the House is not being the chairman," Rep. Mario Diaz Balart, one of the holdouts, said Friday. "Because you deal with foreign policy, you deal with the heads of state, you deal with domestic policy and you deal with security issues."
He added, "I think there are a lot of questions about whether he can unify and lead the conference, and whether he can even lead his own people, his closest people."
Some Republicans are upset with how the speaker's race has played out.
Rep. Steve Scalise, the majority leader, first won his colleagues' nomination for speaker on Wednesday. Jordan, who came in second, threw his support behind Scalise, stating that he would support his nomination when it came to the floor and urging the rest of the conference to do the same. But more than a dozen Republicans refused to back Scalise, leading him to withdraw a day later.
Those same members who refused to back Scalise are now Jordan's strongest base of support. They spent the weekend publicly and privately lobbying each of his critics to drop their opposition and become a "team player." They say the party's grass-roots base pressure could prove decisive in the vote.
"It's more popular to vote for Jim Jordan than it is to vote against him," Rep. Thomas Massie, R-Ky., one of Jordan's supporters, said in an interview on Friday. "And so when you have to stand up in front of God and country and say a name, your constituents are hoping you're gonna say Jim Jordan."
Extra News Alerts
Get breaking updates as they happen.