Politics
Summit with Arab leaders called off as President Biden travels to Israel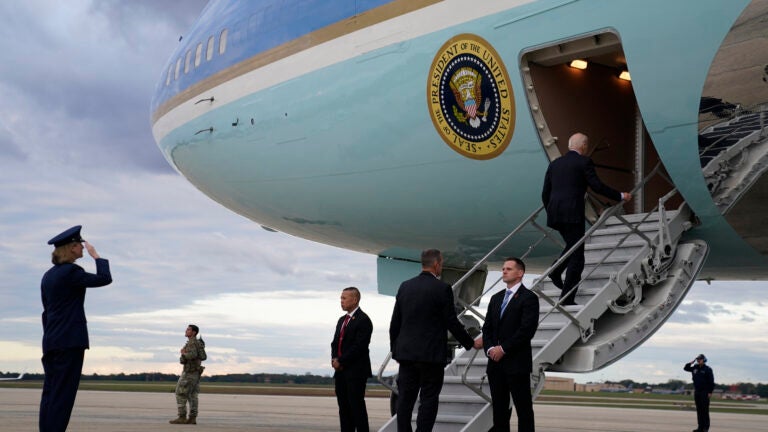 WASHINGTON (AP) — President Joe Biden's efforts to tamp down tensions in the escalating war between Israel and Hamas faced massive setbacks even before he departed for the Middle East on Tuesday, as Jordan called off the president's planned summit with Arab leaders after a deadly explosion at a Gaza hospital killed hundreds.
Biden now will visit only Israel and will postpone his travel to Jordan, a White House official said as Biden departed.
The postponement of the Amman summit comes after Palestinian leader Mahmoud Abbas withdrew from the scheduled meetings in protest of the attacks, which the Hamas-run Health Ministry in Gaza blamed on an Israeli airstrike. The Israeli military said it had no involvement and pinned the blame on a misfired Palestinian rocket.
"This war and this aggression are pushing the region to the brink," Ayman Safadi, Jordan's foreign minister, told al-Mamlaka TV, a state-run network. He said Jordan would only host the summit when all participants agreed on its purpose, which would be to "stop the war, respect the humanity of the Palestinians, and deliver the aid they deserve."
The cancellation reflects an increasingly volatile situation that will test the limits of American influence in the region as Biden visits Wednesday.
Biden's decision to put himself in a conflict zone — the same year he made a surprise visit to Ukraine — demonstrates his willingness to take personal and political risks as he becomes heavily invested in another intractable foreign conflict with no clear end game and plenty of opportunity for things to spiral out of control.
The high-stakes presidential trip is emblematic of Biden's belief that the United States should not turn back from its central role on the global stage and his faith that personal diplomacy can play a decisive role.
"This is how Joe Biden believes politics works and history is made," said Jon Alterman, a senior vice president at the Center for Strategic and International Studies who worked on the Senate Foreign Relations Committee while Biden was a member.
There's been no water, fuel or food delivered to Gaza since the brutal Oct. 7 attack by Hamas that killed more than 1,400 Israelis and triggered the unfolding war. Mediators have been struggling to break a deadlock over providing supplies to desperate civilians, aid groups and hospitals.
As the humanitarian crisis grows, so too does the concern of a spiraling conflict that stretches beyond the borders of Gaza. There have already been skirmishes on Israel's northern border with Hezbollah, an Iran-backed group that's based in Southern Lebanon.
"There's a lot that can go wrong on this trip," Alterman said.
Biden's travels will be rife with security concerns, and visits by other U.S. officials have been disrupted by rocket launches into Israel. Additional Israeli airstrikes in Gaza could also prompt more condemnation at a time when Biden is intending to demonstrate solidarity with the United States' closest ally in the region.
The U.S. has subtly shifted its message over the past week, maintaining full-throated support for Israel while slowly turning up the diplomatic volume on the need for humanitarian assistance in Gaza, as Biden and aides have heard increasingly dire predictions about the potential for images of suffering Palestinians to ignite protests and broader unrest throughout the Middle East.
U.S. officials said it has become clear that already limited Arab tolerance of Israel's military operations would evaporate entirely if conditions in Gaza worsened.
Their analysis projected that outright condemnation of Israel by Arab leaders would not only be a boon to Hamas but would likely encourage Iran to step up its anti-Israel activity, adding to fears that a regional conflagration might erupt, according to four officials who spoke to The Associated Press on condition of anonymity to discuss internal administration thinking.
U.S. Secretary of State Antony Blinken, bouncing back and forth between Arab and Israeli leadership ahead of Biden's visit, spent seven and a half hours meeting Monday in Tel Aviv in an effort to broker some kind of aid agreement and emerged with a green light to create a plan on how aid can enter Gaza and be distributed to civilians.
It was on the surface a modest accomplishment, but U.S. officials stressed that it represented a significant change in Israel's position going in — that Gaza would remain cut off from fuel, electricity, water and other essential supplies.
Biden has a long track record of showing public support for Israel while expressing concerns privately to the Israelis about their behavior.
"He believes the only way to get inside the Israelis' heads is to demonstrate profound empathy, but also to be there," Alterman said.
In the U.S., Biden has won rare praise from Republicans over his leadership on Israel, but prospects for providing additional aid are uncertain. The administration has said it would ask for more than $2 billion in aid for both Israel and Ukraine, though House Republicans remain in disarray.
Still, Biden is committed to both Ukraine and Israel.
"We're the United States of America, for God's sake, the most powerful nation in the history of the world," he said this week on CBS' "60 Minutes" when asked whether the wars in Israel and Ukraine were more than the U.S. can take on at once. "We have the capacity to do this and we have an obligation to. … And if we don't, who does?"
In Israel, Biden was expected to meet with Prime Minister Benjamin Netanyahu and other Israeli officials. His plans to then meet in Jordan with King Abdullah II, Egyptian President Abdel Fattah el-Sissi and Palestinian leader Mahmoud Abbas were scrapped.
The Israel-Palestinian conflict has been ongoing for decades, and to a large extent, it's involved the same cadre of men. Netanyahu is the longest-serving prime minister in Israeli history. Abbas has been Palestinian president for nearly 20 years. Abdullah II has been king since 1999 — Biden has called the Jordanian king a loyal ally in a "tough neighborhood." El-Sissi is the newest leader, president since 2014.
It's important for these leaders, too, to avoid a prolonged and engulfing regional escalation, particularly as Egypt and Jordan face growing economic tumult.
In September, the International Monetary Fund issued a report saying that Egypt and Jordan are among the countries in the region that "stand at the brink of a debt crisis." Egypt in particular is struggling with high inflation.
Neither nation wants to absorb refugees. Jordan already has a large Palestinian population, and the country is coping with hundreds of thousands of refugees from neighboring Syria, Iraq and elsewhere.
With tens of thousands of troops massed along the Israel-Gaza border, Israel has been expected to launch a ground invasion — but plans remain uncertain. U.S. officials have refused to say whether the Israelis were holding off in order for Biden to visit.
"We are preparing for the next stages of war," Israeli military spokesman Lt. Col. Richard Hecht said. "We haven't said what they will be. Everybody's talking about a ground offensive. It might be something different."
Meanwhile, the death toll is mounting even without the war's next stage. Israeli strikes on Gaza have killed at least 2,700 people and wounded more than 9,700, according to the Gaza Health Ministry. Nearly two-thirds of those killed were children, a ministry official said.
Another 1,200 people across Gaza are believed to be buried under the rubble, alive or dead. More than 1 million Palestinians have fled their homes — roughly half of Gaza's population — and 60% are now in the approximately 8-mile-long (14-kilometer-long) area south of the evacuation zone, according to the United Nations.
Associated Press Writers Josh Boak in Washington, Josef Federman in Jerusalem and Matthew Lee in Amman, Jordan, contributed to this report.