Politics
Boston City Council At-Large Race: Bridget Nee-Walsh
"I believe that the most crucial thing we can do is to invest in our youth by providing opportunities to participate in sports, the arts, educational and experiential activities, and encourage civic engagement and community."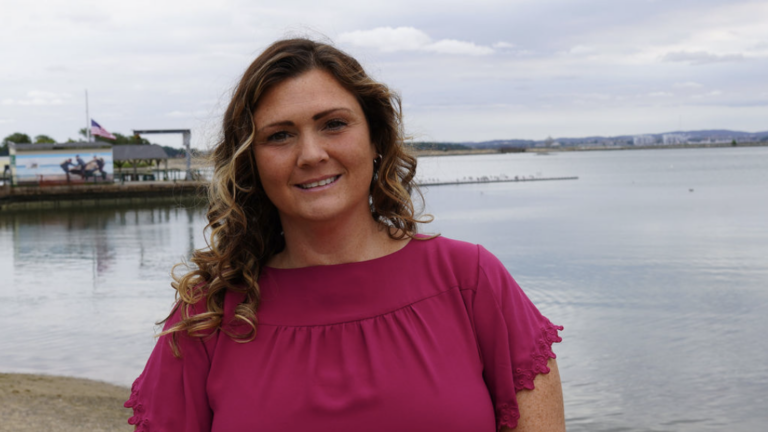 Bridget Nee-Walsh, 44, lives in South Boston with her daughter and godson.
Nee-Walsh graduated with a Bachelor's degree from Montserrat College of Art in 2004, and has been a member of the Local 7 Ironworkers Union for the past 17 years, where she also teaches in the apprenticeship program and serve as an elected member of the Board. She is also the owner of Southie's Own, a small business specializing in Irish imports and serving the community for the last 12 years. If elected, Nee-Walsh will begin her first term as city councilor at-large.
We surveyed Nee-Walsh on her priorities and some of the most pressing issues facing the Boston City Council this election season, based on input from our readers.
The following responses have been lightly edited for clarity.
What are two of your top priorities that you would like to address?
I would like to provide support for Boston's public school families by ensuring readily available tutoring services to all students who've fallen behind and addressing the social inequality that exists within the school system so that every public school student can reach exam-school level.
I hope to bring vocational programs back into the Boston Public School system that offer children a skilled trade and the opportunity to earn a sustainable living wage, allowing them to stay in the city of Boston and raise their own families in Boston.
I will advocate for responsible redevelopment so that families are not pushed out due to the astronomical rents and home prices.
I plan on discouraging project development by non-union companies which often bring their employees with them from outside the city rather than providing local jobs for local people while also averting the trend of historical buildings being demolished and replaced by new substandard developments labeled as "luxury" that don't fit into the fabric of Boston's neighborhoods.
What solutions would you support regarding the area of Mass and Cass and the underlying issues of addiction, mental health, and homelessness?
I believe that we need to take an all hands- on -deck approach to this issue and make use of all tools in the toolbox in the most effective way.
Although they don't always go hand in hand, so many of the individuals on Mass and Cass and elsewhere are experiencing layered troubles.
Until we focus on providing the appropriate resources, support, and wrap around care, this issue will remain cyclical. I support the idea of recovery campuses, like the one Mayor Wu announced for Long Island but the city cannot wait four years to take action.
How can housing in Boston be more affordable and inclusive of all communities while mitigating gentrification?
To meet the housing demand, Boston needs to not only build, but build smart. This includes a focus on more family and working-class oriented housing in addition to the luxury condos and other housing being built across the city.
Smaller projects and use of existing infrastructure where possible will help keep the cost of renovation or construction down. I support the mayor's plan for Squares and Streets being intentional with housing and development in
neighborhoods, ensuring connectivity to transportation and amenities.
The city needs additional housing space and I support transforming underutilized garages or carriage houses. I do believe there should still be a process – albeit maybe not as robust – but to ensure oversight to avoid congestion or overcrowding.
This might allow growing families to remain close or young professionals the chance to live in the same neighborhood while they work to get on their feet.
What does the city need to do to address gun violence and improve public safety?
I think that there are several steps we can take to mitigate violence and improve public safety. Like the issue of Mass. and Cass, there needs to be a collaborative effort.
I believe that the most crucial thing we can do is to invest in our youth by providing opportunities to participate in sports, the arts, educational and experiential activities, and encourage civic engagement and community.
I also believe that we, as a city, can and should provide more support for families who are struggling, one way or another, to help provide structure and support at home.
Additionally, we need to provide support for our police and first responders to foster community relationships and trust.
How would you improve Boston's roads and public transit?
A perk of living in the city should be the accessibility of public transit. Each neighborhood across the city is unique but at the end of the day, we all want to get to where we are going, safely and in a timely manner.
I like the connectivity that multimodal paths provide as an addition to public transit and vehicular streets and roads.
In order to improve Boston's roads and public transit, I would work collectively with colleagues on the Council and at the State House, to ensure we are investing in our transit in ways that will last, as opposed to throwing money at band aid fixes and temporary line closures every year – all while fares are increased.
Many readers say they've lost faith in the Boston City Council. How would you work to regain their trust?
Transparency and collaboration are the keys to building success. For too long, the Council has been divided and seen as unwilling to work together.
As a Councilor, I promise to always show up willing to work together with everyone at the table to move the dial forward for Boston residents.
As the youngest of six children and the first female elected to the Board of
Ironworkers Local 7, I know what it is like to sit at the table with a myriad of opinions and personalities and knowing that whatever decision we make is going to impact each and every member of Local 7.
I won't always have the right answer but I will always try to help find a solution.
Find out more about Bridget Nee-Walsh on her website and social media.
Newsletter Signup
Stay up to date on all the latest news from Boston.com