Politics
Boston City Council At-Large Race: Ruthzee Louijeune
"I know how important it is to have a cadre of adults caring for our students, who walk into our school buildings every day with record mental health issues, trauma, and other life obstacles."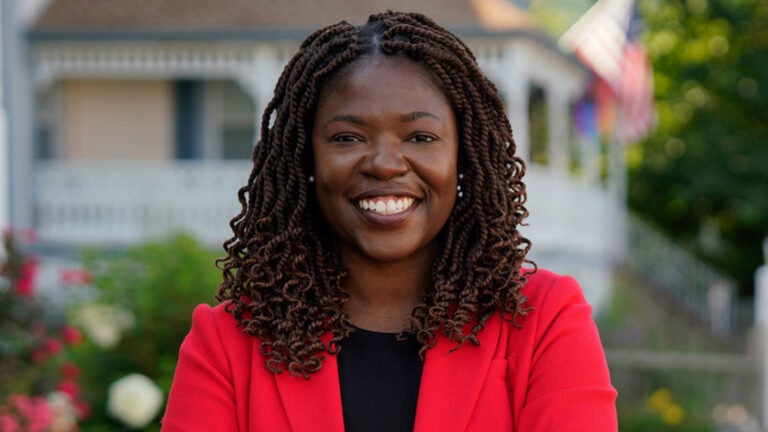 Ruthzee Louijeune, 37, lives in Hyde Park.
Louijeune graduated from Columbia University in 2008, before attending Harvard Kennedy School and Harvard Law School, where she earned a master's degree in public policy and a Juris Doctor in 2014. She is currently running for reelection to the council after served one previous term.
We surveyed Louijeune on her priorities and some of the most pressing issues facing the Boston City Council this election season, based on input from our readers.
The following responses have been lightly edited for clarity.
What are two of your top priorities that you would like to address?
I care deeply about addressing the housing needs in our city, both in the rental market and the homeownership market.
I've been working to close the racial wealth gap and create community stability among working class families through a) first-generation homeownership programs targeted to communities that historically have been excluded; b) using more public land for the development of affordable housing and homeownership; and c) helping non-profit developers and community land trusts purchase lived-in residential properties that would have otherwise displaced residents via purchase by a private developer.
I have also been able to secure millions of dollars in funding for housing for vulnerable populations that have lead to ambitious pilot programs getting off the ground.
I also want to make sure that our students in our public schools have all the tools to ensure their success. As a BPS graduate myself, I know how important it is to have a cadre of adults caring for our students, who walk into our school buildings every day with record mental health issues, trauma, and other life obstacles.
We need more social workers and guidance counselors to help our students and their families navigate and plan for life during school and upon graduation.
What solutions would you support regarding the area of Mass and Cass and the underlying issues of addiction, mental health, and homelessness?
It is difficult for individuals to think about healing, recovery, medical need, or detox if they don't have a place to sleep at night. So we need to combine the treatment model with a housing first model.
Unfortunately, the cost of housing is expensive. The city has seen success with its housing first approach at hotels where they've provided people with wraparound services, people who have then been able to secure permanent housing. This intervention requires more funding from the state to solve what is a regional problem.
Additionally, we need to re-open Long Island as a more permanent solution to responding to the humanitarian crisis at Mass & Cass, and I've written support letters for funding to make this happen to both federal and state agencies.
How can housing in Boston be more affordable and inclusive of all communities while mitigating gentrification?
We need to allocate more resources to first-generation and first-time homebuyers programs and encourage more lenders to participate in One+Boston to provide affordable and sustainable mortgages to Boston's working class residents.
A good number of our rent-burdened working class residents could be homeowners with access to affordable products and support. We must also work to commit more public land to the construction of affordable homeownership and rental options, particularly land located near public transit.
What does the city need to do to address gun violence and improve public safety?
The city must continue to provide public safety resources to non-profit organizations that work on mental health, trauma from violence, and poverty to help prevent crime. Addressing the root causes of violence and poverty are essential to gun violence prevention.
The city now has a Gun Violence Reduction Management Team committed to centering community safety and to focusing on the small number of areas and people responsible for a large part of the violence in the city.
It's also important that we keep our young kids engaged with activities and jobs that maintain their interest, and help them explore their talents and interests.
How would you improve Boston's roads and public transit?
We need to make the T more accessible and make our roads safer for pedestrians, bikers, and, drivers alike. We need to invest in infrastructure in our roads to provide dedicated bus lanes and better public transportation infrastructure.
We must redesign our streets to be more inclusive of different transportation modes, but we must do so equitably, especially in neighborhoods that do not currently have many public transportation options. We can increase our bikeshares, continue to explore micro mobility.
Strengthening our transportation infrastructure so that residents in all neighborhoods have accessible and low-cost travel options is critical to building a green and resilient city.
Many readers say they've lost faith in the Boston City Council. How would you work to regain their trust?
I know how it feels to lack trust in government, and I don't want anyone to feel that way about the work we are doing on the City Council, often lost in the crowded headlines of bombastic statements and other lapses.
or anyone who has seen the work of my office these last 22 months, you know that I am committed to solving problems both big and small, and have led the Council through difficult legislative processes with a cool head while working towards a more equitable, more inclusive, more fun city of Boston.
That's what I will continue to do, and I know my colleagues are eager to do the same.
Find out more about Ruthzee Louijeune on their website and social media.
Newsletter Signup
Stay up to date on all the latest news from Boston.com