Politics
Live updates: Massachusetts reacts to Israel-Hamas war
Many with Massachusetts ties are feeling the impacts of the war.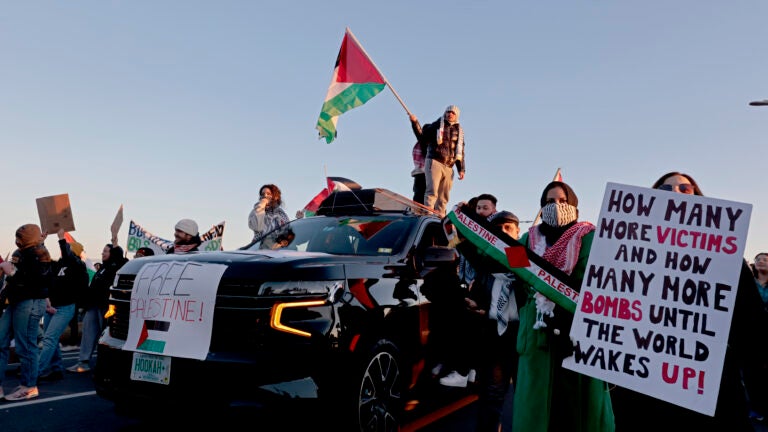 More than a month after Hamas launched a terrorist attack on Israel, thousands of lives have been lost. The initial attack killed more than 1,400 people, while more than 200 were taken hostage by Hamas and are currently being held in Gaza.
Hamas released the first batch of hostages under a cease-fire deal that began Friday, Nov. 24, including 13 Israelis who have been held in the Gaza Strip since the militant group staged a raid on Israel nearly seven weeks ago, according to officials and media reports.
The Israeli offensive has killed more than 13,300 Palestinians, according to the Health Ministry in Hamas-ruled Gaza, which resumed its detailed count of casualties in Gaza after stopping for weeks because of the health system's collapse in the north.
The war has sent reverberations around the globe, affecting many in Massachusetts. Follow here for live updates.
Some residents of Somerville and Cambridge received unsigned pro-Israel letters earlier this week, urging the "Harvard community" to call for the release of Hamas's hostages and condemn the violence against Israel.
The letters, sent without a return address but postmarked in Salt Lake City, list undergraduate and graduate students involved in ethnic group clubs and social advocacy groups at Harvard that signed a controversial letter last month calling Israel "entirely responsible" for the Oct. 7 Hamas attack.
"These are some of the organizations who excused the worst slaughter of Jews since the Holocaust. Do not let them define Harvard. Speak out!" the letter states in all capital letters.
The letters, sent apparently indiscriminately to Somerville and Cambridge residents, listed the first and last names and positions of student leaders involved with the organizations.
"The University and Harvard University Police Department are aware of the letters and are continuing to monitor the situation," Harvard said in a statement.
This is not the first time Harvard students and groups have been singled out for their position on the conflict. Students connected to the groups that signed the letter have been doxxed, including through the use of a truck that an out-of-state conservative group hired to drive around Harvard University's campus with an LED screens that displayed the students' names and called them "Harvard's Leading Antisemites."
Some residents posted on X their thoughts on the anonymous mail. Somerville resident Derek DuPont, 30, said he and his fiance both received the letter, addressed to them by name.
The letter listed names from the African American Resistance Organization, the Bengali Association of Students, the Harvard Muslim Law School Association and Harvard College Pakistan Student Association – all groups involving non-white students, DuPont pointed out.
"It was a little surprising to see something that had a list of student names there. That felt like crossing a line," he told Boston.com. "There's a targeting angle there that made me feel pretty uncomfortable."
X user Jack Reid said each of his roommates got a letter addressed to them by name, and he is not affiliated with Harvard.
"If you want to advocate on something, don't pretend to be a part of a community that you aren't!" user Jack Reid wrote. "If you live in Salt Lake, address the Salt Lake city council or UT gov. If you are a Harvard alum, state as much!"
One group listed on the letter is the Harvard Undergraduate Ghungroo, a South Asian cultural arts group. They posted on Instagram that they "formally retracted" their signature from the open letter.
Other groups listed, including the Society for Arab Students, released statements condemning any violence.
"We are saddened that, due to xenophobia, racism and Islamophobic, our stance on violence was taken as ambiguous and we regret the impact that ambiguity has had," the society wrote on Oct. 11. "We reiterate, violence, especially violence against innocent people, is not and will never be tolerated within our spaces."
The Milton Select Board voted to take down the Israeli flag from a public space after weeks of debating whether or not the town should also display the Palestinian flag amid the ongoing conflict in the Middle East.
The Patriot Ledger reports that the Israeli flag has been on display at the public gazebo near Town Hall since Oct. 8, a day after Hamas attacked Israel, killing 1,200 and taking more than 200 hostages. More than a month later on Nov. 14, as Israel continued retaliatory attacks on Gaza that killed thousands, some Milton residents requested at a Select Board meeting that the Palestinian flag fly next to the Israeli flag.
As of Tuesday, AP reports that Gaza officials have lost the ability to keep count of the Palestinian death toll, which had last officially reached over 11,000.
Deciding on Tuesday to instead not have any flags on display, the Select Board also voted to call for a community forum about the conflict, which will be led by the Milton Interfaith Clergy Association.
"I believe that we overlooked residents in this town who didn't have a voice, particularly our Palestinian neighbors," Select Board chair Mike Zullas said. "For that, I am sorry. My commitment is to make sure that it does not happen again."
But residents who had earlier requested the Palestinian flag fly said they were still upset the Select Board would not choose to put it on display, according to the Patriot Ledger.
Three protesters were arrested in Merrimack, New Hampshire, in connection with vandalism of an Israeli-based defense company, the Union Leader reports.
Sophie Marika Ross, 22, of Housatonic; Calla Mairead Walsh, 19, of Cambridge; and Bridget Irene Shergalis, 27 of Dayville, Connecticut, were charged with riot, sabotage, criminal mischief, criminal trespass, and disorderly conduct.
The pro-Palestinian protest took place Monday outside of Elbit Systems of America's Merrimack office.
The three arrested were found located on the roof of the building, where police also reported that smoke was coming from an "incendiary device" located on the roof and that there was damage to the property.
"We support the rights of protesters to peacefully express their views," Elbit America said in a statement. "However, what we experienced today was violent criminal behavior as evidenced by the arrests made by local law enforcement. We take the safety and well-being of our employees extremely seriously, and we will continue to work closely with local officials to ensure safety for all."
Both Gov. Chris Sununu and Majority Whip Rep. Jeanine Notter, Merrimack's representative, called the incident an act of antisemitism.
Ross and Walsh were also arrested at a protest outside Elbit's Cambridge offices last month.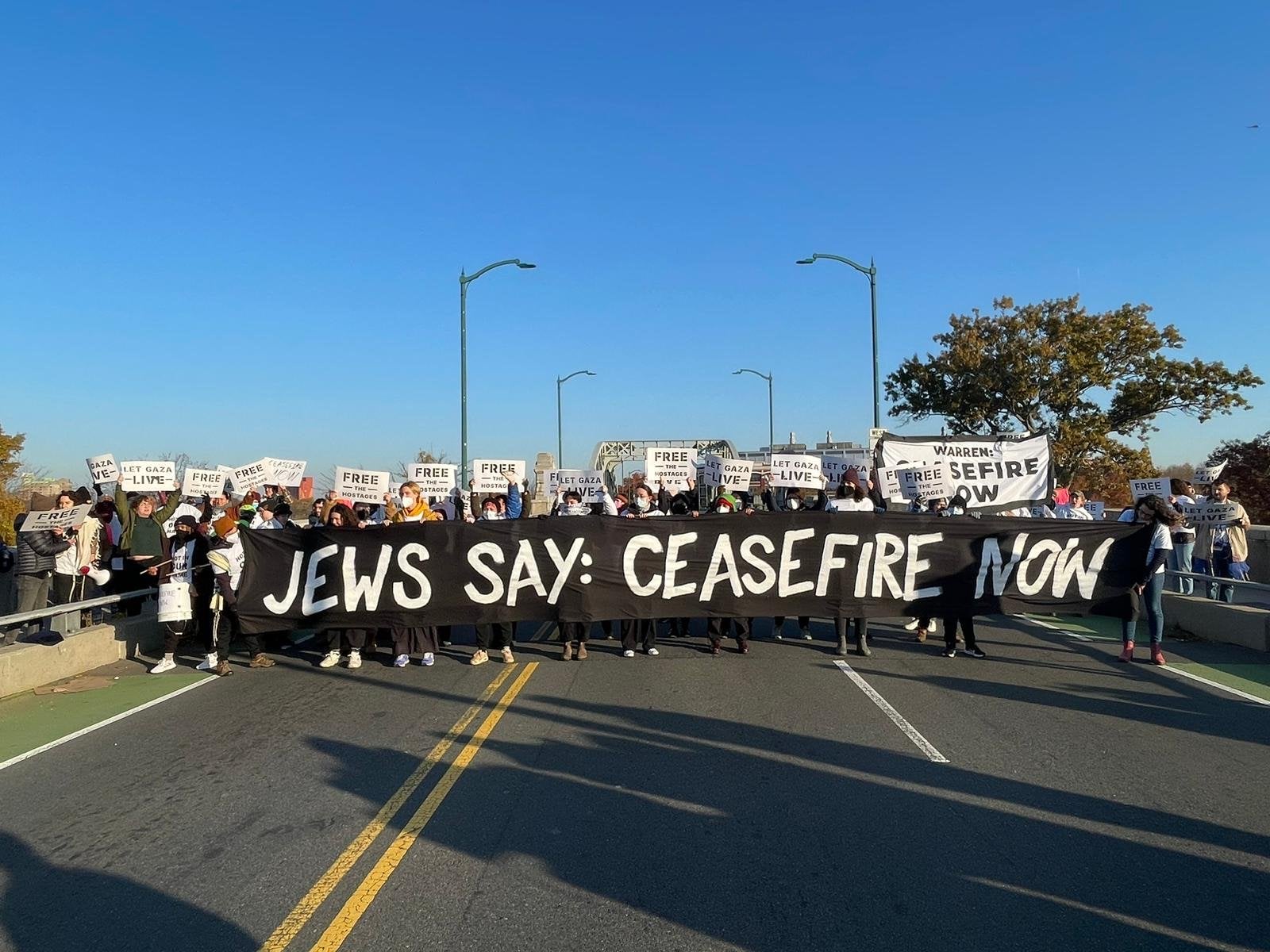 Update: Just after 10:30 a.m., police said the protesters departed and the bridge reopened to traffic.
Demonstrators calling for a ceasefire in the Israel-Hamas war blocked rush hour traffic on the Boston University Bridge Thursday morning.
The protest, organized by American Jews with IfNotNow, specifically singled out Sen. Elizabeth Warren and demanded that she "support an immediate ceasefire and use her influence to stop the Israeli government's ongoing massacre in Gaza," the group said in a press release.
BU police, Boston police, and state police were all on scene around 8 a.m., telling the public that the bridge was closed and to expect "heavy traffic disruptions." Pedestrian traffic was not affected on Commonwealth Avenue, BU police said.
Members of the group fanned out across the bridge, unfurling a black banner that read "Jews Say: Ceasefire Now." Other demonstrators displayed signs with messages like "Free the hostages" and "Let Gaza live."
In announcing the protest, IfNotNow Boston cited recent polling from the progressive think tank Data for Progress that found that 66% of voters want the U.S. to call for a ceasefire and de-escalation of violence in Gaza. This includes 80% of Democrats, 57% of Independents, and 56% of Republicans surveyed.
Warren, a prominent progressive, has not explicitly called for a ceasefire yet despite sustained pressure from activists. In the immediate aftermath of the Oct. 7 Hamas attacks, Warren said that America would be a "steadfast ally" to Israel at the same rally where Sen. Ed Markey was booed for saying that there needed to be "de-escalation" of violence in Gaza and Israel.
But as Israel's response to the terrorist attacks has caused a dire humanitarian crisis in the enclave over the past month, Warren has shifted her messaging. She has urged President Joe Biden to send humanitarian aid to Gaza, called for "humanitarian pauses," and sent a letter to Biden expressing concerns about the potential for destruction caused by an Israeli invasion.
Progressive activists have not been satisfied. Members of IfNotNow were arrested after demonstrating outside Warren's offices in the John Fitzgerald Kennedy Federal Building, next to Boston City Hall, last month.
"I appreciate the people who came to my office to share their perspectives and experiences — that's what democracy is about," she said in a statement to The Boston Globe after that incident. "Israel has both a right to defend itself from terrorist attacks and an obligation to protect innocent civilians under the international laws of war. Palestinian civilians have a right to humanitarian aid including food, water, shelter, and medicine. There is an urgent need for safe corridors in Gaza to deliver humanitarian aid, and I will continue to emphasize the imperative to protect civilians."
Later in October, hundreds of people who worked on Warren's presidential campaign signed a letter to Warren urging her to call for a ceasefire.
"I respect my former staffers, who are doing exactly what I have always encouraged them to do — stand up and fight for what they believe in," Warren said at an unrelated event after that letter was released, according to Politico.
On Nov. 8, Warren and other senators wrote to Biden asking for more information on two U.S. priorities: supporting Israel's efforts to defeat Hamas while protecting civilians in Gaza.
The U.S. should immediately provide Israel with assistance that "1) aligns with an Israeli strategy that you believe will effectively degrade and defeat the threat from Hamas; 2) prioritizes the release of hostages; 3) advances a viable and achievable military plan that supports a long-term vision for peace, security and Palestinian self-determination in the form of a two-state solution; 4) abides by U.S. and international law, including the protection of civilians; and 5) advances efforts to provide desperately needed humanitarian assistance to civilians in Gaza," they wrote to Biden.
The BU bridge remained blocked around 10 a.m. IfNotNow Boston disputed claims on social media that demonstrators would block ambulances as well as regular traffic.
The demonstrators, many of them donning kippahs and tallitot, unfurled a scroll listing every child under the age of 5 that has been killed in Gaza since Oct. 7. They spoke about the Holocaust, its lasting legacy, and their desire as Jews to avert another genocide.
The Israel-Hamas conflict continues to divide the tense Harvard University campus, with more than 100 faculty signing onto an open letter that says free speech is under attack.
The letter, addressed to Harvard President Claudine Gay, starts off by saying the faculty are "astonished by the pressure from donors, alumni, and even some on this campus to silence faculty, students, and staff critical of the actions of the State of Israel."
The letter makes clear that there should be limits to free speech — like denying the Holocaust — but argued that debating the actions of the Israeli government does not mean someone is antisemitic.
Faculty in the letter also specifically responded to an email sent out by Gay, who announced that the antisemitism advisory group — formed after Harvard faced intense backlash over a student groups' letter that blamed Israel's government for the Hamas attacks — would help develop antisemitism training and education. In that email, she also condemned the phrase "from the river to the sea," frequently heard at pro-Palestinian protests.
The letter argued that the phrase has a complicated history, and though its meaning should be discussed and debated, it should not be singled out "as necessarily implying removalism or even eliminationism."
Faculty called on the administration to have that advisory group define antisemitism before proposing policies, create another advisory group dedicated to anti-Palestinian racism, affirm Harvard's commitment to free expression, and to resist calls from others in the university community to suspend the Palestinian Solidarity Committee — the group that penned the letter placing the blame on Israel's government.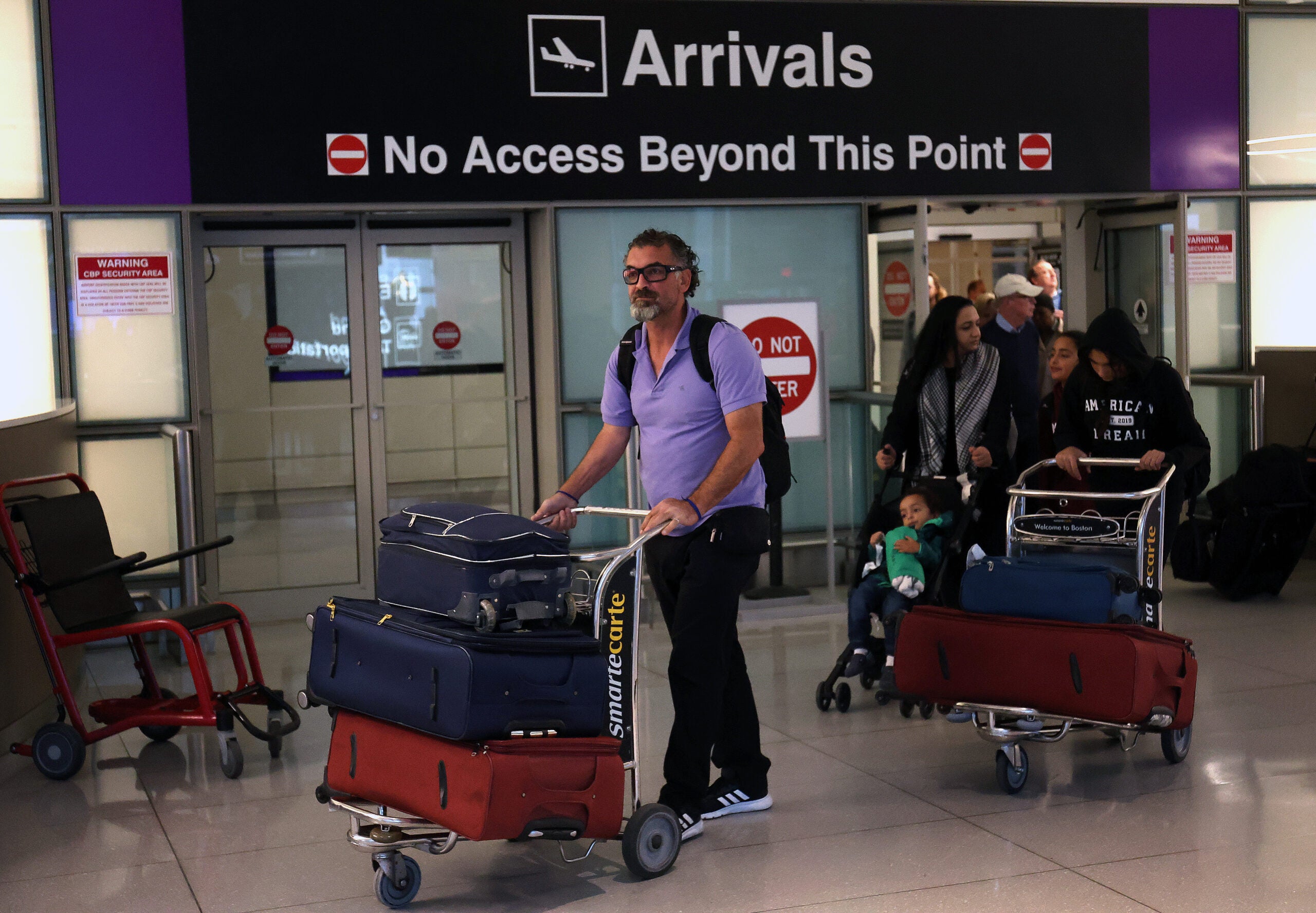 A Plymouth family that was trapped in Gaza for more than a month landed safely back in Boston Tuesday.
Hazem and Sanaa Shafai, along with their three children, were visiting family in Beit Lahia, a city in northern Gaza, when the Israel-Hamas war began on Oct. 7. That morning, they awoke to the sounds of explosions and knew they had to flee, they told The Boston Globe.
So they headed south, along with thousands of other Palestinians seeking safety as Israel bombarded the enclave in retaliation for the Hamas terrorist attacks. In multiple shelters, the family said they could feel the ground shake from nearby blasts. They described seeing dead bodies underneath rubble and people consumed by fear that their home would be hit next.
"We want people to understand — most people in Gaza have nothing to do with Hamas or Israel," Hazem told the Globe. "They just want to live a normal life."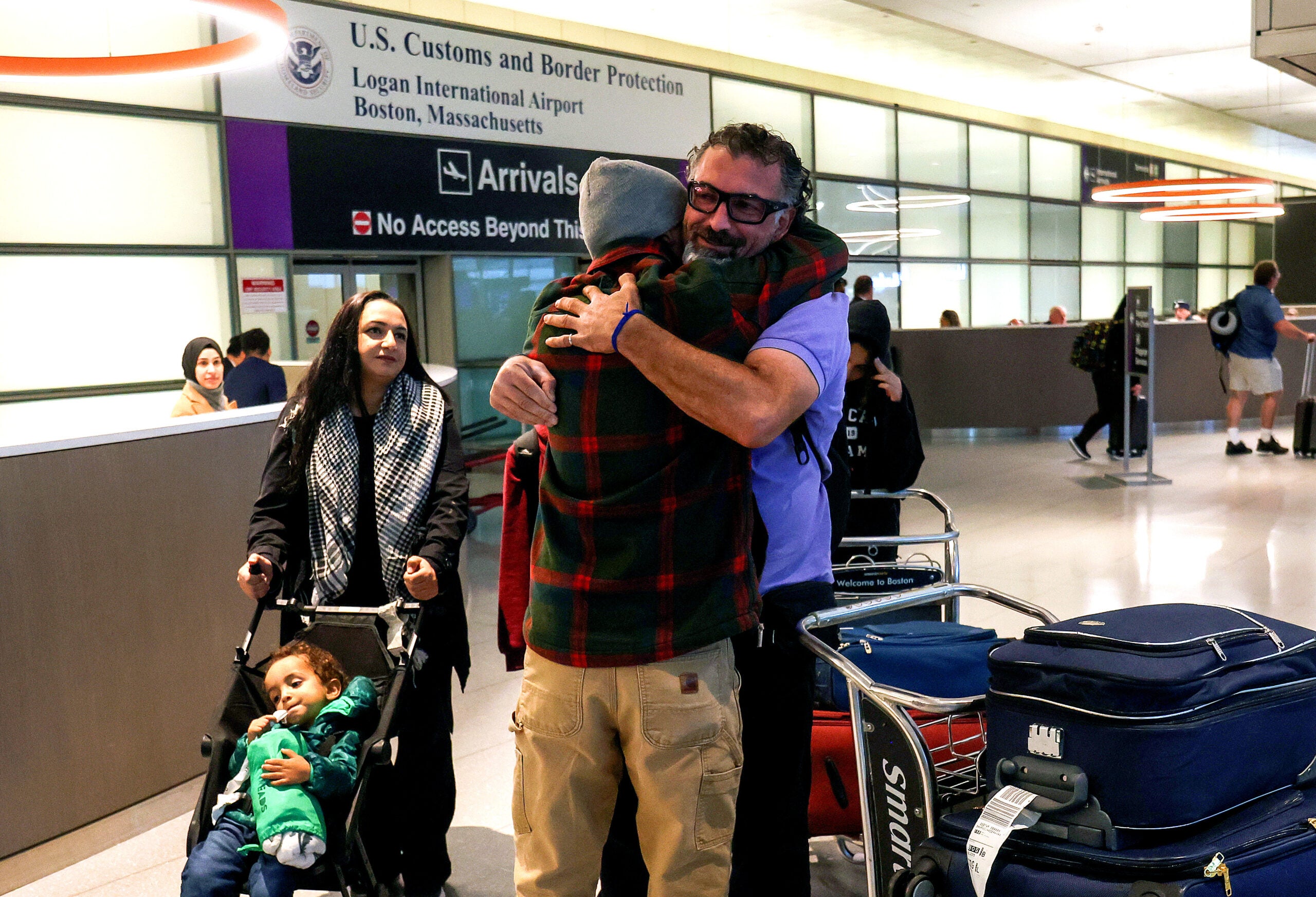 Despite all being U.S. citizens, the family said they waited for weeks to hear from American officials about how they could safely escape the war zone. The flu swept through the family as they waited, wracking 2-year-old Jasser with nausea and a fever. The family said they tried taking him to a hospital, but could not get secure treatment due to the significant number of injured people in Gaza.
"There is no place safe in Gaza, there is no place," Hazem said, according to the Globe.
Brief hope was followed by bitter disappointment earlier this month. The family was reportedly told they would be able to cross into Egypt on Nov. 2. But when they reached the border, officials said that only Hazem and Sanaa's names were on the approved list, not their children. The couple has three children: 13-year-old Seera, 10-year-old Yomna, and Jasser.
U.S. lawmakers, including Rep. Bill Keating of Massachusetts, got involved and helped make sure the entire family was allowed to leave. The Shafai family made it into Egypt on Nov. 6, where Jasser finally received hospital care. They later flew from Cairo to Paris, and then onto Boston, where they landed Tuesday afternoon, the Globe reported.
Although the family is now safe, happiness is still hard to find amidst the ongoing war. Sanaa, who said one of her cousins was killed by an airstrike while trying to get bread from a bakery, said her thoughts are still with her family members and other Palestinians trapped in Gaza.
"I have my dad, and I have a very big family over there," Sanaa said, according to the Globe. "So, I don't feel the joy [of returning to America]. But I feel safe, and relieved that my kids are safe."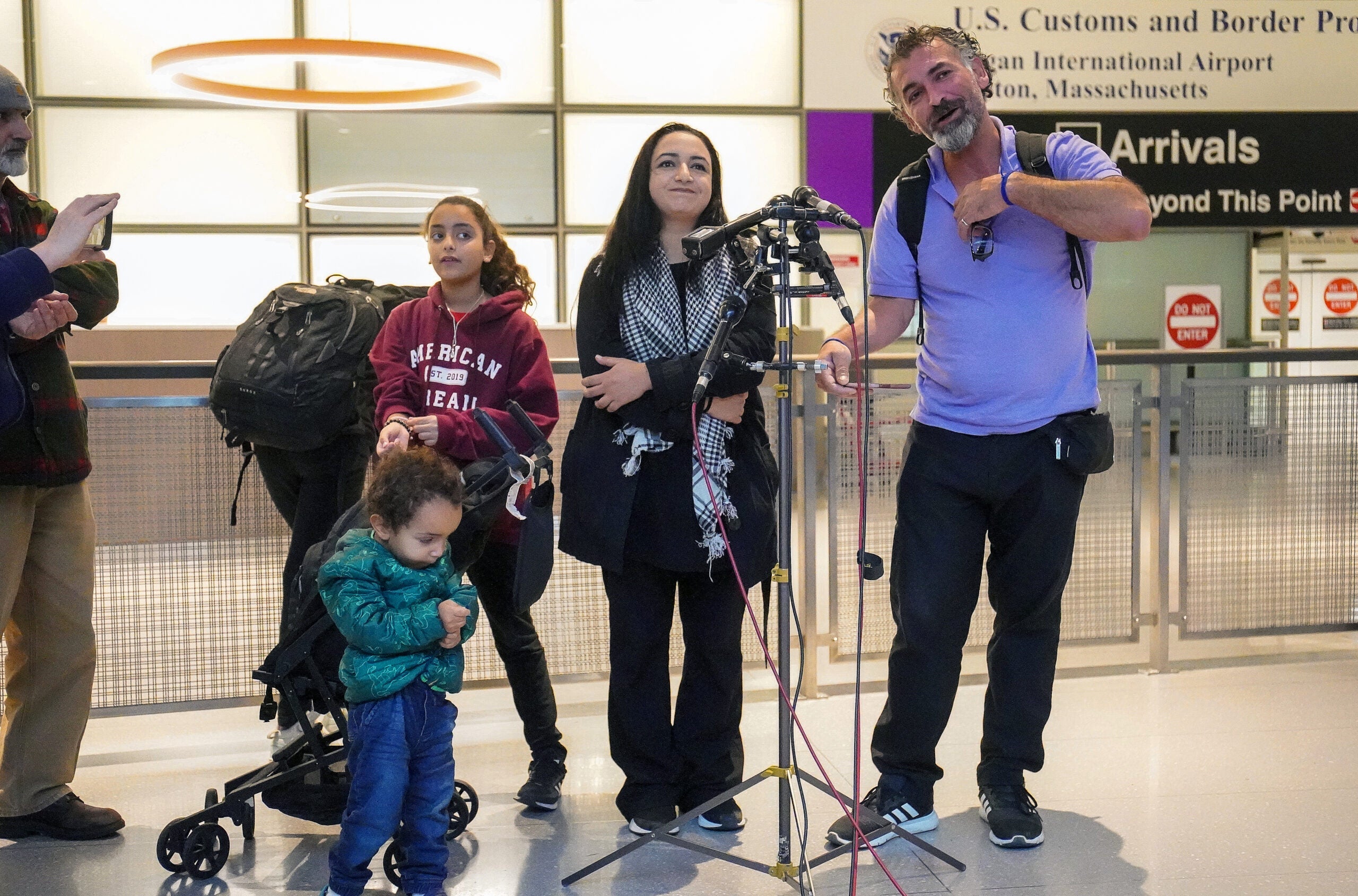 Another local family, Medway residents Abood Okal, Wafaa Abuzayda, and their 2-year-old son, Yousef, were also trapped in Gaza for weeks. They returned to Massachusetts on Nov. 6.
Wayland police are investigating after large swastikas were found painted on a road in town Tuesday morning, acting Police Chief Ed Burman said in a news release.
He said officers responded to reports of vandalism on Rice Road shortly before 9 a.m. and found swastikas painted in two separate places on the roadway.
"There is no place for this kind of hatred and bigotry in our community," Burman said. "Every resident deserves to live their life free of harassment and hatred, and we will do everything in our power to support our community."
Wayland's Department of Public Works responded to the scene to cover the graffiti, and police detectives are working with the Massachusetts State Police Fusion Center to investigate, according to the news release.
Burman said he has also been in touch with the Anti-Defamation League New England, whose leadership team will support Wayland police and the community during the investigation.
Anyone with information is urged to call the Wayland Police Department at 508-358-4721 or the anonymous tip line at 508-358-1726.
The vandalism comes amid a reported uptick in antisemitic and Islamophobic incidents across the U.S. following Hamas's Oct. 7 attack on Israel and the resulting Israel-Hamas war.
North Andover will fly the Palestinian flag on its Town Common until Dec. 7.
A town resident submitted a request to fly the flag on Oct. 16, shortly after the outbreak of the Israel-Hamas war. At the time, the town's Select Board was accepting requests to raise guest flags underneath the North Andover flag on the town flagpole. The board's policy was to review those requests on a "content-neutral" basis, since the flagpole was considered a public forum where speech is protected by the First Amendment.
The Palestinian flag request was submitted just six hours before North Andover modified its policy to no longer consider the flagpole a public forum, and no longer accept resident applications to raise flags there. But because the request came in before the new policy took effect, the Select Board reviewed it according to the old rules.
Another resident of North Andover had previously submitted a request on Oct. 11 to raise the Israeli flag on the town flagpole. That request was granted, and the flag flew from Oct. 13 until Nov. 9.
The Israeli flag went up without incident, garnering no news coverage at the time. The Palestinian flag request was far more controversial. The Select Board initially planned to vote on it on Nov. 6 but canceled that meeting "due to threats of litigation, as well as public safety concerns and space constraints under the Open Meeting Law," according to an announcement posted on the town website.
When the Select Board met a week later on Monday night, hundreds of town residents showed up to the meeting to comment in support of and opposition to the flag being raised during an hour-long public comment period.
The board listened to the comments but had apparently already made up its mind. In a statement posted on the town website ahead of the meeting, Town Manager Melissa Rodrigues explained that according to the Supreme Court's 2022 decision in the Shurtleff v. Boston case, any resident or local group must be allowed to raise a flag, regardless of its content, on a flagpole that is designated as a public forum.
"After consultation with counsel, based upon the timing of events and the fact that the new policy was not in effect at the time the application was received, the determination regarding this application will be made under the old policy as required by law," Rodrigues wrote.
Rabbi Iden Irelander attended the Select Board's Monday night meeting and told 7News that the Palestinian flag "represents the attempted genocide of the Jewish people" and "basically represents Hamas."
Others who supported the flag being raised countered that it represents the Palestinian people, nation, and culture, and not Hamas.
A Smith College lecturer said she was fired from her position because of a discussion she had in class about the Israel-Hamas war.
Olive Demar, who taught the graduate-level class of "Dance 540: The history and literature of dance," was fired "for not meeting an acceptable level of performance," according to an email Demar shared with MassLive.
A member of the school's human resources consulting team said in the email that Demar was fired for too often discussing personal and political issues that weren't related to the course, she would end class early, and Demar wouldn't meet with the dance department chair. The school reportedly received complaints from some students about Demar, who allegedly called Israel's response to Hamas' attack a "genocide" and spoke out about the more than 10,000 Palestinians killed since Hamas abducted Israelis at a music festival and killed 1,400 people.
Demar said the school administration didn't use the word "Palestine" when firing her, but she believes it was those discussions that got her dismissed.
"It seems like people are getting fired if they speak out about Palestine … and as a human being and as a professor there's no more important issue to talk about," Demar said.
A spokesperson for Smith College said they "affirm the right of anyone at Smith to express their opinions and to make their perspectives known as guided by policies of the college," but said they would not comment further on a personnel matter.
A large crowd of pro-Palestine demonstrators marched from the Boston Public Library to the Massachusetts Institute of Technology Sunday afternoon. They gathered to call for a ceasefire in Gaza and for the U.S. government to stop funding Israel's military. Between 3,000 and 4,000 people joined the march, waving Palestinian flags and signs as they moved from the Back Bay across the Harvard Bridge to Cambridge, The Boston Globe reported.
"I'm seeing people of all different ethnic backgrounds, all different races, all different colors," Layan Alnajjar of Students for Justice in Palestine at the University of Connecticut told the Globe. "We are all united together under one common cause, and that is the liberation of Palestine by any means necessary."
Local universities and student demonstrations have become a flashpoint in the Boston area. MIT, where the march ended, said last week that students who refused an order to vacate a lobby amid a confrontation between pro-Palestine and pro-Israel protesters would be suspended from "non-academic" activities. Multiple people were arrested at Brandeis University Friday. Protests there were spurred by the school's decision to ban a pro-Palestine student group after it made a series of online posts that president Ronald Liebowitz viewed as being in support of the Oct. 7 attacks.
"Stand up against Israel in the streets, in the schools," demonstrator Saleem Hallal said at Sunday's rally, according to the Globe. "At Brandeis, MIT, students are getting arrested and suspended. Make no mistake, they can't suspend the movement; they can't suspend a free Palestine."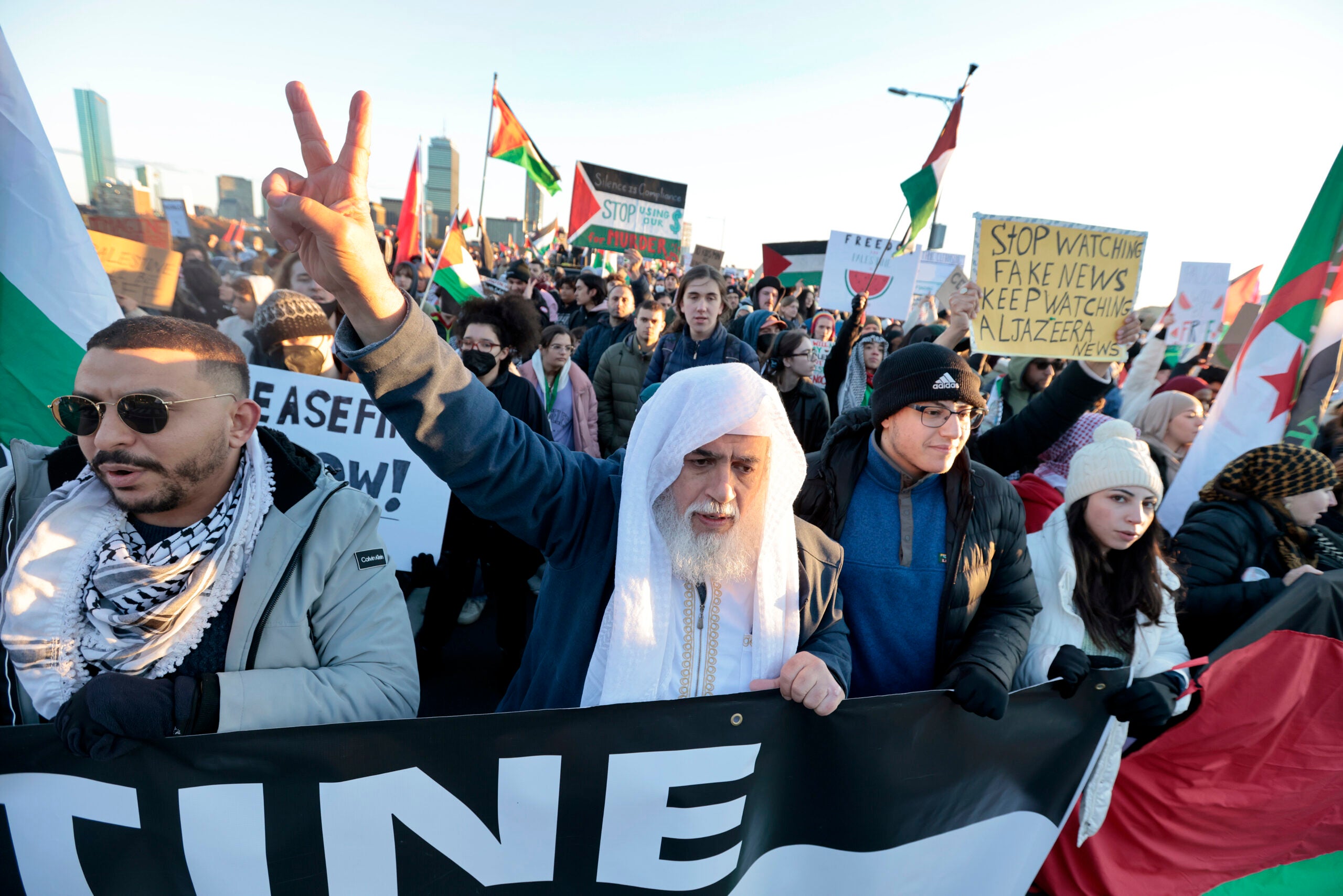 Previous live updates can be found here.
Newsletter Signup
Stay up to date on all the latest news from Boston.com