Racial Justice
'That type of so-called 'help' is not welcome here': Marty Walsh denounces federal agents policing Portland protests
"It appears to be needlessly escalating the situation."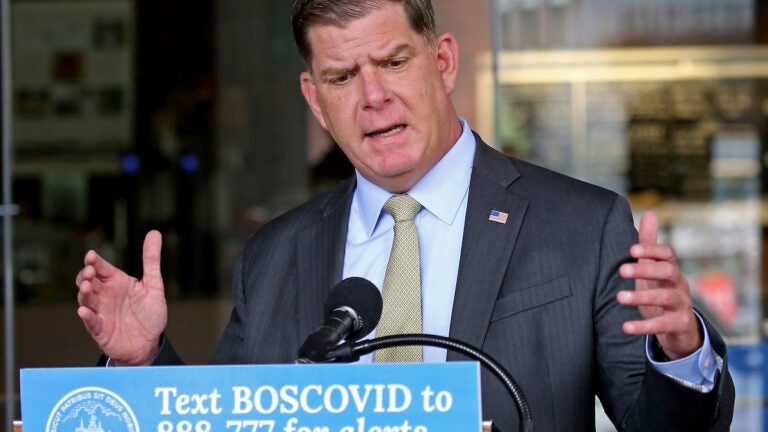 Mayor Marty Walsh joined a dozen other Democratic mayors from across the country Tuesday in calling on the Trump administration to end its practice of sending federal agents to confront demonstrators, namely in Portland, Oregon, where the officers have clashed with protesters calling for racial justice in recent days.
"While we have no information that Boston is being targeted, I want to make absolutely clear that behavior and that type of so-called 'help' is not welcome here in the City of Boston," Walsh said during a press conference. "It's being done with no communication and working with no local elected (officials) or no public safety agency in those different cities. It's being done with no regard for the right of safety of protesters, and it appears to be needlessly escalating the situation."
The Department of Justice and Department of Homeland Security dispatched agents, including the U.S. Marshals Special Operations Group and a U.S. Customs and Border Protection team, to protect federal property in Portland. The city has seen daily demonstrations against systemic racism and police brutality since the death of George Floyd, the Black man killed in police custody in Minneapolis on May 25.
But some agents have been reportedly driving in unmarked vans and taking protesters off streets not near federal buildings and without identifying themselves. Officers have also used tear gas to disperse crowds.
Portland Mayor Ted Wheeler, who says the agents have only exacerbated the tense situation, has called for the federal government to keep its agents in its buildings or, if not, vacate the city.
The initiative has also led Oregon Attorney General Ellen Rosenblum to sue Homeland Security and the Marshals Service in federal court, arguing agents have grabbed people off city streets "without warning or explanation, without a warrant, and without providing any way to determine who is directing this action."
On Tuesday, Walsh announced he and his counterparts — including the mayors of Seattle, Atlanta, Chicago, Washington D.C., Kansas City, Philadelphia, Denver, Los Angeles, San Jose, Oakland, and Tucson — wrote to Department of Justice and Homeland Security officials, calling on them to stop the operations, citing remarks regarding expanding into other cities, including Chicago.
The group also sent a letter to Congressional leaders requesting public hearings to investigate how such federal actions are authorized.
We are also sending a letter to Congress asking for public hearings on this issue, and language in funding legislation that would stop taxpayer dollars being used for this purpose. pic.twitter.com/EW5xIZaBv6

— Mayor Marty Walsh (@marty_walsh) July 21, 2020
Walsh told reporters he has not spoken with Wheeler, but heard him in a media interview explaining how the agents were not requested by Portland leaders.
"He was talking about how the aggressiveness of those protests has severely gone way down, and he felt that it was coming to an end as far as what he saw in the beginning of (the) protests," Walsh said. "And what's happened now is these unwelcomed, if you will, agents have come into the city with no coordination, have caused people to be very agitated again, and kind of up in arms. And I think that many times, if they think they're coming in to help, they're doing more harm than good."
The Dorchester Democrat added that the mayors he joined in the call to stop the practice are "very good, strong mayors and they understand how to run their cities."
"When people want to come and demonstrate, the last thing you want to do is confront them … because people are demonstrating their emotion, they're demonstrating whatever they're demonstrating — in this particular case, it's racial injustice — and I don't think that by poking and inciting violence is the way to do it, and that quite honestly is what happened in Portland," Walsh said.
In their letter, the mayors decried the deployment of federal forces, arguing the move is unprecedented and violates "constitutional protections and tenets of federalism."
The officers were uncalled for, and their actions undermine the work of local police, who are trained with certain protocols — such as community policing, deescalation techniques, and crowd management — that their federal counterparts have "blatantly" disregarded, the mayors wrote.
The cohort also lamented that the initiative is being used as a political ploy by President Donald Trump.
"The president and his administration continually attack local leadership and amplify false and divisive rhetoric purely for campaign fodder," the letter reads. "Their words and actions have created an environment of fear and mistrust."
Meanwhile, the vast majority of protests in the wake of Floyd's death have been peaceful, they noted. Even in cases where demonstrations have turned in the opposite direction, the use of federal forces remains unjustified, they said.
"This abuse of power cannot continue," the letter says.
In Boston, where public protests and rallies have been largely peaceful, Walsh affirmed the city supports the racial justice movement.
"The Boston Police Department has certainly preserved public safety while protecting the rights of free speech and free movement," he said. "Unfortunately this seems to be another situation where the president … doesn't understand or believe in those rights. That's an unfortunate situation in the United States of America."
Material from the Associated Press was used in this report.