Racial Justice
Lawyer rips Whole Foods for statement 'falsely attacking' former Cambridge employee
"Their efforts to disparage an amazing activist and leader are beyond the pale."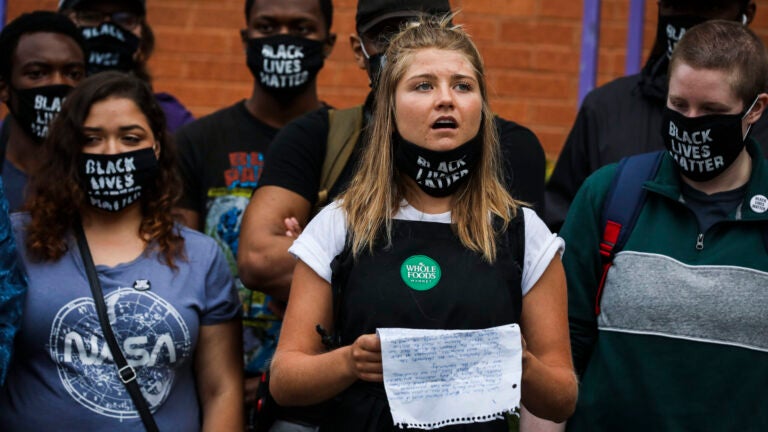 The lead attorney in the class-action lawsuit against Whole Foods over the grocery store's decision to discipline employees who wore Black Lives Matter face coverings is ripping the company for "falsely attacking" one of the plaintiffs in the case.
Following news of the lawsuit Monday, a Whole Foods spokesperson told Boston.com that Savannah Kinzer — a former employee at the chain's River Street location in Cambridge who was fired over the weekend after organizing protests against the policy — was fired for "not working her assigned shifts, reporting late for work multiple times in the past nine days and choosing to leave during her scheduled shifts."
The company, which is being sued for alleged discrimination and retaliation, emphasized that no employees were fired for wearing a Black Lives Matter mask. Kinzer is the only Whole Foods employee involved in the action who has been fired.
Shannon Liss-Riordan, the Boston-based labor lawyer representing Kinzer and 13 other plaintiffs in the case, said the company's statement is misleading.
According to the lawsuit, Kinzer was terminated due to an "accumulation of disciplinary points, most of which she received as a result of wearing the Black Lives Matter mask." The plaintiffs' complaint also claims her firing — which happened an hour after the 23-year-old Boston resident informed managers of the lawsuit this past Saturday — was "in retaliation for being a leader in organizing the employees to wear the masks and protesting the company's policy of disciplining employees for wearing the masks."
In a statement, Liss-Riordan told Boston.com that Whole Foods' response to the lawsuit was "despicable."
"Their decision to retaliate against employees expressing support for this racial justice movement was bad enough, but their efforts to disparage an amazing activist and leader are beyond the pale," she said. "We look forward to making our argument in federal court."
According to a spokesman for the plaintiffs, the alleged time and attendance violations were based on the company sending Kinzer home from work for wearing the Black Lives Matter mask and the subsequent walkouts she organized against the policy. The group has also filed a complaint to the National Labor Relations Board accusing Whole Foods of interfering with employees' legally protected rights to engage in "concerted activity" to improve conditions in their workplace.
Whole Foods did not respond to an additional request for comment Wednesday.
But the company said earlier it has "zero tolerance" for workplace retaliation and contends that Kinzer and others were punished for violating company policy, a standard industry practice.
"As an employer we must uphold our policies in an equitable and consistent manner," the Whole Foods spokesperson said in the statement Monday. "Savannah had full understanding of our policies and was given a number of opportunities to comply."
The company says its dress code prohibits attire with slogans or messages that aren't company related — and has sent home employees across the country, from New Hampshire to Seattle, who have worn a Black Lives Matter mask on the job in the wake of the recent nationwide protests against racial injustice.
According to a copy of Whole Foods' internal dress code shared with Boston.com by an employee who wished to remain anonymous, regional and store managers also have the "prerogative to set standards stricter" than the company's minimum guidelines, which otherwise give workers relative freedom to choose their attire. The policy says requests by management to "tone down" one's appearance are not "arbitrary or unreasonable."
"They are simply trying to create the most pleasant and safe atmosphere possible for our customers and Team Member," the dress code says.
In the wake of the reenergized Black Lives Matter movement, Whole Foods says the "longstanding" dress code against attire with non-company-related messages is aimed at prioritizing operational safety in stores.
While most national chains require employees to wear a face covering to limit the spread of COVID-19, Whole Foods isn't the only one to prohibit masks with messages supporting the Black Lives Matter movement, among other political messages. Costco, Taco Bell, and Chick-fil-A have also garnered attention for similar policies. Starbucks also initially banned such masks citing "agitators who misconstrue the fundamental principles of the 'Black Lives Matter' movement" and "repurpose them to amplify divisiveness," but later reversed the policy.
Still, Whole Foods, which has roughly 500 stores in North America, has become a focal point, amid reports of employees being disciplined for wearing Black Lives Matters masks in at least eight different states.
The actions prompted the class-action lawsuit led by Liss-Riordan, a former Senate candidate in the Democratic primary, in federal court in Boston on behalf of Whole Foods workers who say the dress code is being selectively enforced. Whole Foods had previously allowed less politically divisive messages, such as attire with rainbows expressing LGBT pride, sports logos, and mundane statements like "soup is good," employees said.
Additionally, Kinzer has called the policy "hypocritical" given the Amazon-owned company's public statements supporting the Black Lives Movement; their website prominently states that "racism has no place here," and Amazon CEO Jeff Bezo recently made headlines for his response to critics of the position.
"Whole Foods states prominently on its website and on signs in its stores that 'Racism has no place here,' but won't allow employees to express solidarity with Black lives," Kinzer said earlier this week.
Get Boston.com's browser alerts:
Enable breaking news notifications straight to your internet browser.