2020 Election
Ed Markey urges William Barr to reopen case of Easton native killed by police, after criticism of his own response
D.J. Henry's father called out the Massachusetts senator in a video this week.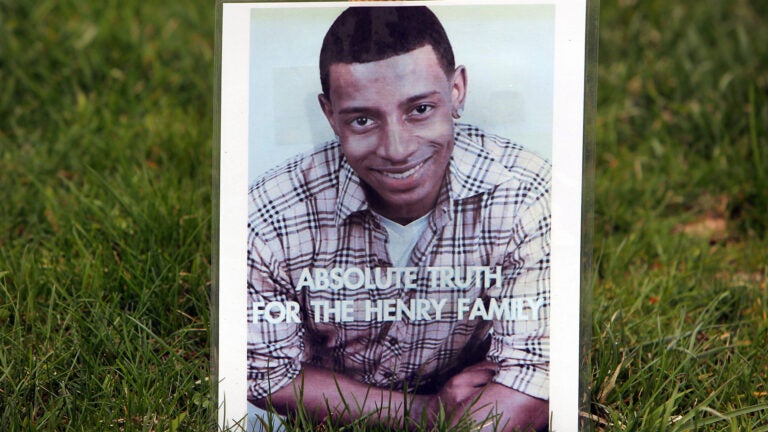 Sen. Ed Markey is calling for Attorney General William Barr to open a new investigation into the killing of Danroy "D.J." Henry by police in New York, after apologizing to the parents of the Easton native this week.
"The circumstances surrounding DJ's death merit further scrutiny than prior investigations have provided," Markey wrote, after his own response to the effort to reopen the case came under scrutiny this week, in the midst of his re-election campaign.
Henry, a Black college student at Pace University, was shot in his car by a white police officer outside a restaurant in the suburbs of New York City in 2010. The 20-year-old reportedly died while handcuffed on the pavement. And in the years since, questions have been raised about the fatal shooting, including by a fellow officer who testified that Aaron Hess, the officer who shot Henry, was the "aggressor" in the situation.
In the wake of the racial justice movement following more recent killings of Black people by police, Henry's death has received renewed scrutiny from national celebrities, who also called on Barr to reopen the case. Henry's family, who ultimately received a $6 million settlement, have been pressing government officials for years for a more thorough investigation into their son's death.
And that's where the case intersects with Markey's high-profile primary race against Rep. Joe Kennedy III.
In a video posted Monday afternoon on Twitter, Danroy Henry Sr. said Markey didn't do enough when he and his wife came to the senator and other members of the Massachusetts delegation "as grieving parents" asking for help.
"You were the only one who didn't act," Henry said. "Not only did you not act in any way, but we felt like you were just dismissing us, using, even, the term 'colored' in the conversation. We felt like the only thing you offered us was lunch that time."
@EdMarkey @WBUR @BostonDotCom #djhenry #danroyhenryjr @wbz #Massachusetts @NYGovCuomo @wgbhnews @bostonherald @AOC pic.twitter.com/xsAYqE6ugd

— Danroy Henry Sr (@DanroyHenrysr) August 3, 2020
While he said the meeting took place "10 years ago," Markey's office told The Boston Globe that it occurred in May 2014. Henry subsequently told WGBH News this week that he and his wife Angella met with Markey at a restaurant in 2012 but said the then-congressman "took no notes and asked only one question."
The Malden Democrat, who won his Senate seat after a special election in 2013 and was elected to his first full term in 2014, signed a letter — along with fellow Sen. Elizabeth and Reps. Katherine Clark, Stephen Lynch, and Kennedy — to federal prosecutors in December 2014 asserting that "a federal review of the case is critical in order to identify any civil rights or due process violations that may have occurred."
However, Danroy Henry Sr. said Monday that his family had yet to hear "a word" from Markey's office in the years since, as they have continued their push to get their son's case reopened.
"If you truly are a champion for change, if you're on the right side of social justice issues, act that way when the cameras aren't on you," he said. "We could use your help."
In a statement first reported Monday night by the Globe, Markey said he had reached out to offer his "sincerest apologies" and "pledge to them my complete support to take action on this case."
"I strongly support the Henry family's efforts to reopen the case of the murder of their beloved son DJ Henry," said the 74-year-old senator. "I cannot fathom the pain that they must be feeling watching news about all of the families who have had loved ones murdered by the police. I am again calling on the Attorney General to do his job and offer justice to the Henry family and open this long-overdue investigation."
Markey followed up Tuesday with a letter to Barr and government prosecutors in New York urging them to open a "renewed, thorough, and transparent investigation" into Henry's death.
"Anything less is a betrayal of our collective promise to be a country dedicated to achieving equality for all," he wrote, noting that "justice has not been served" since his first 2014 letter.
Markey's office noted Wednesday that since 2014 all official inquiries into the shooting have ended, including a federal investigation of potential civil rights violations and a local investigation of police misconduct — as well as the Henry family's lawsuit — with no charges filed. But in his letter Tuesday, the senator noted that the New York town of Mount Pleasant admitted in its settlement with the Henry family that the initial descriptions of the shooting "did not fully or fairly represent the events of that early morning."
"Although these new facts on their own are sufficient to justify renewed investigation, their emergence coincides with our nation's long-overdue reckoning with police misconduct and use of excessive force, especially against young Black and Brown men such as DJ," Markey wrote.
However, Danroy and Angella Henry say they're supporting Kennedy in the Senate primary race. As residents of the Massachusetts congressman's district, they attended President Barack Obama's State of the Union address in 2015 as Kennedy's guests and filmed a video for his Senate campaign last month attesting to the Newton Democrat's consistent support of their efforts, including a scholarship fund in their son's name.
"We met Joe at a time in our journey when we were really trying to discover what actually happened to our son," Danroy Henry said. "Before we know many of the facts that emerged later that vindicated DJ and implicate his killer, Aaron Hess."
Ten years ago, D.J. Henry from Massachusetts was killed by a police officer when he was just 20 years old. His parents Dan and Angella — two of the most inspiring people I know — continue fighting for justice. Please take a moment to hear and share their story. pic.twitter.com/Mz0xkmAyEI

— Joe Kennedy III (@joekennedy) July 7, 2020
Hess, whose lawyer has accused the Massachusetts delegation of making the shooting "a political issue," ended up on the hood of Henry's moving car and shot through the windshield, killing the Bay State native and wounding a passenger in the vehicle, according to police reports on the 2010 incident.
Hess said at the time that he feared for his life. However, as the Globe reported last month, evidence that surfaced shortly thereafter cast doubt on that account.
The passenger told investigators that he and Henry thought the officers wanted them to move the car from the fire lane and that Hess jumped in front of the car when they did. The car was also found to be moving much slower than officers initially described and braking as it neared Hess, according to security footage. A since-retired officer at the scene later testified in 2012 that Hess was "mounting the vehicle as he was firing."
Emily Kaufman, a spokeswoman for Kennedy, said the congressman had been working with the family for six years and "personally intervened on their behalf with officials in the Justice Department, the Senate, and in New York State."
"We think Massachusetts families deserve a Senator who will fight for them even when it's not an election year," Kaufman said.
Get Boston.com's browser alerts:
Enable breaking news notifications straight to your internet browser.