Racial Justice
Fall River police department considers disciplinary action after Facebook post criticizing George Floyd
Chief Jeffrey Cardoza said it was accidentally shared by an officer who meant to share it on his personal page.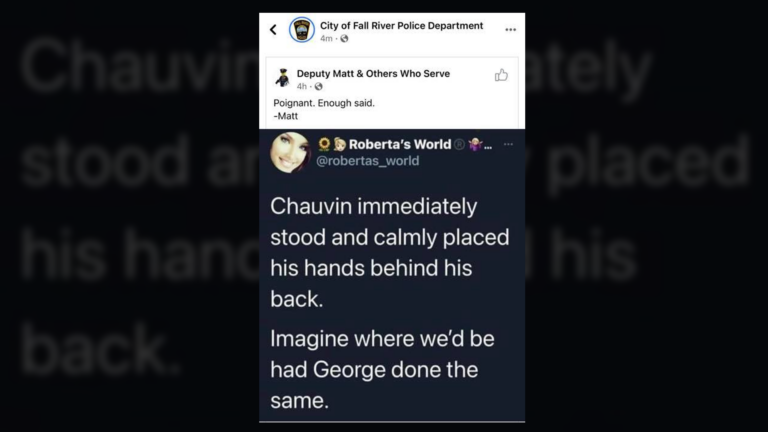 The Fall River Police Department Facebook page shared a screenshot Wednesday of a tweet criticizing George Floyd, the Black man who was killed last May after ex-Minneapolis police officer Derek Chauvin knelt on his neck for over nine minutes. Chauvin, who is white, was found guilty on three charges of murder and manslaughter Tuesday.
"Chauvin immediately stood and calmly placed his hands behind his back. Imagine where we'd be had George done the same," the tweet read, according to The Fall River Herald News. The post was soon deleted from the department's Facebook page.
Chief Jeffrey Cardoza said the department will investigate the incident and "possibly" give disciplinary action. He said the person who shared the post meant to post it on his personal page. The unidentified officer is one of a few who can access the department's Facebook page, the chief said.
"I'm not happy with it, I'm disappointed with it," Cardoza said in an interview with Fall River Reporter. "These are the types of attitudes we don't want going on in this building."
In a statement, mayor Paul Coogan called the post "disappointing, frustrating, and unacceptable," stating that there is "no place in the FRPD for an opinion like that."
"The post, despite being intended for a personal page, contains beliefs completely incompatible with my hopes for the Fall River Police Department," he wrote. "While I am saddened by the harm that the statement has caused, it has reminded us of the hard work we have yet to do to create transparent, strong relationships between the FRPD and our community."
The department Facebook page shared a statement expressing regret for the deleted post, stating that it "in no way represents the opinion of the Chief of Police or the Fall River Police Department." The apology collected over a thousand comments, most of which called for the officer to be fired.
Get Boston.com's browser alerts:
Enable breaking news notifications straight to your internet browser.