Racial Justice
A timeline of what has happened in the year since George Floyd's death
Looking back on a groundbreaking 12 months in race relations and racial justice in the U.S.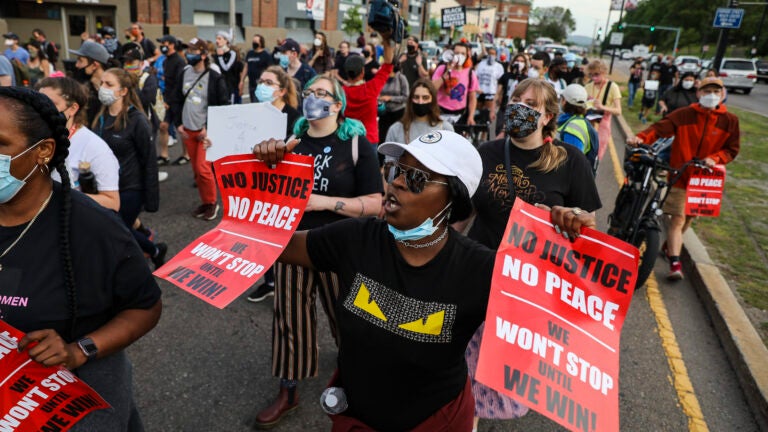 As dusk neared on May 25, 2020, a teenager walking to a corner store in South Minneapolis whipped out her cellphone and recorded a shocking sight: A white police officer kneeling on the neck of a Black man for more than nine agonizing minutes.
In the hours that followed, the cellphone video showing George Floyd's murder would spread across the globe and incite an uprising for racial justice nearly unparalleled in American history.
Hundreds of thousands of Americans took to the streets. Protesters and police officers clashed in many cities. Corporations scrambled to issue statements affirming their commitments to racial equality. Athletes knelt during the national anthem.
The country both struggled to confront its history of racial division and continued to succumb to it. Americans saw new police killings greeted by fresh rounds of protests. Presidential candidates traded barbs over race, policing, law and order, and bias. And a former police officer's trial left many across the country nervously glued to their television sets. Here is a look back at what has transpired in the year since Floyd's death.
May 2020
May 25: George Floyd is killed by the police.
George Floyd, a 46-year-old African American man, is killed on a street corner in Minneapolis after being handcuffed and pinned to the ground by Derek Chauvin and other officers responding to a forgery call. Darnella Frazier, a 17-year-old, turns on her cellphone to capture video of Chauvin, who is white, using his knee to pin Floyd by his neck. Floyd is heard repeatedly saying, "I can't breathe."
Frazier's video contradicted the initial police account, which said Floyd had died after a "medical incident" as he was restrained by officers.
May 26: The four officers involved in his arrest are fired.
The Minneapolis police chief, Medaria Arradondo, fires the four officers involved in the arrest of Floyd. Hundreds of protesters against police violence flood the streets of the city in the evening.
May 27: Protests grow and spread across the U.S.
Demonstrations and marches are mounted in a number of cities to protest killings of Black people, including Floyd in Minneapolis, Breonna Taylor in Louisville, Kentucky, and Ahmaud Arbery in Brunswick, Georgia.
May 28: A Minneapolis police station is burned.
The Minneapolis police station where the officers involved in Floyd's death worked is set on fire during protests.
Gov. Tim Walz activates the Minnesota National Guard as hundreds of buildings are burned during protests over several nights. "Let's be very clear," Walz said. "The situation in Minneapolis is no longer, in any way, about the murder of George Floyd. It is about attacking civil society, instilling fear and disrupting our great cities."
May 29: Derek Chauvin is arrested.
The officer who pinned Floyd's neck to the ground with his knee, Chauvin, is arrested and charged with third-degree murder and second-degree manslaughter.
President Donald Trump threatens to use military force to suppress riots. On Twitter, he calls protesters "thugs" and says, "When the looting starts, the shooting starts."
May 30: The White House is locked down.
When a crowd of protesters gathers outside the White House, the Secret Service temporarily locks down the building and Trump is moved to an underground bunker for safety.
In Atlanta, hundreds of demonstrators pour into the streets near Centennial Olympic Park, leaving behind smashed windows. Two college students leaving the demonstrations after the city's curfew are dragged from their car by police officers who fire stun guns at them.
In New York, the police and protesters clash across Brooklyn and Lower Manhattan, leaving demonstrators and officers injured.
May 31: A day of peaceful demonstrations ends in a night of clashes.
Hundreds of thousands of people join largely peaceful demonstrations across the country, but some cities report hundreds of arrests after protesters clashed with the police and some areas are looted. National Guard troops are deployed in more than two dozen states.
The police fire tear gas near the White House to dissuade protesters who had smashed the windows of prominent buildings, overturned cars and set fires, with smoke seen rising from near the Washington Monument.
It is the sixth day of nationwide unrest since the death of Floyd. Mayors have imposed curfews and several governors have mobilized the National Guard, but that has not quelled the widespread protests.
June 2020
June 1: Protesters are cleared for Trump's photo op.
Demonstrators who gathered outside the White House to protest police brutality are cleared from Lafayette Square in Washington by police officers and National Guard troops using flash-bang explosions, tear gas and other munitions. The area is cleared so that Trump can have his picture taken holding a Bible outside St. John's Church.
Demonstrators marching peacefully in Philadelphia enter a major highway and are trapped by police SWAT teams at the front and rear of the march. Authorities start using pepper spray and tear gas on the trapped protesters, who say they cannot breathe.
A nightly curfew is put in place in New York City.
June 2: Confederate symbols become a target of the protests.
A 131-year-old statue commemorating Confederate soldiers is taken down from public display in Alexandria, Virginia, one of more than 160 public symbols of the Confederacy that are removed or renamed in 2020 after the death of Floyd — more in the previous four years combined, according to the Southern Poverty Law Center.
June 3: New charges are brought against the Minneapolis officers.
Attorney General Keith Ellison of Minnesota announces new charges in the death of Floyd: Second-degree murder for Chauvin, and aiding and abetting second-degree murder for the three other Minneapolis police officers who were present and failed to intervene.
June 4: Buffalo police officers are suspended after shoving 75-year-old protester.
Two Buffalo police officers are suspended without pay after a video shows them shoving a 75-year-old protester, who was hospitalized with a head injury. Several other officers are seen walking by the man, motionless on the ground, without checking on him.
Hundreds of people gather at a Minneapolis chapel for a public memorial for Floyd, who is remembered as a friend and father and uncle to those closest to him, and also as a victim of racial injustice whose death in police custody drew legions of people into the streets.
In Virginia, Gov. Ralph Northam orders the removal of a towering statue of Robert E. Lee in Richmond.
June 5: "Black Lives Matter" is painted near the White House.
Mayor Muriel E. Bowser of Washington has city workers paint "Black Lives Matter" in giant yellow letters down a street near the White House that had been at the center of the confrontations between law enforcement and protesters.
The Marine Corps issues detailed directives about removing and banning public displays of the Confederate battle flag at Marine installations — an order that extends to mugs, posters and bumper stickers.
One of the founders of Reddit, Alexis Ohanian, announces his resignation from the company's board and encourages the company to find a Black candidate to replace him.
More than a dozen Black professional football players release a video calling on the NFL to condemn the oppression of Black people and to apologize for not supporting players who protested peacefully.
June 6: The protests spread around the globe.
Tens of thousands of protesters turn out in Australia, Britain, France, Germany and other nations in support of U.S. protests against the death of Floyd, while denouncing racism in their own countries.
June 7: A majority of the Minneapolis City Council pledges to disband the Police Department.
A majority of the members of the Minneapolis City Council stand on a stage in a park above large block letters that read, "Defund Police," as they pledge to dismantle the city's Police Department. They promise to create a new system of public safety in a city where law enforcement has long been accused of brutal treatment toward Black residents.
June 8: Protesters establish an "autonomous zone" in Seattle.
On the streets next to a police station in Seattle's Capitol Hill neighborhood, protesters and officers have spent a week locked in a nightly cycle of standoffs.
But facing a growing backlash over its dispersal tactics in the aftermath of Floyd's death, the Seattle Police Department offers a concession: Officers would abandon their building, board up the windows and let the protesters have free rein outside. Protesters reverse the barricades to shield the liberated streets and lay claim to several city blocks, known at first as the "Capitol Hill Autonomous Zone."
Thousands of people line up for hours to view the body of Floyd in Houston, the city where he spent most of his life. The public viewing stretches for more than six hours and becomes not so much a rally or a protest, but an open-air memorial for a city's fallen son.
June 9: A private funeral service is held for George Floyd.
At Floyd's funeral at a southwest Houston church, he is remembered as the son, brother, uncle and father that he was in life. Floyd, who grew up in a public housing complex in Houston's predominantly Black Third Ward, was considered a native son.
Speaker after speaker invokes the political moment born out of what happened in Minneapolis, and the Rev. Al Sharpton delivers the eulogy.
On the same day, HBO Max removes from its catalog "Gone With the Wind," the 1939 movie long considered a triumph of American cinema but one that romanticizes the Civil War-era South while glossing over its racial sins.
And Greg Glassman, the founder and chief executive of CrossFit, announces he will step down after posting a tweet that made light of both the coronavirus pandemic and the killing of Floyd.
June 10: NASCAR announces it will ban Confederate flags.
NASCAR says it will ban the Confederate battle flag from its events and properties, becoming the latest organization to reconsider the emblem's place in American society.
Walmart commits to ending its practice of locking up African American beauty care products in glass cases after a fresh round of criticism that the policy was a form of racial discrimination.
June 12: An Atlanta police officer fatally shoots Rayshard Brooks.
After Atlanta officers were called to the parking lot of a Wendy's restaurant, an officer fatally shoots Rayshard Brooks, a Black man who had fallen asleep in his car in the drive-thru lane. Brooks had struggled with the officers after they tried to arrest him for driving while intoxicated, and he took and fired one of the officers' Tasers before an officer shot him in the back.
June 12: New York state bans chokeholds.
New York becomes one of the first states to take meaningful action to restrict police forces after Floyd's death, banning the use of chokeholds and repealing a half-century-old law that has kept police disciplinary records secret.
June 17: The Aunt Jemima name is dropped.
Quaker Oats announces it will drop the Aunt Jemima name and change the packaging from the pancake mix and syrup brand, which was founded in 1889, with the company acknowledging that Aunt Jemima's origins were "based on a racial stereotype."
June 19: Juneteenth is more widely recognized.
Many celebrate Juneteenth, the holiday commemorating the emancipation of slaves in the United States that has been embraced by African Americans since the late 1800s. Major companies like Twitter, Nike and Allstate make it a paid holiday.
The Associated Press changes its writing style guide to capitalize the "b" in the term "Black" when referring to people in a racial, ethnic or cultural context. The news organization says it wants to make more clear that those who identify as Black have a shared sense of history, identity and community.
Colorado limits the ability of police officers to use qualified immunity as a defense against liability in state courts. The bill won the support of the state's police chiefs and county sheriffs' organizations. The state also bans the use of deadly force to apprehend or arrest a person suspected only of minor or nonviolent offenses.
June 23: The Occupy City Hall movement takes hold in New York.
About 100 protesters begin occupying City Hall Park in Lower Manhattan — with some spending the night — in an effort to draw more focus to their demand for deep budget cuts to the Police Department.
June 24: Seattle's school board suspends partnership with the police.
In a unanimous vote, members of Seattle's school board suspend the stationing of five police officers in public schools. Black students make up 14% of enrollment but represent nearly half of the students referred to the police, according to The Seattle Times. The decision comes six days after Milwaukee school board members unanimously voted to cancel all contracts with the police.
June 25: Splash Mountain gets an overhaul.
Disney says it will remake one of its most popular theme park rides, Splash Mountain, which depicts characters and songs from "Song of the South," the racist 1946 film. The 31-year-old flume ride will instead be modeled on "The Princess and the Frog," the 2009 movie that introduced Disney's first Black princess, Tiana.
June 26: Georgia's governor signs a hate crimes law.
Gov. Brian Kemp signs a hate crimes law in Georgia, one of the few states without one, after it passed with bipartisan support. The bill had been stalled for years but gained steam after the death of Ahmaud Arbery, a Black man who was fatally shot near Brunswick, Georgia, in February 2020. The law allows for extra penalties to be applied for crimes motivated by a victim's race, color, religion, national origin, sex, sexual orientation, gender or disability.
In response to the toppling of statues and monuments, Trump issues an executive order that instructs federal law enforcement authorities to prosecute people who damage federal monuments or statues. It also threatens to withhold funding from local governments that fail to protect their own statues from vandals.
June 30: Mississippi removes a Confederate emblem from the state flag.
Gov. Tate Reeves signs into law a measure that removes the flag that had flown over Mississippi for 126 years. The legislation mandates the "prompt, dignified and respectful" removal of the flag, which featured the blue bars and white stars of the Confederate battle flag, within 15 days.
July
July 1: Los Angeles trims its police budget by $150 million.
The Los Angeles City Council cuts its police budget with plans to reinvest the funds in marginalized communities, but activists note that the $150 million was a small fraction of the department's $1.8 billion budget.
July 9: New York paints "Black Lives Matter" in front of Trump Tower.
New York City paints "Black Lives Matter" in large yellow letters on the street outside Trump Tower.
July 10: Calls for change are made on Broadway.
A coalition of theater artists, known by the title of its first statement, "We See You, White American Theater," posts a 29-page set of demands online, calling for renaming half of all Broadway theaters, imposing term limits on theater industry leaders and requiring that at least half the members of casts and creative teams be made up of people of color. It was part of a groundswell of calls for change at arts organizations.
July 13: Washington's football team retires its name.
Yielding to pressure from sponsors and activists, the NFL team in Washington announces that it will soon drop its logo and the 87-year-old name that had long been considered a racial slur.
July 15: Federal agents in Portland pull some people off streets in unmarked vans.
Federal agents dressed in camouflage and tactical gear take to the streets of Portland and pull some people into unmarked vans, among other militarized crackdown tactics, in what Gov. Kate Brown of Oregon calls "a blatant abuse of power."
July 17: Rep. John Lewis dies.
Rep. John Lewis, a son of sharecroppers and an apostle of nonviolence who was bloodied at Selma and across the Jim Crow South in the historic struggle for racial equality, and who then carried a mantle of moral authority into Congress, dies at 80 years old.
July 18: Federal officers beat a Navy veteran in Portland.
Federal officers beat Christopher J. David, a Navy veteran who joined the protests in Portland, with a baton and douse him with pepper spray, according to video footage of the encounter. David approached officers to ask whether they felt their actions — the use of violent tactics of protesters — violated the Constitution.
July 25: The WNBA dedicates its season to Breonna Taylor.
The WNBA begins a season dedicated to Breonna Taylor and charged with social justice initiatives. Symbols and logos declaring "Black Lives Matter" and "Say Her Name" are prominent, and players wear jerseys with the name of Taylor, who was killed in her apartment by Louisville, Kentucky, police officers.
July 29: Oregon's governor says federal troops will withdraw.
Gov. Kate Brown of Oregon announces that the federal law enforcement agents guarding the federal courthouse in downtown Portland would begin withdrawing.
Federal officials confirm an agreement but caution that they would withdraw only when they were confident that the federal courthouse, which has been at the center of protests, is secured.
August
Aug. 11: The family of Elijah McClain sues Aurora, Colo.
The family of Elijah McClain, a 23-year-old man who died in 2019 after the police in Aurora, Colorado, restrained him with a chokehold that has since been banned, files a lawsuit against the city of Aurora. The same day, the Colorado attorney general announces a sweeping investigation into whether the Aurora Police Department employed "patterns and practices" that may deprive people of their constitutional rights.
Aug. 13: Austin cuts one-third of its police budget.
The Austin City Council approves $21.5 million in immediate budget cuts to its Police Department, and a redistribution of current police functions that, if fully put into place, would shift away an additional $130 million.
Aug. 23: Jacob Blake is shot by a police officer in Wisconsin.
The country is again rocked by horrific cellphone footage, this one showing 29-year-old Jacob Blake getting shot multiple times in the back by a Kenosha, Wisconsin, police officer. The shooting, which happened in front of Blake's three children as he tried to enter his car while holding a knife, left him partly paralyzed.
Aug. 25: Two protesters are killed during protests in Kenosha.
As demonstrators protesting the shooting of Blake fill the streets of Kenosha, Kyle Rittenhouse, 17, is captured on video appearing to shoot three people while carrying a military-style rifle. He was later charged with two counts of first-degree intentional homicide.
Aug. 26: The Milwaukee Bucks walk out of an NBA playoff game.
The Milwaukee Bucks walk out of a playoff game with the Orlando Magic to protest the police shooting of Blake. They are soon joined by the Magic and other teams in the NBA, WNBA and other major sports leagues. The moves dramatically escalate a season of athletes demonstrating for social justice.
Aug. 28: Thousands join a march on Washington.
Thousands gather at the Lincoln Memorial for a protest aiming to recall the March on Washington in 1963. The march was devised in part to build on the passion for racial justice that the Rev. Dr. Martin Luther King Jr. summoned when he delivered his "I Have a Dream" address on that same spot.
September
Sept. 2: Protests begin over release of Daniel Prude video in Rochester.
The family of Daniel Prude, a Black man who died after having a psychotic episode, releases raw videos of Rochester, New York, police officers placed a mesh hood over his head in March 2020. The footage that they obtained through an open records request sets off protests in the city.
Sept. 23: A grand jury declines to charge officers for the killing of Breonna Taylor.
A grand jury decides to not charge the two officers who shot Breonna Taylor, indicting one former detective for recklessly firing into another apartment during the raid of her apartment. Two Louisville police officers are shot during the demonstrations that follow.
The decision comes after more than 100 days of protests and a monthslong investigation into the death of Taylor, a 26-year-old emergency room technician who was shot six times by officers executing a search. Her boyfriend had fired a shot at the officers when they burst into the apartment, saying later that he thought they were intruders.
Sept. 24: A Philip Guston retrospective is postponed.
A major retrospective of the modernist painter Philip Guston — a white painter whose work grappled with racism and included white hooded Ku Klux Klan figures — is postponed until 2024 by museums including the National Gallery of Art in Washington, the Museum of Fine Arts, Houston, the Tate Modern in London, and the Museum of Fine Arts, Boston.
In a joint statement, the museum directors said they were "postponing the exhibition until a time at which we think that the powerful message of social and racial justice that is at the center of Philip Guston's work can be more clearly interpreted." After a backlash, the National Gallery said it would instead host the retrospective in 2022.
Sept. 29: Trump tells Proud Boys to "stand back and stand by."
Asked by the moderator of the first presidential debate whether he was willing to condemn white supremacists and call on militia groups to "stand down," Trump instead told the Proud Boys — an all-male far-right group known for brawling at protests — to "stand back and stand by." Though Trump also said that he wanted "to see peace," he quickly added: "Somebody's got to do something about antifa and the left."
October
Oct. 12: A monument to Union soldiers is torn down in Santa Fe, N.M.
A 33-foot-high monument that had stood for more than 150 years is toppled at a rally on Indigenous Peoples' Day. Protesters used ropes and chains to pull down the obelisk, which was dedicated to Union soldiers who fought Civil War battles in New Mexico. It featured an inscription that honored the "heroes" who had fought against "savage Indians."
Oct. 26: Philadelphia police officers fatally shoot Walter Wallace Jr.
Two Philadelphia police officers fatally shoot Walter Wallace Jr., a 27-year-old Black man who was armed with a knife.
In a video that circulates on social media, someone yells repeatedly at Wallace to "put the knife down." The camera points toward the ground as about a dozen shots are heard. After Wallace falls to the ground, his mother screams and rushes to his body.
November
Nov. 3: Voters choose a new president on Election Day.
After winning the Democratic primary because of overwhelming strength from the party's Black voters, Joe Biden wins a decisive victory over Trump, capturing the White House along with Kamala Harris, the first woman, first Black person and first Asian American to serve as vice president. (The race, however, is not called by the news media for several days.)
Trump's defeat, the rare ouster of an incumbent president after one term, comes after four chaotic years in which he fostered stark divisions among Americans, including his relentless scapegoating of migrants and people of color. Still, in an election that draws a surge in turnout among every American voting demographic, Trump wins larger percentages of voters of color in 2020 than he did in 2016.
Mississippi voters approve a new state flag with a magnolia flower and red, yellow and blue stripes, replacing the one from 1894 that featured the Confederate battle emblem. Rhode Island voters approve the removal of "and Providence Plantations" from the state's official name.
December
Dec. 22: A Columbus police officer fatally shoots Andre Hill.
Andre Hill, a 47-year-old Black man, is killed by a police officer in Columbus, Ohio, weeks after a Franklin County sheriff's deputy killed Casey Goodson, a Black man, setting off a round of protests against police brutality.
Dec. 30: Minneapolis records its first police killing since George Floyd's death.
A Minneapolis police officer fatally shoots a man who fired at officers after they approached his car during a gun investigation, the first killing by a member of the department since George Floyd's death in May.
January 2021
Jan. 6: Supporters of Trump storm the U.S. Capitol.
Immediately following a rally by Trump in Washington during which he urges his supporters to "fight like hell," hundreds of them overrun police officers and breach the U.S. Capitol, forcing lawmakers to flee just as they are about to certify Biden's victory.
Four people, including a U.S. Capitol Police officer, Brian D. Sicknick, die of medical emergencies during the clashes, and a fifth — Ashli Babbitt, an unarmed supporter of Trump — is shot and killed by a Capitol Police officer as she moves toward the House chamber.
About 140 police officers from the Capitol Police and the D.C. Metropolitan Police Department are injured, but many activists who participated in Black Lives Matter protests say the fact that the police did not use more force to stop the supporters of Trump, who were mostly white, is a sign of a double standard.
Jan. 20: Biden is inaugurated as the 46th president.
The inauguration of Biden as the 46th president of the United States and Kamala Harris as vice president takes place in Washington. In his inauguration speech, the president pledges to defeat "white supremacy," and uses a burst of executive orders on Day 1 to declare that "advancing equity, civil rights, racial justice and equal opportunity is the responsibility of the whole of our government."
February
Feb. 3: A former officer is charged with murder in the shooting of Andre Hill.
A Columbus police officer who was fired after fatally shooting Hill in December is arrested and charged with felony murder, Attorney General Dave Yost of Ohio announces.
Feb. 17: The head of the Indianapolis Museum of Art resigns.
Charles L. Venable, the president of Newfields, the 152-acre campus that is home to the Indianapolis Museum of Art, resigns amid an uproar over a job posting which said the museum was seeking a director who would work not only to attract a more diverse audience but also to maintain what it described as its "traditional, core, white art audience."
Feb. 18: Angelo Quinto's family sues Antioch, Calif.
The family of Angelo Quinto, 30, files a wrongful-death claim against the city of Antioch, California, after footage shows two of the city's police officers detaining him in December. The suit said that the two officers, who had responded to a call from Quinto's sister, knelt on his back for nearly five minutes to subdue him.
Feb. 23: Berkeley prohibits officers from conducting traffic stops.
The City Council in Berkeley, California, prohibits police officers from conducting traffic stops for minor offenses, shifting that responsibility to trained unarmed civilians. Experts have long said that traffic stops, the most common interaction Americans have with the police, disproportionately affect Black drivers.
March
March 4: The House passes a policing overhaul bill named for George Floyd.
House Democrats passed a sweeping federal policing overhaul that would combat racial discrimination and excessive use of force in law enforcement, as lawmakers seek to rekindle bipartisan negotiations on the issue. The bill has not passed the Senate.
Biden had hoped lawmakers would broker a deal before May 25, the anniversary of Floyd's death. But a breakthrough has remained elusive despite continued closed-door negotiations between Rep. Karen Bass, D-Calif., and Sens. Cory Booker, D-N.J., and Tim Scott, R-S.C.
March 11: Biden signs a stimulus bill, which includes debt relief to help minority farmers.
Biden signs a $1.9 trillion economic relief package, which includes $4 billion in debt relief to minority farmers. The debt relief is intended to make amends for the discrimination that Black and other nonwhite farmers have faced from lenders and the Agriculture Department over the years.
The Weeknd, the Canadian pop star who played the Super Bowl halftime show, announces he will boycott the Grammys over its use of secret committees to help choose nominees; he was not nominated for any awards this year, and the Grammys have a poor record of recognizing Black artists when it comes to the top awards.
March 12: George Floyd's family settles a lawsuit against Minneapolis for $27 million.
Minneapolis agrees to pay $27 million to the family of Floyd, whose death set off months of protests. As the settlement was announced by city officials and lawyers for Floyd's family, Chauvin sat in a courtroom less than a mile away, where jurors were being selected for his trial.
March 25: New York City ends qualified immunity for the police.
The New York City Council passes legislation that makes it far easier to sue officers for conducting illegal searches or using excessive force.
March 29: Opening statements start in Derek Chauvin's murder trial.
One of the most closely watched court cases in decades begins with opening statements in Chauvin's murder trial. Jerry W. Blackwell, a prosecutor, aimed to focus the jurors' attention on the video of Floyd's arrest, saying, "You can believe your eyes, that it's homicide — it's murder." Eric J. Nelson, the lawyer for Chauvin, told jurors to look at other evidence, saying the case "is clearly more than about 9 minutes and 29 seconds," referring to how long Chauvin knelt on Floyd.
April
April 11: A police officer fatally shoots Daunte Wright in Brooklyn Center, Minn.
During a traffic stop, a police officer fatally shoots Daunte Wright, a Black man, in Brooklyn Center, Minnesota, about 10 miles from where Chauvin is on trial. Hundreds of demonstrators pour into the streets.
April 16: Chicago officials release body camera footage of the killing of a 13-year-old.
Officials in Chicago released body camera footage of a police officer fatally shooting a 13-year-old boy in March, setting off protests over the use of deadly force by police officers in a city that has been beleaguered by violence.
The boy, Adam Toledo, who was Latino, was one of the youngest people killed by the police in Illinois in years. The videos showed that he appeared to toss a handgun behind a fence and was raising his empty hands when he was shot.
April 20: Derek Chauvin is found guilty of murdering George Floyd.
Chauvin is found guilty of second-degree murder, third-degree murder and second-degree manslaughter in the death of Floyd. The jury deliberated for about 10 hours.
Chauvin faces up to 40 years in prison when he is sentenced in the coming weeks but is likely to receive far less time. The presumptive sentence for second-degree murder is 12.5 years, according to Minnesota's sentencing guidelines, although the state has asked for a higher sentence.
Minutes before the verdict, a police officer in Columbus, Ohio, shot and killed Ma'Khia Bryant, a 16-year-old girl in foster care who appeared about to stab a woman with a steak knife in the driveway of her foster home.
April 21: Police fatally shoot Andrew Brown Jr. in Elizabeth City, N.C.
The police fatally shot Andrew Brown Jr., a Black man, while he was driving away from county sheriff's deputies who were trying to execute a drug-related search and arrest warrant at his house in Elizabeth City, North Carolina.
May
May 10: NBC says it won't air the Golden Globes in 2022.
NBCUniversal announces that it will not broadcast the 2022 Golden Globes after the group that puts the show on, the Hollywood Foreign Press Association, came under fire for having no Black members.
May 18: Washington state enacts police reforms.
Washington adopts 12 new laws that ban chokeholds, require officers to announce their presence before raiding a home, and call for the use of exhaustive de-escalation techniques before resorting to force.
May 19: Newly released footage shows Louisiana troopers punching a Black motorist.
The death of Ronald Greene after a police chase in Louisiana attracts new scrutiny after body camera footage obtained and published by The Associated Press shows Greene screaming "I'm sorry" and "I'm scared" after troopers jolted him with a stun gun after a high-speed chase.
Relatives of Greene, 49, were initially told that he had died from injuries he sustained in a crash after he failed to stop for a traffic violation outside Monroe, Louisiana, in May 2019, according to a lawyer for the family.
May 20: Los Angeles city councilors OK a slight rise in funding for the police.
Los Angeles City Council members unanimously vote to increase the Police Department's budget by 3%, to $1.76 billion, months after activists called for defunding the force and reallocating money to social services.
May 25: The Floyd family visits the White House.
On the first anniversary of Floyd's murder, Biden hosted the Floyd family at the White House.
People across Minneapolis are planning to gather to mark the anniversary, including at George Floyd Square, the several blocks around Cup Foods, where Floyd was killed.
And throughout the country, from Chicago to Seattle to Washington, Americans will be remembering Floyd and the impact his death had on the country.