Racial Justice
Police killings have dropped since the Black Lives Matter movement started, UMass research suggests
The number of police homicides dropped by as much as 15 to 20 percent in those communities between 2014 and 2019, according to the study.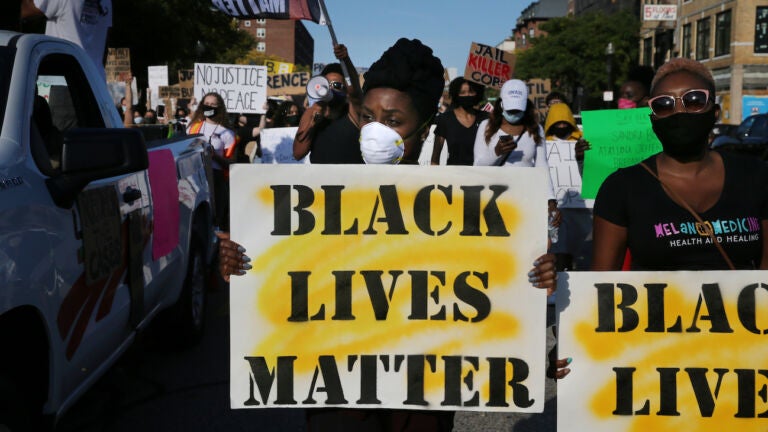 Communities where Black Lives Matter protests have been held in recent years saw a subsequent drop in the number of police homicides, by as much as 15 to 20 percent, or roughly 300 fewer deaths at the hands of authorities, recent research from UMass Amherst shows.
The findings were first released in February and updated last month in "Black Lives Matter's Effect on Police Lethal Use-of-Force" by Travis Campbell, a graduate student in UMass Amherst's Economics Department.
Campbell said despite the national attention and discourse the protest movement has generated over the years, he was surprised to learn little research actually exists regarding its impact on law enforcement.
Also surprising was the result of his research, which is now being peer-reviewed, he said.
"Growing up, we're always told that protests don't do anything," Campbell, 26, told Boston.com. "But there's a pretty sizable literature showing that they actually do."
The key findings
According to Campbell's research, the decreases were recorded between 2014, when unarmed Black teenager Michael Brown was shot and killed by police in Ferguson, Missouri, and 2019.
Campbell opted not to include 2020 in his data set due to the unusual set of circumstances the COVID-19 pandemic presented. (Protests and COVID-related shutdowns, he said, were likely more probable in Democratic-leaning cities. Lockdowns could have also resulted in fewer interactions between the public and police than in a typical year, he added.)
The result of protesting appears to be striking, his paper notes.
"The payoff for protesting is substantial; around every 5 of the 1,724 protests in the sample corresponds with approximately one less person killed by the police over the following years, depending on specification," Campbell writes. "The police killed around one less person for every twelve hundred participants."
The reasons and other takeaways
So what exactly is driving the reduction?
Campbell's research found that police agencies in communities where protests occurred were more likely to obtain body-worn cameras and expand community policing policies.
The data shows "pretty clearly that places with protests are getting the body cameras or are more likely to get body cameras to actually reduce use of force and to improve community perceptions of the police," Campbell said.
He also points to the relevance of the so-called "Ferguson Effect": the concept that publicized police scandals lead to lower morale in police departments and a simultaneous increase in some crimes and a decline in low-level arrests.
"I find that fewer property crimes, but more murders, are reported to agencies with local protests, while the share of total property crimes cleared by arrest abruptly falls," Campbell wrote.
Notably, Campbell said civilian homicides appear to increase by approximately 10 percent in cities that have Black Lives Matter protests.
"This is pretty contradictory, right? How could overall crime increase yet reported property crimes are falling?" Campbell said. "This is consistent with the idea that following the protests, for whatever reason, the community becomes less willing to report low-level crimes to the police."
On the police side, there appears to be fewer arrests made for reported crimes in cities where demonstrations take place, according to Campbell.
"The 'Ferguson Effect' would lead to less civilian-police interactions, which may be responsible for less police homicide," he said. "So it's a much bleaker explanation, but it's probably a combination of all three and more things."
Campbell said his research also suggests that the changes are indeed spurred by public demonstration, not widespread videos of police interactions that circulate online and in the news media.
"One might be worried that it's not actually these protests, it's a viral video, that's creating these changes," he said. "But the results hold when you're looking at places that don't have viral videos and have protests, whereas places with only video recordings, but no protests, the results don't hold."
As for the future, Campbell said the impact of the Black Lives Matter protests only appears to be growing as time goes on. While he didn't include data from 2020 in this study, he still plans to take a closer look at data from that year as well.
It's "very possible" there could be a measurable impact following the murder of George Floyd by Minneapolis Police Officer Derek Chauvin last year, Campbell said.
"I do think it's likely that these trends are continuing," he said.
Newsletter Signup
Stay up to date on all the latest news from Boston.com