Readers Say
Adieu, Sealy McSwampSeal! Swampscott seal returns to the sea as Boston.com readers suggest names
Swamp Scott? Charlie B? Here's what our readers said they would name the Swampscott seal.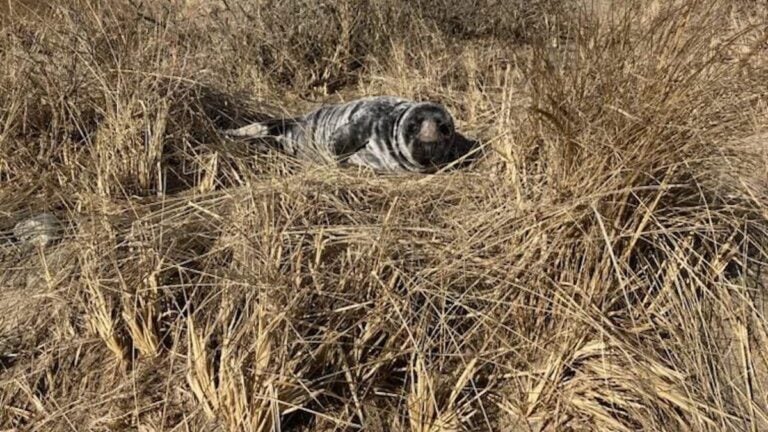 A baby seal who charmed beachgoers in Swampscott on Tuesday has made its return to the sea.
Swampscott police cordoned off a section of Phillips Beach for several hours after the seal was spotted resting there. The seal drew crowds of onlookers, even as police asked the public to give the animal space.
"Our baby seal friend made their own way back to the ocean after taking a great nap on the beach," the Swampscott Police Department later announced on Facebook. "Thanks to all the concerned people who made us aware of the situation."
According to The Boston Globe, officials consulted with a National Oceanic and Atmospheric Administration biologist, who said the seal appeared to be in good health.
"They said it appeared to be a young seal and noted that young seals will often come up on shore to rest, sometimes for a lengthy amount of time, prior to re-entering the water," police told the Globe.
This isn't the first time a seal has captured attention on the North Shore; in nearby Beverly, a gray seal popped up in Shoe Pond last fall, earning him the name "Shoebert." The celebrity seal inspired an ice cream flavor, children's book, and tongue-in-cheek street crossing sign.
We asked readers what they would name the Swampscott seal, and responses ranged from punny to political. Here are a few of our favorites.
Responses have been edited for length and clarity.
Swamp Scott — Bobby, Medford
Sealy: "He or she is every bit a seal in its behavior. It gave us its essence as a [2-month-old], … fatigued and free, and lackadaisical in its attitude towards returning to the water. Sealy the seal. Official." — Victoria C., Boston
Charlie B: "Because the former governor [Charlie Baker] is from Swampscott." — Deb, Watertown
Baby Blue/Little Blue: "Swampscott High School is known as The Big Blue." — JJM, Swampscott
Sealy McSwampSeal — Mark
Daniels: "The Swampscott composer [Mabel Wheeler Daniels]." — David K., Swampscott
Scottie/Scotty— multiple
Newsletter Signup
Stay up to date on all the latest news from Boston.com