Real Estate News
This Mass. city is among the top 15 fastest-growing in the U.S.
New Census data show that Medford is one of the fastest-growing cities in the country.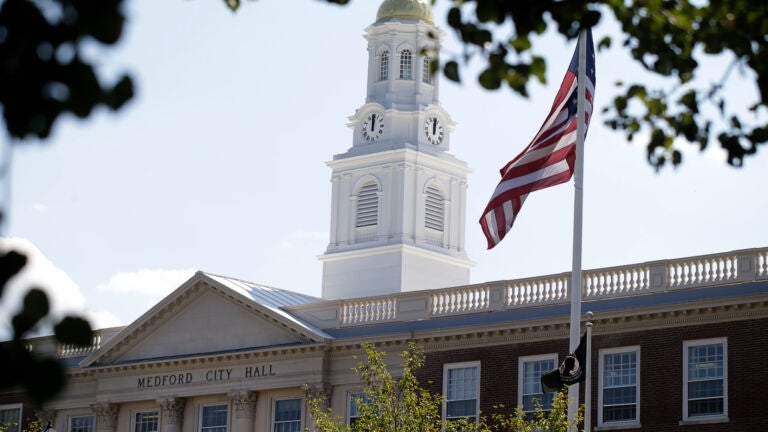 It's a well-documented trend that, in recent years, people are moving out of the Northeast and setting in the South in search of lower taxes, lower living costs, warmer weather, and job opportunities.
But one Massachusetts city bucked this nationwide trend, making it onto the list of the top 15 fastest-growing cities in the country. In fact, it was the only Northeast city to make the list.
That city? Medford: home to the Mystic River, Wright's Park, the Chevalier Theatre, and of course, Tufts University.
According to Census data, Medford's population grew by nearly 10% between 2020 and 2022, from about 60,000 people to about 65,000.
That's a far greater population increase than in the previous decade. According to Census data, between 2010 and 2020, the city's population increased by 6%, from about 56,000 people to about 60,000.
From the northeast to the southwest
According to Forbes, Massachusetts is the fifth-most moved-from state in the country. Other northeast states such as New York and Pennsylvania also made the list.
Specifically, retirement to more temperate climates has been a major reason people move away from the Bay State, the business magazine reported. And with the pandemic allowing for greater acceptance of remote work, even working-age people have begun to migrate to sunnier pastures, it wrote.
This has been reflected in real estate data for years, and a new report from the U.S. Census found that nine of the 15 fastest-growing cities of 50,000 people or more were in Texas or Florida.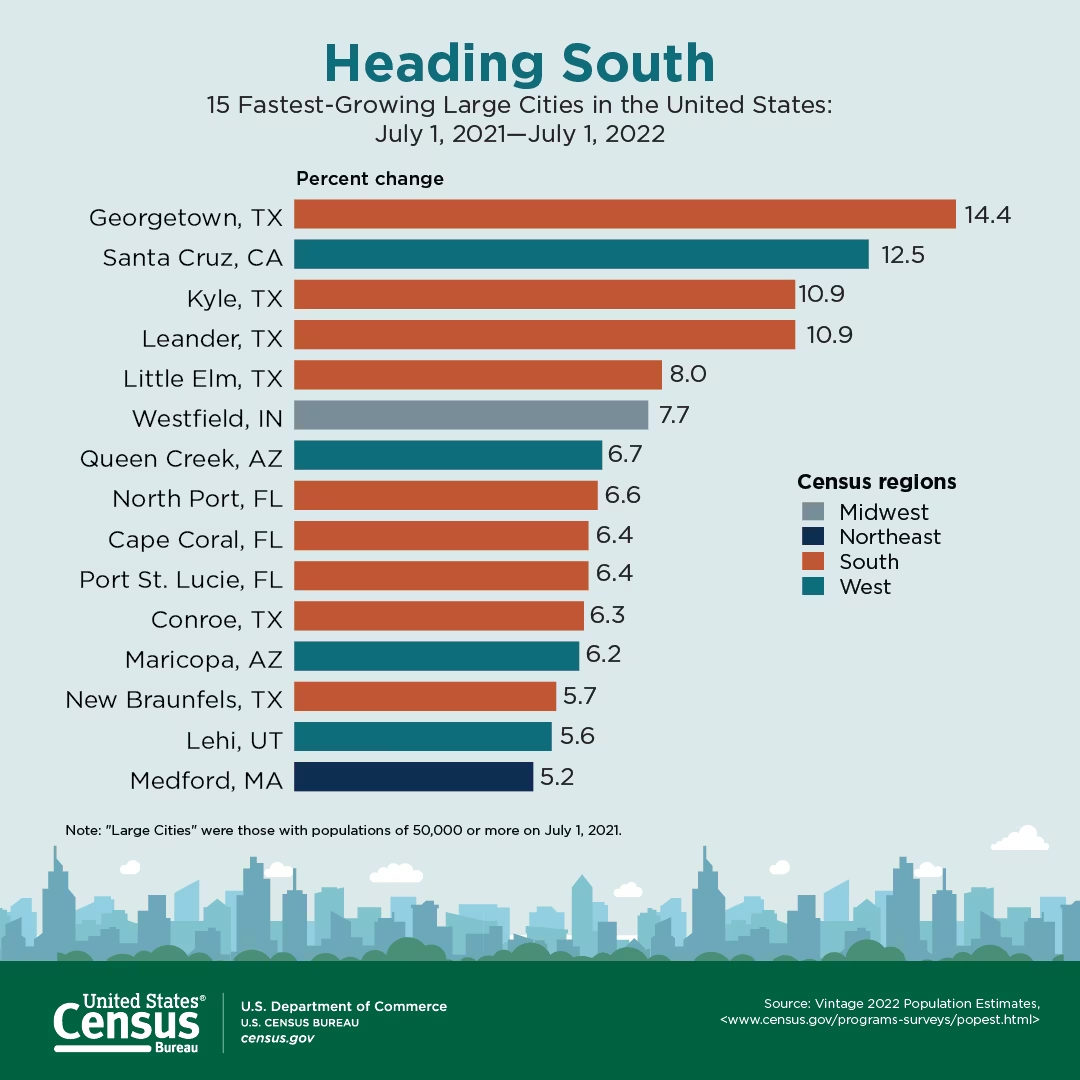 Texas cities had the most drastic increases in population by far, with Georgetown, a suburb of Austin, ranking as the fastest-growing city in the country with a nearly 15% population increase between 2021 and 2022, according to Census data. Kyle and Leander, which are also Austin suburbs, saw similar big population increases of nearly 11% year-over-year, coming in third and fourth overall.
Texas also had some of the biggest increases in population in terms of raw numbers. The data showed that Fort Worth had the largest numeric population gain in 2022, with an increase of 19,170 people, and San Antonio came in third with an increase of 18,889.
Arizona also saw major population gains between 2021 and 2022, according to Census data. Queen Creek, a Phoenix suburb, experienced the seventh-biggest population increase, with a nearly 7% change year over year. Maricopa, another Phoenix suburb, made the list at number 12 with a 6% increase in population.
Phoenix itself had the second-biggest raw number population increase in the country, with an added 19,053 people year-over-year, according to the report.
Is Medford bucking the trend?
Despite an overall decrease in Massachusetts's population for the last several years, the state has a strong economy, with many flourishing industries such as biotech, healthcare, and finance.
A March report found that Massachusetts has the highest GDP in the country, which correlates with high economic opportunity and quality of life.
As for moving to Medford, realtor Timothy Tremonte says the city offers a large variety of home types, which allows Medford to be a good option for a wide swath of people.
"Medford has a great community feel to it, and a type of home for everyone," he said. "South and East Medford offer slightly more affordable homes, both single-family and multi-occupancy, while West and North are primarily higher-end single-family homes with tree-lined streets that make you forget you live in the city."
Home prices and rent in Medford also tend to be lower than in Cambridge or Somerville, but the dwellings are more upscale than those in Everett or Malden where home prices and rent are lower, Tremonte said.
Medford, which already had a Commuter Rail and Orange Line station, is great for commuting as well, Tremonte said, especially now that the Green Line extension is finished. The housing market there is already getting more competitive as a result. The city also has easy access to I-93 and Routes 1 and 3.
"Between the financial savings, community feel, and commuting accessibility, it just comes as a no-brainer to most when exploring what makes the most financial sense without having to go further north for more pricing relief," he said.

Newsletter Signup
Stay up to date on all the latest news from Boston.com