Real Estate
Meet the man behind Southie's tongue-in-cheek billboards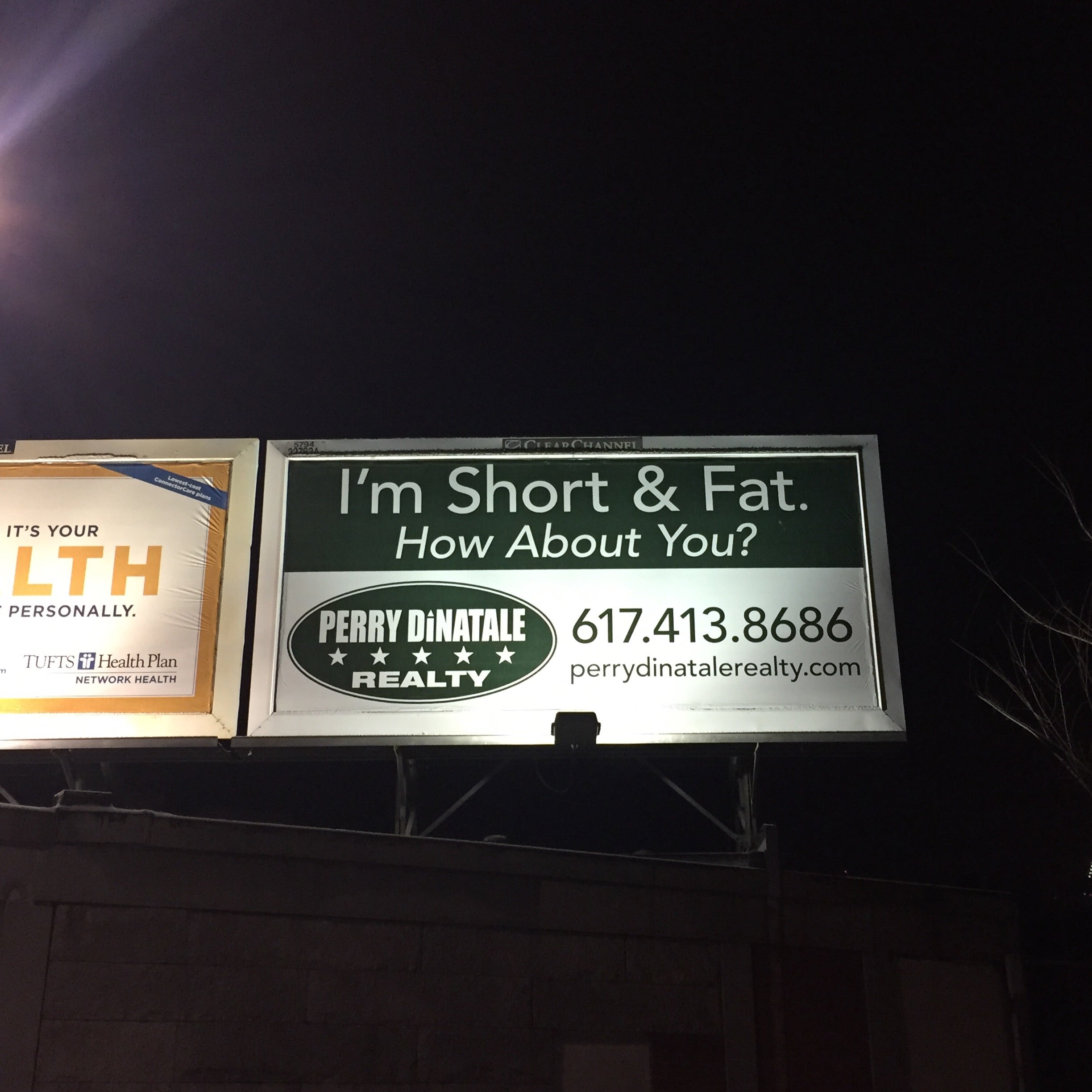 On a busy stretch of West Broadway, you couldn't miss it:
"I'm short and fat. How about you?"
The billboard, which was located right above Rondo's Sub Shop last year, was an attention-grabber, but somewhat cryptic in its message. Then, about six months later, a new billboard replaced it. This one had an image of a mid-rise building that read:
"You'll like it on top."
This one was easier to understand, but certainly tongue-in-cheek.
Both were the work of Perry DiNatale, a 53-year-old real estate broker. The Southie native and father of two young boys has seen the neighborhood completely change over the last 50 years, and realized that with a changing and expanding market, he needed new ways to advertise his business.
That's why about five years ago, he started buying billboard advertisements. Since then, he's had more than a dozen signs sprinkled around South Boston and the waterfront. As for the "short and fat" declaration, it was a spur-of-the-moment decision.
"It was how I was feeling about myself at that time. I just threw it up there," DiNatale said. "Normally realtors are bragging in ads like, 'I'm No.1.' It's just how I was feeling that day. I was hoping to get people's attention."
At 5'5″, he considers himself a short guy, but at 165 pounds, DiNatale is hardly fat. Still, his boards have drawn a mix of shock and laughter from the neighborhood—and potential clients. Even though he says he's been in business for 20 years and handled more than 1,000 real estate transactions, five years of those large ads earned him the reputation of being called the "broker on billboards."
"I've seen South Boston change in front of my eyes. I'm in shock," DiNatale said. "The prices have just blown me away. They keep going up and people keep paying it."
That's why DiNatale still has two billboards out around town, even in an ever-changing media and advertising landscape. The current displays are more tame than his wilder advertisements, and DiNatale says that he just wanted a new campaign.
"One says 'Perry sold my house' and the other says, "Perry sold my house, too," he said. "It's been less successful at bringing in the clients."
For now, DiNatale is going to stick with these more conservative displays to see how it goes.
"This is all stuff I just think of in my crazy head," he said.