Real Estate
Amazon's second headquarters isn't coming to Boston. Here's what happens next for Suffolk Downs.
There are still big plans underway for the historic race track.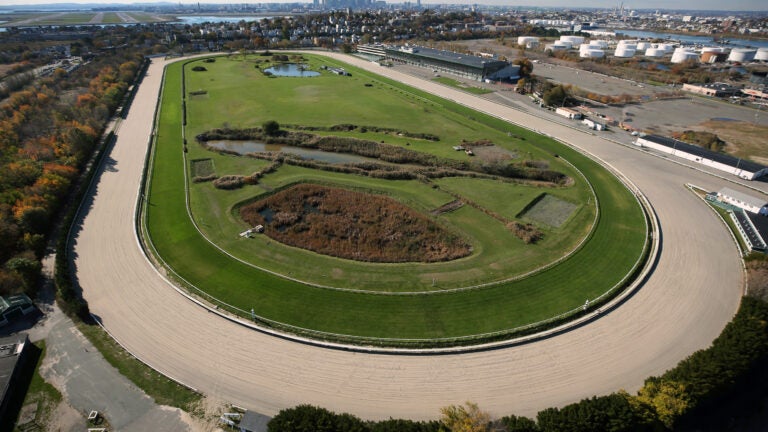 Boston's bid for Amazon's second headquarters envisioned Suffolk Downs as the picturesque home of the retail giant's 50,000-worker corporate offices.
Officials pitched the soon-to-close race track, which has hosted both Seabiscuit and The Beatles during its 82-year history, as a "160-acre open canvas" for the HQ2 development. But with Amazon now splitting its second (and third) headquarters between New York and Virginia, what's next for those hallowed grounds in East Boston and Revere?
To a certain extent, it's back to the original plan.
The Massachusetts Gaming Commission recently approved four more days of live horse racing at Suffolk Downs next spring. But then the track is expected to finally close, as the site begins to be redeveloped.
The HYM Investment Group, a Boston-based real estate company, bought the closing race track in May 2017, just a few months before Amazon announced its national HQ2 contest. At the time of the sale, The Boston Globe described the redevelopment plans as "East Boston's answer to other mega-developments such as Assembly Row and Boston Landing — only much bigger."
"The redevelopment will transform this 161-acre site into a 16 million square foot, transit-oriented, urban district with an active and appropriate mix of uses," Thomas N. O'Brien, the founding partner and managing director of The HYM Investment Group, told Boston.com in an email Wednesday.
Those uses include offices, labs, stores, apartments, hotels, and other spaces — all connected by about 40 acres of publicly accessible open space, such as parks and recreation areas.
According to O'Brien, they're hoping to reconnect the underutilized facility — located next to two MBTA Blue Line stops and a short trip from downtown — with the Greater Boston community. The redevelopment is "planned around the goals of connectivity and accessibility," he said.
HYM says the multi-phase development will begin with street-level retail and housing.
The firm has dedicated a website to the redevelopment, complete with glossy renderings and visions for two separate retail squares, adjacent to the Suffolk Downs and Beachmont MBTA stations. The squares — Belle Isle Square in East Boston and Beachmont Square in Revere — would also be connected through by a to-be-constructed "Main Street" retail district running through the center of the redevelopment.
O'Brien says the "full buildout" is expected to take 15 to 20 years, but they're hoping to break ground next year on the first phase in Revere's Beachmont neighborhood.
"We envision creating a new, exciting and easily accessible place for people to grab a great meal, shop at interesting retail concepts, live, work and enjoy," he said.