Real Estate
In her first State of the City address, Mayor Wu detailed a core campaign promise: Reforming the BPDA
"In this moment of need, we have an opportunity and an obligation to change how we plan for Boston's future."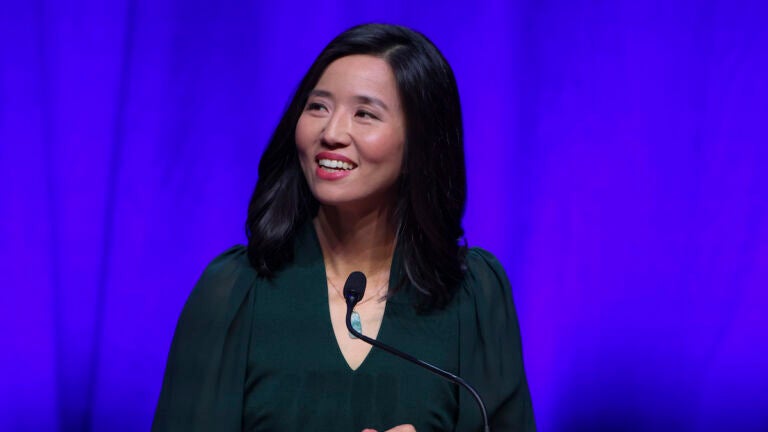 Long before she took office as the mayor of Boston, Michelle Wu put forth a plan to abolish the city's Planning and Development Agency — a move necessary, she said, to bring accountability and transparency to the vital department and correct deep disparities spurred by decades of an outdated development approval process.
On Wednesday night, Wu expanded on her proposal in her first "State of the City" address, vowing to modernize Boston's zoning code, launch a new City Planning and Design Department, and put a formal end to "the urban renewal mission of eradicating so-called 'blight and urban decay,'" with a focus on shifting resources toward resiliency, affordability, and equity instead.
While she declared the state of the city is strong, leaders have an imperative to build a "green and growing city for everyone."
"Doing so will require that we reckon with — and rebuild — the systems that got us here," Wu said at the MGM Music Hall at Fenway. "When the 'Boston Redevelopment Authority' was created nearly 70 years ago, its purpose was singular: to clear the way for new development, even if that meant displacing tens of thousands of working class, immigrant, and Black and brown residents."
Since 2016, the BRA has been known as the BPDA.
"The focus on building buildings rather than community has held back the talent of [the BPDA's staff] and deepened disparities in our city," Wu said of the current BPDA operations.
"Over the last decade, Boston saw the largest building boom in generations: cranes in the sky and jobs on the ground," she added. "But that growth wasn't harnessed for the benefit of all our communities."
The city failed to plan for community stability, affordability, transit, and sustainability — all issues that have shaped Boston's soaring housing costs, climate woes, aging and crumbling infrastructure, and infamous traffic, she said.
"In this moment of need, we have an opportunity and an obligation to change how we plan for Boston's future," Wu said.
Enter the Planning Advisory Council
On Thursday, Wu will sign an executive order to establish a Planning Advisory Council "to fully integrate long-range planning and begin modernizing our planning code," she said. Chief of Planning Arthur Jemison will lead the group, which will also have cabinet chiefs in capital planning, transportation, climate, housing, and the arts.
"Over this next year, we'll shift planning efforts from the BPDA to a new City Planning and Design Department to expand planning and urban design as a coordinated effort that guides our growth," Wu said. "Our vision is for Boston to sustainably reach our peak population of 800,000 residents with the housing and schools, parks and public transit to support that growth."
Wu also said next week, her administration will file a home-rule petition to "formally end the decades-old urban renewal mission of eradicating so-called 'blight and urban decay.'"
Moving forward, the city will "rededicate our resources toward Boston's urgent needs today: resiliency, affordability, and equity," Wu said.
"Together, these changes will, for the first time since the 1960s, restore planning as a central function of city government," the mayor said.
Additionally, Wu said her administration will form a steering group comprising real estate and community leaders to recommend changes to the Article 80 development review process — a move aimed at "improving the uneven and unpredictable approval process that frustrates community members and developers."
"We'll simplify and accelerate timelines so that good projects get shovels in the ground faster," Wu said. "We'll also transfer compliance and enforcement from the BPDA to the Office of Housing so our communities can be confident that we're always getting the full benefit of development agreements."
Since at least 2019, Wu has called for substantial overhauls to the BPDA and the city's zoning codes at-large.
What Boston can and can't do
Critics have argued completely abolishing the agency would wreak havoc on the city's ongoing development project proposals, among other potential problems.
Notably though, Wu did not utter the word "abolish" in her speech on Wednesday night.
And city government lacks the authority to outright raze the agency.
What is now the BPDA was initially created by both the Boston City Council and the Massachusetts Legislature, which means that if it is to be destroyed, state lawmakers will have to sign off on that, too.
Still, as Wu outlined on the campaign trail in 2021, there are steps the city can take, including by moving the BPDA's 250-plus employees onto Boston's payroll.
"This is one of the drivers of almost every inequity that we see across the city, and so continuing to make sure that we are moving towards a clear, predictable, sustainable, and fair development process is a high priority," Wu said on the eve of her election.
Newsletter Signup
Stay up to date on all the latest news from Boston.com