Real Estate
'A monumental act': Boston City Council advances Mayor Wu's rent control plan to the State House
The proposal will cap year-over-year rent increases to a maximum of 10 percent, if approved by state lawmakers.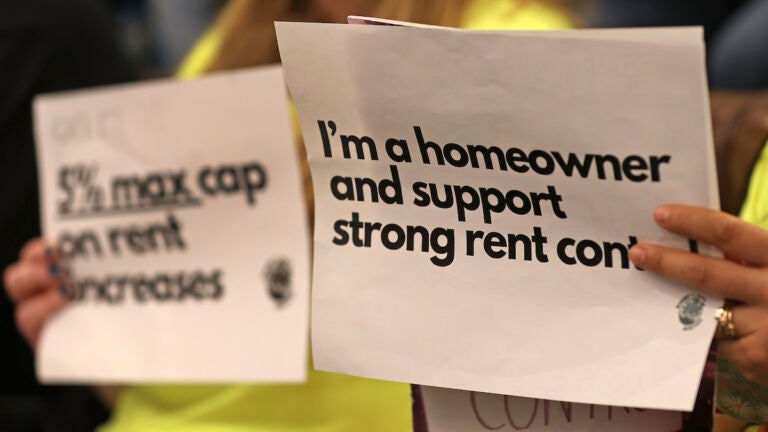 The Boston City Council voted to advance Mayor Michelle Wu's rent stabilization plan to state lawmakers on Wednesday, jumping the first legislative hurdle for a proposal seeking to cap rent increases in the city to a maximum of 10 percent.
Councilors voted 11-2 to pass the home rule petition, which, if enacted, would limit year-over-year rent hikes to the change in the Consumer Price Index plus 6%, or 10% at most, whichever of the two figures is lower. The act would impact an estimated 56 percent of all rental units in Boston, or some 185,000 dwellings.
Councilor Ricardo Arroyo, chairman of the government operations committee, the body that considered the proposal in recent weeks, called the plan "a monumental act for the City of Boston."
Although councilors have heard from some residents and advocates who say the measures do not go far enough to rein in the city's expensive rental market, Arroyo said he considers the limits proposed are a "compromise number."
"Unfortunately … we heard stories of individuals who had 100% price increases, 200% price increases, 80, [and] 90% price increases, and I understand that for some, 10% doesn't go far enough and in most cases, I would agree," Arroyo said. "But for those individuals, this would have been a large bomb on a problem that led to them either seeking new housing, home insecurity, or being put on the street."
The council vote comes nearly three decades after voters across Massachusetts opted to ban rent control laws in 1994.
The vote was one of two legislative victories for Wu on Wednesday, as the council voted 11-2 to advance the mayor's home rule petition pertaining to another campaign promise: restructuring the Boston Planning and Development Agency.
"Today the City Council delivered a strong message that the City of Boston needs the tools to address our housing crisis," Wu told reporters afterwards. "We hear from residents across every single neighborhood just how dire it is and we see families who are getting pushed out of the communities that they grew up in and helped to build."
Wu said the core of the policy protects against extreme and unaffordable rent increases. Most of Boston's "good landlords" are already not boosting rent by more than 10 percent a year, she noted.
"This proposal would stop the most harmful of situations that we see playing out across our neighborhoods, where community members and residents have their rents doubled and increased by 50 percent in a way that is extremely unpredictable and simply unsustainable," the mayor said.
Although the council's votes were significant steps for the city, the approval process is all but over. Home rule petitions require sign off from the state Legislature and the governor to become law.
According to Arroyo, state lawmakers are entitled to amend the measure, but any substantial edits will require city officials to take a second pass.
The state Legislature's appetite for granting Boston a path back into rent control at this moment in time, as Massachusetts continues to face a housing shortage and a higher cost of living amid a tightening market, is unclear.
For her part, Gov. Maura Healey has not explicitly said she would sign Boston's policy, but has indicated she supports the ability of individual communities to make those decisions.
Wu's plan provides several exemptions to the law, including for owner-occupied properties with six units or fewer, properties where the owner and tenant share bathrooms or kitchens, and for new apartment buildings and developments for the first 15 years after the city issues a certificate of occupancy.
Landlords would also be able to set their rents back to the market rate between tenancies.
The home rule petition would establish other renter protections, too, such as allowing the city to put in place just-cause eviction regulations. Those measures would allow tenants to only be evicted for cause, from failure to pay rent to substantial lease violations.
Additionally, the city would be able to create a rent board, where renters could appeal their cases before heading to Housing Court.
"There is urgency to get this done," Councilor Gabriela Coletta said. "…The current system needs a serious adjustment."
Councilors Frank Baker and Erin Murphy cast the two opposition votes in the council chamber Wednesday. The former said although the cap sounded reasonable, he felt other components of the law entangled landlords in red tape.
He suggested the state's previous rent control laws pinched landlords and therefore, limited the improvements and upkeep they could make on their properties.
"The good landlords, if they're not ready to go now, they're getting ready to go," Baker said. "Just on its face rent control, I believe, is bad policy. We lived through it. My neighborhood went through it. I never even saw anyone's house get painted back in the day, never mind put an addition on, put new windows in, insulate the place."
Following the vote on Wednesday afternoon, the Greater Boston Real Estate Board vowed to expand its nearly $400,000 "Rent Control Hurts Housing" campaign as the home rule petition heads to Beacon Hill.
The GBREB argues rent control policies will bring about a decreased housing supply and end up raising housing costs in the long run. Last month, the board contacted Boston residents through text messages, direct mail, and digital videos, and was preparing phone banks, to funnel their input to Boston city councilors.
Greg Vasil, CEO of the GBREB, said Wednesday the board was "disappointed but not totally surprised" by the outcome of the vote.
"That is why our campaign was always focused on the long game," Vasil said. "And make no mistake, the fight is just beginning."
Newsletter Signup
Stay up to date on all the latest news from Boston.com