Real Estate
Rent control ballot question crumbles due to lack of signatures
After his rent control ballot initiative fell short, state Rep. Mike Connolly is shifting his focus to several landlord-tenant bills currently before the Legislature.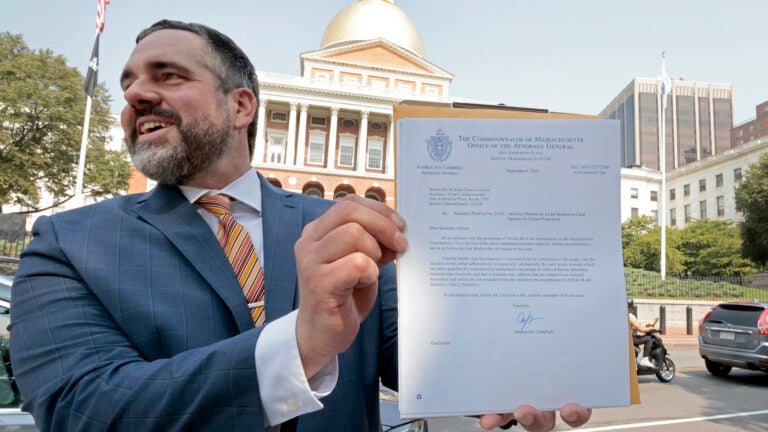 With tens of thousands of signatures still needed and less than two weeks to go, rent control proponents have suspended their campaign for a 2024 ballot question that would have revived local-option rent control in Massachusetts.
State Rep. Mike Connolly announced Friday that the initiative garnered 10,175 signatures over the past six weeks — a far cry from the nearly 75,000 signatures needed before the Nov. 22 deadline.
"While this isn't the outcome we hoped for with our petition, I am more confident than ever that if given the opportunity to do so, Massachusetts voters will elect to lift the ban on rent control," the Cambridge Democrat said in a statement.
The ballot question campaign faced opposition from the real estate industry and from other housing advocates and progressive groups, who were divided on the best path forward for rent control, according to Connolly.
He specifically cited Homes for All Massachusetts — a coalition of housing justice advocates — and said the organization's leaders "maintained that rent control cannot win at the ballot box in 2024, and they publicly demanded that we withdraw our petition."
Yet Homes for All Massachusetts Director Carolyn Chou told The Boston Globe that her coalition still supports rent control efforts statewide, whether that's through legislation or a ballot question after 2024.
"We are committed to winning rent control in the next few years," Chou told the Globe. "To us, that means continuing to put the legislative strategy through this session, and if needed, next session — and if we can't win at the Legislature this time, to have the ballot initiative as part of that strategy."
Rent control opponents, meanwhile, celebrated the end of Connolly's ballot question campaign.
In a statement posted to the social media platform X, the conservative group Massachusetts Fiscal Alliance described the ballot question as a "disastrous idea" and asserted that it "would have done nothing but make life more expensive & miserable for property owners & renters alike."
Rent control initiatives statewide have also faced strong pushback from real estate groups like MassLandlords, Inc., which sued the City of Boston earlier this year over emails related to Mayor Michelle Wu's rent stabilization proposal.
Yet as Connolly pointed out in his statement, multiple polls have shown Massachusetts voters' eagerness to add a local option for rent control amid eye-watering rents and skyrocketing housing prices.
At this point, the lawmaker said he's shifting his focus to rent control bills and other landlord-tenant matters currently before the Massachusetts Legislature.
The Legislature's Joint Committee on Housing is set to tackle several housing petitions on Tuesday, including the Tenant Protection Act — a rent control bill that served as the model for the 2024 ballot initiative — and two bills that would allow communities to cap annual rent increases and require landlords to have just cause for evicting a tenant or not renewing a lease. Homes for All Massachusetts said it plans to hold a press conference in front of the State House at 10 a.m. Tuesday to support the latter two bills.
Taking to X on Saturday, Connolly thanked the volunteers, elected officials, and staffers who helped push for the rent control ballot question.
"I am proud of the work we did with the resources we had," he wrote. "Now, the legislature must act."
Newsletter Signup
Stay up to date on all the latest news from Boston.com