Restaurants
Saloniki is bringing its fast-casual Greek cuisine to Central Square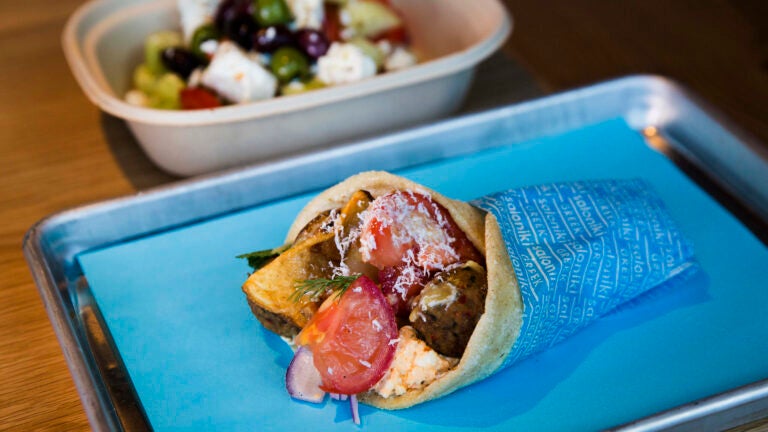 Jody Adams's "tribute to the humble Greek sandwich shop'' will open a second location this year.
Saloniki, which opened its first location in Fenway in March, will open a second location called Saloniki Cambridge at the base of Central Square's Novartis building, according to The Boston Globe.
Adams, executive chef at Cambridge's Rialto for over 20 years, as well as partners Jonathan Mendez and Eric Papachristos, said the restaurant is expected to open this November.
The new shop will be designed to accommodate online order pick-ups, which is expected to launch this fall on Saloniki's website and yet-to-be-released mobile app, according to Eater Boston.
Saloniki has become known for their customizable pitas and salads, and classic pita options including The Herc, which contains honey-garlic braised pork shoulder, spicy whipped feta, Greek fries, tomatoes, and onions, and The Despena, which is packed with zucchini-feta fritters, garlic yogurt, tomatoes, onions, herb salad, and Greek fries.
The restaurant also has some new additions to its menu, including a pita in honor of David Ortiz ("The Big Papi," loaded with loukanico sausage, red pepper-sesame, chunks of feta, spicy pickled slaw, tomatoes, onions, and Greek Fries) and a new doughnut-like dessert called loukoumades.
https://www.facebook.com/salonikigreek/photos/a.1687412944806777.1073741828.1676685802546158/1759524207595650/?type=3&theater