Restaurants
Finagle A Bagel is opening a new test kitchen and cafe in Newton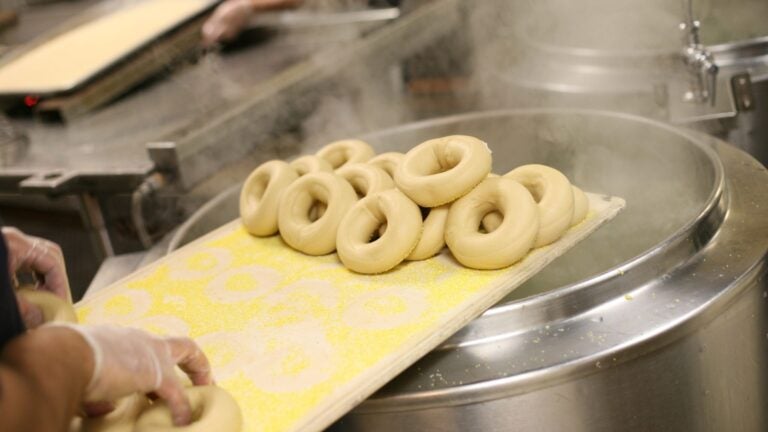 Bagel chain Finagle A Bagel will soon be realizing carb-lovers dreams: It's opening a test kitchen and cafe for the public at its headquarters in Newton next month.
The public will be invited into Finagle's test kitchen for the first time in its over 20-year history at its grand opening expected toward the end of November. Customers will be able to see how the chain makes its bagels through the facility's new glass garage doors, as well as try out new menu items before they hit the downtown Boston shops.
"We're a small company with one head chef and baker who would test out her recipes on people in office, but there's only six of us," owner Laura Trust told Boston.com. "So we figured with the store, we could try it out on our guests before we roll out flavors and items."
"We have had a store in this area in Chestnut Hill for more than 20 years," she added. "So when the landlord tore the building down and we had an opportunity to open the store in our headquarters, the location was something we couldn't resist."
In the coming months, customers can look forward to trying a pumpkin pie bagel and a gingerbread bagel before they are rolled out to the company's three other locations and kiosks. The bagel chain's full menu will also be available for hungry customers at the cafe, located at 77 Rowe St.
The test kitchen's bakery will offer goods like rugelach (Trust's mom's recipe), and thumbprint and half moon cookies, as well as brunch on the weekend with dishes like challah French toast.
"This test kitchen is important for us," Trust said. "We used to do a lot of testing at our Chestnut Hill location before it closed because we have some really loyal customers there. And if I had a dime for every time I liked something and the guests hated it or the other way around!"
Trust said that Newton customers shouldn't fret; the test kitchen will not hinder the company's desire to reopen a storefront in Chestnut Hill.
"Our Chestnut Hill guests want us back and this is by no means a replacement," she said. "But this is something we want to do and we are actively looking for space in that area."
The test kitchen will be open seven days a week. The space will be giving three free bagels to any customer who stops in for opening day, no purchase required.