Restaurants
Fire shuts down South Boston Tasty Burger
"Due to the damage, Tasty Burger Southie will be closed until further notice."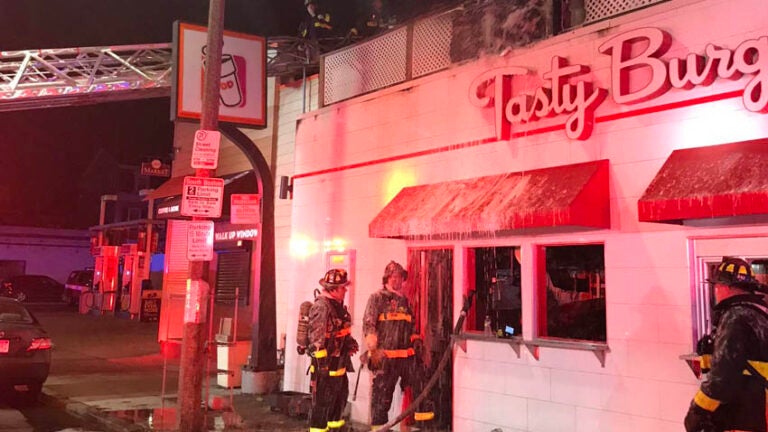 The South Boston location of a popular local burger chain shut down Friday after an early morning fire caused thousands in damage.
Firefighters with the Boston Fire Department responded to the Tasty Burger restaurant on L Street around 1:40 a.m.
The department said the cause of the fire is still under investigation and the blaze left behind about $150,000 in damage.
"Due to the damage, Tasty Burger Southie will be closed until further notice," the Boston restaurant said in a statement.
Fire officials said no one was injured in the fire.
Response to 69 L St. South Boston at approx. 1:40 am for a report of a Building Fire. Smoke showing on arrival. pic.twitter.com/p5p5lTsLHC

— Boston Fire Dept. (@BostonFire) May 4, 2018
Fire knocked down. This is a single story commercial building unoccupied. Tasty Burger Restaurant was closed at time of fire. No injuries reported. pic.twitter.com/T0OzZz2Hlj

— Boston Fire Dept. (@BostonFire) May 4, 2018
Companies overhauling & hitting hot spots with foam. pic.twitter.com/SuMHXiL1sy

— Boston Fire Dept. (@BostonFire) May 4, 2018
FIU on scene to determine the cause. Approx. $150,000 in damages. Companies making up. @bostonpolice still have area closed down. pic.twitter.com/xhyarUtr6I

— Boston Fire Dept. (@BostonFire) May 4, 2018
"We do not know the cause of the fire at this time, as we were closed for business and no one was in the building," Tasty Burger said in the statement. "Most importantly, and our biggest concern right now, is that no one was hurt, and we are truly grateful for this. Additionally, the adjacent buildings were not damaged. Our gratitude goes out to the Boston Fire Department, who responded quickly to the fire, and to the Boston Police Department who aided the response."