Restaurants
It was 60 degrees during the Patriots' parade so some restaurants opened their patios. Not so fast, police said.
"We had to literally take the alcohol out of their hands, take the food out of their hands, and move it inside."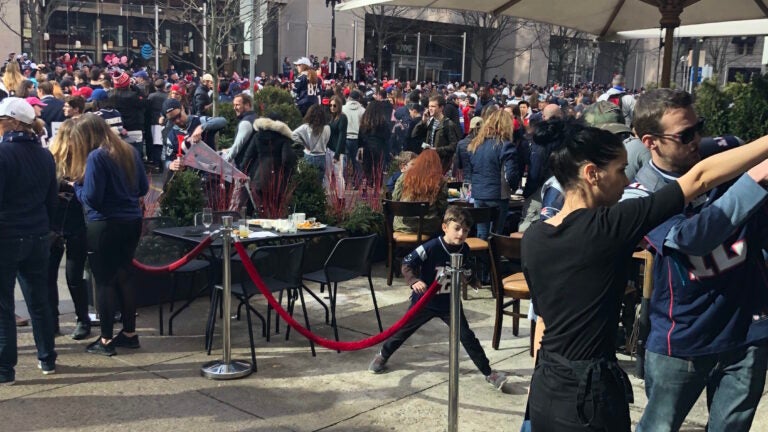 Warm temperatures and sunny skies Tuesday brought a feeling of spring to the Patriots' Super Bowl victory parade in Boston, but that didn't mean restaurants along the route were allowed to open their seasonal patios.
Josephine Oliviero-Megwa, a partner with Ora Trattoriza at 653 Boylston St., found that out the hard way when three members of law enforcement stopped by the restaurant around 11:20 a.m.
"So timing was not great because the Lombardi Trophy was just passing our front door, and, at this time, they're telling me you have to move all the drinks and food from the patio," she said.
Ora's seasonal patio license runs from April 1 through Oct. 31, which covered the Red Sox' victory parade, but not this one.
"We had to literally take the alcohol out of their hands, take the food out of their hands, and move it inside," Oliviero-Megwa continued.
Confusion resulted, Oliviero-Megwa said, noting that patrons wanted to stay outside since they'd been waiting several hours to see the hardware.
"So we ended up taking everybody's food and liquor inside and just telling them that when the parade was done we'd match up the food and the liquor, which ended up being a logistical nightmare," she said.
Boston police confirmed that five citations were issued to restaurants during the parade.
Four were for operating a seasonal patio outside of license conditions. In addition to Ora, police said the restaurants, which they did not name, were at: 867 Boylston St., 729 Boylston St., 651 Boylston St., and 154 Berkeley St. The fifth violation went to a restaurant at 14 Bromfield St. for being over capacity and "operating multiple unapproved flat screen televisions," according to police. The citations were issued between 9:58 am. and 1:45 p.m.
Boston Mayor Marty Walsh backed the citations issued.
"They didn't reach out to us," he told WCVB on Wednesday. "It's about keeping people safe."
Oliviero-Megwa said it didn't occur to her that allowing some patrons to use the patio upon request was in violation of the restaurant's license "because we weren't opening a full patio."
Ora opened at 9 a.m., she said, when it usually opens at 11 a.m. She wasn't there at opening, but staff called to say things were already getting busy.
"They called me and said there was already a crowd," she said. "It was very different from the Red Sox' parade, which we had all just gone through a couple months ago. There were lots of people, and it 'felt like the marathon' were the exact words."
Oliviero-Megwa acknowledged the balmy weather was likely a factor. When staff mentioned people wanting to have breakfast outside, she gave the OK and told staff they could bring four tables outside for 16 seats total — during the season, Ora's patio seats 60. All the regular patio furniture was in storage, Oliviero-Megwa said.
"Clearly it wasn't premeditated," she said. "It was sort of just bringing people close to the parade."
Now, Oliviero-Megwa has to go before the Boston Licensing Board, according to The Boston Globe. She said she doesn't know if Ora will need to pay a fine, and, if so, what the amount would be.
Some have expressed that an exception should've been made considering the event.
Nicole Maffeo Russo, who was at Ora during the parade and also serves as the restaurant's publicist, said she hopes the regulations can be loosened for celebrations like the parade.
"It's the dead of winter. We don't have many great days for restaurants," Maffeo Russo told the Globe. "It's really disappointing that the city didn't give the businesses a pass for days like this."
Patrick Maguire, who works as a consultant for restaurants, small businesses, and hospitality, said that he understands there are rules, but he believes an exception should've been made for the businesses for the event.
"It was a perfect storm in the best way possible," he said of the warm weather in early February on parade day, "and it really takes the wind out of the sails for the small businesses."