Restaurants
Mayor Wu orders tables off the streets in the North End this summer
Outdoor dining areas will be limited to sidewalks in the North End neighborhood, the city announced Thursday.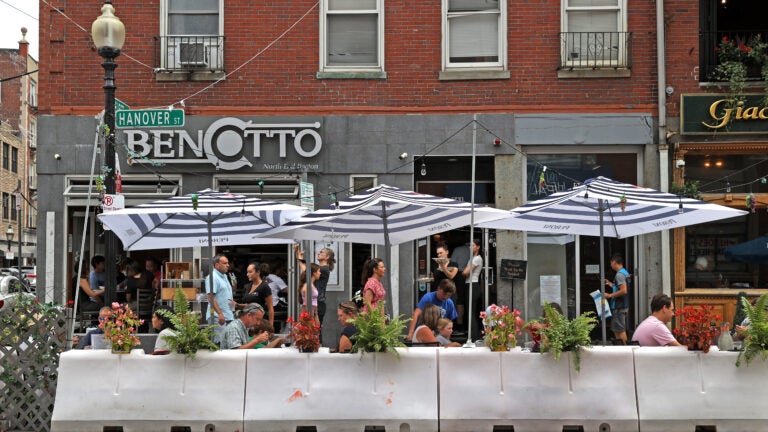 The North End will see considerably fewer al fresco restaurant options this summer under Boston's new outdoor dining program, with the city vowing to keep tables off the historic neighborhood's streets.
Announcing the new rules on Thursday, Mayor Michelle Wu said the city's Permanent Outdoor Dining Program builds on temporary measures established during the early days of the pandemic, streamlining the application and renewal process while improving accessibility and public safety.
"Outdoor dining expanded as a way to keep our businesses open during the pandemic, and has turned into a popular opportunity to enjoy our streets and each other's company," Wu said in a press release.
She described the effort as a "multi-departmental collaboration to reimagine our public space for the benefit of residents, business owners, and visitors."
Business owners will be able to apply for the outdoor dining program through an online portal scheduled to open on Feb. 23. From there, restaurants in most parts of Boston will likely be able to set up outdoor dining on adjacent street and sidewalk areas as soon as May 1, provided they submit professionally engineered site plans and pay a monthly fee — $399 for restaurants with liquor licenses, $199 for those without.
Yet outdoor dining will be limited to sidewalks of "adequate" width in the North End, which has the densest restaurant presence per capita in the state, according to the city.
The mayor's office cited traffic, sanitation, and accessibility concerns raised by the neighborhood's residents, also noting that Sumner Tunnel closures and the North Washington Street Bridge construction are expected to put a strain on North End traffic this summer.
Boston will create a task force to determine how to remedy these issues in future iterations of its outdoor dining program, according to the release. The city said it will also buy back jersey barriers from restaurant owners in the North End and provide relief for storage-related costs.
Last year, North End restaurant owners sparred with Wu over the city's decision to impose a $7,500 outdoor dining fee on the neighborhood's eateries, with four restaurant owners later challenging the fee's constitutionality in a lawsuit against Wu.
Appearing on WBUR's "Radio Boston" last March, Wu explained why the city opted to single out the North End with the hefty fee.
"The North End's sidewalks are very narrow, and so the patios can't fit on the sidewalks," she said at the time, Boston.com previously reported. "They fit in the street, taking up parking spaces, putting diners close to traffic, in a neighborhood where there already were no alleys where food drop-off, deliveries, and parking could happen."
Sorry. This form is no longer available.
Newsletter Signup
Stay up to date on all the latest news from Boston.com