Restaurants
North End restaurant owners balk at outdoor dining near Garden for playoffs
With the city extending outdoor dining on game days just a few blocks away, some North End restaurant owners are feeling slighted.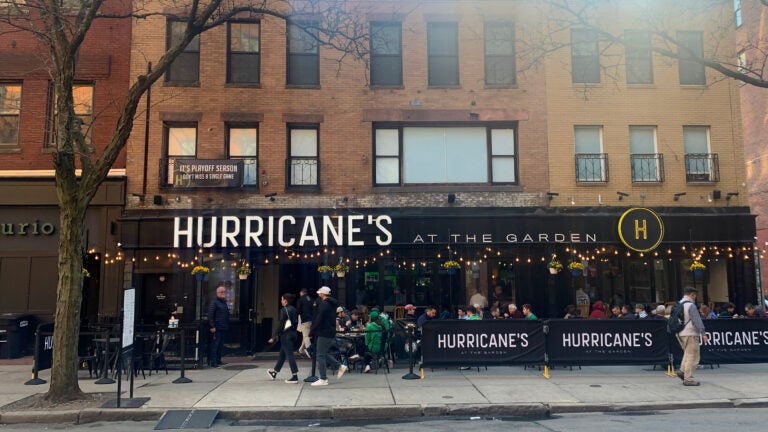 Some North End restaurant owners say they're feeling slighted after the city recently announced it will turn Canal Street into a car-free "playoff hub" and allow extended outdoor dining during Bruins and Celtics game days.
On those days, approved restaurants and bars can extend their outdoor patios onto the sidewalk on Canal Street, the city said in a news release last week. The street closures start three hours before game time and last until one hour after the game ends.
"With both the Bruins and the Celtics in the playoffs this year, we're excited to give Boston fans a space to safely gather, cheer on their favorite teams, and support our local businesses," Mayor Michelle Wu said in the release.
Just a few blocks away from Canal Street, however, North End restaurant owners are gearing up for a summer of scaled-back al fresco options.
Under Boston's Outdoor Dining Program, restaurants in most parts of the city will be able to set up tables on adjacent street and sidewalk areas this spring, assuming the city grants them permission. But in the North End, outdoor dining is limited to sidewalks — and only if they're wide enough.
"It's a downright injustice," said Jorge Mendoza-Iturralde, owner of Vinoteca di Monica.
When temperatures spike this summer, some diners will seek refuge inside air-conditioned restaurants. Until then, outdoor dining is a more popular choice — leaving many North End restaurants at a disadvantage, Mendoza-Iturralde said in an interview with Boston.com.
He's among a group of North End restaurant owners suing over outdoor dining regulations. They allege that the city discriminated against them because they are white and have Italian heritage.
Mendoza-Iturralde said that the summer months are some of the most lucrative for Boston's hospitality industry, making up for slower winters.
"In New England, we all profit in the summer months, all the hospitality outlets — whether it's hotels, restaurants, bars, coffee shops, doesn't matter," he said. "And now, after surviving another winter, now we're going to move into a summer in which the North End may very well do as little business as we do in the winter."
With the city now allowing extended outdoor dining on certain days just a few blocks away on Canal Street, "we feel that we are being mocked," he said.
Wu's office did not respond to requests for comment. Announcing the new outdoor dining rules back in February, her office cited concerns about traffic, sanitation, and accessibility in the tightly packed neighborhood.
Appearing on Bloomberg's "Baystate Business" podcast Wednesday, Carmelina's owner Damien DiPaola argued that the area around TD Garden faces many of the same traffic concerns.
"This is offensive," DiPaola said on the podcast. "It's not just about dollars and cents. It's about, why are we excluded? Why? For what reason? And [Wu's] reasons don't make sense."
Christian Silvestri, who co-owns Rabia's Dolce Fumo, another restaurant involved in the outdoor dining lawsuit, also finds fault with the city's reasoning.
"You're telling us that the streets are too small, the sidewalks are too small, but it was OK for the last three years?" he said in an interview with Boston.com. "What, did the streets shrink all of a sudden in the last year? The fire engines and ambulances went up and down our streets no problem."
He called the city's decision on Canal Street a "slap in the face."
"Obviously, anybody who was going to dine outside in the North End is going to be going there," Silvestri said. "I mean, you're taking away from all of these mom and pop restaurants that are in the North End."
Newsletter Signup
Stay up to date on all the latest news from Boston.com