Russia-Ukraine
Over 200 gather in Wrentham to honor local Marine who died volunteering in Ukraine
Peter Reed did humanitarian work all over the globe.
Over 200 people gathered on the Wrentham Common Wednesday to honor Peter Reed, a local 33-year-old former Marine who was killed while doing humanitarian work in Ukraine earlier this month.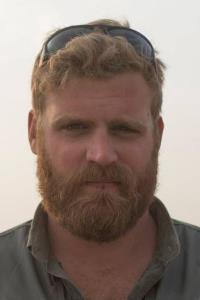 According to Reed's obituary, he served in Afghanistan before doing humanitarian work around the globe. He was killed Feb. 2 when a shell hit the van he and his volunteer group were using to evacuate the wounded in eastern Ukraine.
"He called us the week before and he just said, 'I'm completely back in my element. I love it here. I want to do this for the rest of my life,'" Chandler Reed, Peter's brother, said at the memorial.
The Community College of Rhode Island said in a statement that Reed was originally from New Jersey, but graduated from the college in 2021 with an associates degree in emergency management and homeland security. Reed's extended family lives in Wrentham.
Reed's death was announced Feb. 3 by Global Response Medicine (GRM), a humanitarian group which he helped found in 2017. He worked as the president of the organization's board for four years.
GRM said Reed had stepped away from the organization to work with Global Outreach Doctors on their Ukraine mission when he was killed in Bakhmut, Ukraine.
"This is a stark reminder of the perils rescue and aid workers face in conflict zones as they serve citizens caught in the crossfire," GRM wrote on its website. "Pete was just 33 years old, but lived a life in service of others, first as a decorated US Marine and then in humanitarian aid. GRM will strive to honor his legacy and the selfless service he practiced."
GRM included a statement from Alex Potter, Reed's wife of just under a year, on their website. She describes meeting Reed in November 2016 in Mosul, Iraq, after she had come as a photojournalist to document the battle happening there. When she finished her work as a photographer, she reached out to GRM in the hopes of staying there and using her nursing skills to help civilians.
"Figured I'd stay around for a couple weeks – but we fell in love almost immediately and became each other's right-hand-person. I loved the way he forcefully advocated for wounded civilians, the tight bonds he made with the Iraqi medics, and his magnetic personality – his ability to connect with and love literally everyone he came into contact with," she wrote.
According to a biography on GRM's website, Reed served two deployments in Afghanistan as a Marine rifleman. When he returned to the states, he became a ski instructor on the west coast.
"He was my best friend and adventure buddy," Potter said at the memorial. "…We have kissed, danced, and loved across the world."
Reed's humanitarian career began in 2012 when he joined Team Rubicon, a disaster relief NGO, to help his home state of New Jersey after Hurricane Sandy, the biography says. In 2015, he began leading medical teams in Iraq, treating over 10,000 trauma patients.
After founding GRM, the biography said, Reed participated in GRM operations in Iraq, Yemen, Syria, and Poland. He also worked as a paramedic.
"I have never met someone more selfless," Potter wrote on GRM's website. "Everything he did was always for the benefit of others. He was always charming, often loud, and sometimes brash, but he got s*** done for those he loved, and he loved everyone in his incredibly wide circle. That big personality overlaid the fact that he was also incredibly sensitive, loving, and brave in all aspects of the word, someone who carried me and others through incredibly hard times, placing others' needs above his own."
According to the Wall Street Journal (WSJ), Reed was killed in a "double tap" attack by the Russians, which is when they strike one location and then wait until aid comes before striking the location again. The newspaper reported that this is has been a common tactic used by Russia during the war, despite their repeated denials about attacking civilians.
Reed, who was the country director for Global Outreach Doctors in Ukraine at the time of his death, was visiting civilian hubs in Bakhmut that morning to provide food, warmth, and medication to the several thousand people who remain in the war-torn city, the WSJ reported.
In addition to Potter and his brother, Reed is survived by his mother, Candy Reed, his former wife Bryanne and their children Anthony, Mackenzie, and Parker, his stepmother Michelle Reed, and stepsisters Courtney Reed and Danielle Newman, and her husband Gary, Potter said in a statement.
Newsletter Signup
Stay up to date on all the latest news from Boston.com