Schools
With college enrollment declining, schools discount tuition to attract students
Applicants are wary of student loan debt.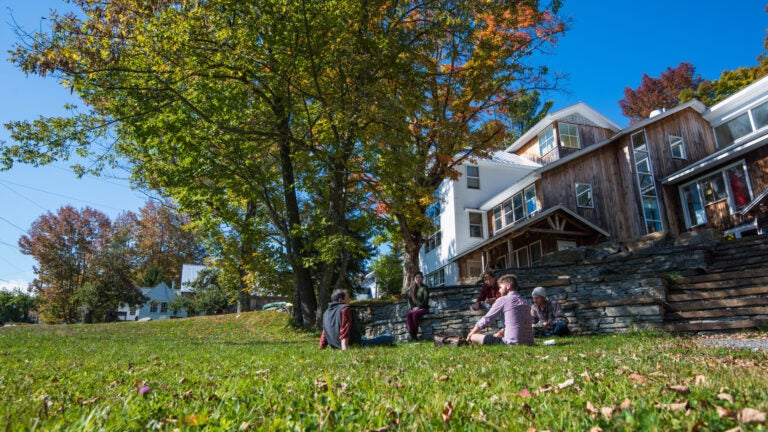 Nestled in rural Vermont, tiny Marlboro College is a self-described "intentionally small learning community.'' But the school recently found that it had gotten a bit too small: This year, the school only enrolled 182 full-time students, falling well below its target enrollment of 250 to 300 students.
Marlboro isn't the only school running low on students. Public and private colleges throughout New England are dropping tuition rates and offering scholarships in a fight to attract students who are wary of racking up debt at a time when college enrollment rates have decreased for the fourth year in a row.
An August report from the National Association of College and University Business Officers found that private colleges discounted their tuition by an average of 48 percent in 2014. Public schools are also lowering fees. The University of Maine recently announced a flagship match program that will allow students from multiple neighboring states—including Massachusetts—to pay the same tuition rates offered by their home state's flagship university.
Marlboro is offering a full-tuition scholarship, partially funded by its endowment, to one student from every state, as well as students from Washington D.C. and Puerto Rico.
"A lot of colleges discount tuition, but we needed a strategy that would help us deal with some of the recruitment challenges we've had, and to diversify our student population,'' said Kevin Quigley, the school's president.
As of Tuesday, Quigley said they've had a 70 percent increase in regular applications compared to last year. Applications for the scholarship close Friday.
UMaine has seen an 11 percent increase in applications since it announced the out-of-state discount, said Joel Wincowski, the vice president of enrollment services. Applications from Connecticut have shot up by 27 percent, and Massachusetts applications have increased by 11 percent.
Stephen Friedfeld, co-founder and COO of AcceptU, a Boston-based college admissions counseling group, said his firm often hears students lament that college is "impossible to get into nowadays.'' But in his experience, many students are looking at the same 50-100 "brand name'' schools.
"There are about 2,000 four-year universities out there,'' he said. "But it seems everyone is applying to the same ones. When you talk to the deans of these small colleges, you find that getting in isn't impossible. They're struggling to fill seats because of the cost of tuition, and sometimes because not everyone understands the value of a small liberal arts college, especially when it's so expensive.''
While some schools are adopting discounted tuition and special scholarship programs to draw students, others are simply accepting the smaller class size. Beginning in the 2014-2015 school year, Saint Michael's College in Vermont said it would enroll 10 to 15 percent fewer students and employ about 10 percent fewer faculty and staff members, mostly through attrition.
The school's president, John J. Neuhauser, a former Boston College business school dean, said the college developed this plan after looking at the results of a study done about two years ago that predicted enrollment at small liberal arts colleges would shrink from about 1,900 students to 1,600 students over the course of the coming years. Rather than fight the decline, the school embraced it.
"One possibility was to do what everyone else is doing and recruit students hard and increase financial aid,'' he said. "There are all kinds of gimmicks. But that means increasing the number of faculty and courses offered. It was more sensible for us to reduce our size—not dramatically— but to follow the geographic decline in area from which we drew students.''
So far, the approach has worked. The school has been able to devote resources it would've otherwise used on financial aid to enhance its course offerings.
"It's not like we weren't recruiting after this decision,'' he said. "We were. The average SAT score of our students is higher, but we've also maintained a diverse student body.''
Finances do play a large role in where students decide to go to college, Friedfeld said. But no matter where students end up, it's up to them to make the most of their environments.
"When you look at students who are applying to jobs or grad schools, it's not enough to go to a 'name brand' institution,'' he said. "People get obsessed with rank, but there are plenty of opportunities to get great educations at smaller schools or at large public universities. You still have to do well wherever you go.''
But not having to worry about how to finance your education doesn't hurt.