Schools
Pint-sized activists express love of school, concern for cuts at budget hearing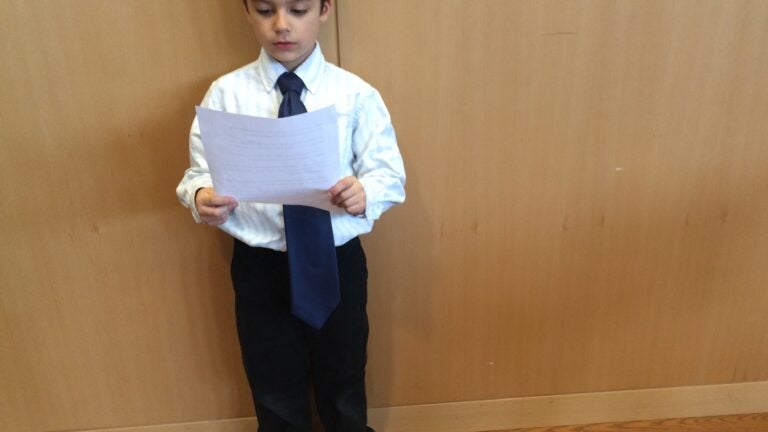 First grader Henry Davis patted down his blue tie, the one that matched his blue sneakers, and took a deep breath.
"Hello, and thank you all for your hard work to make education better for all of Boston's children,'' he said as he glanced at a speech he prepared for Boston's School Committee.
His mom smiled as he rehearsed. He was ready to talk to the "grown ups.''
Dozens of kids, including Davis, stood in front of the committee Wednesday night to express how the district's impending budget cuts would affect them. The district is facing a $32 million budget shortfall, according to the figures presented at Wednesday's budget hearing.
About 90 people, many of them students, spoke during more than three hours of testimony. Students came wearing backpacks, cheerleading outfits, and basketball uniforms. They held up signs with bold, block letters that outlined the programs their schools would lose. Many of their voices quivered as they spoke into the microphone. All of them expressed concern for their schools.
"I'm begging you not to do this,'' said Davis's classmate and fellow first-grader Carolyn Foley. "Please, oh please, the school belongs to the kids.''
The budget cuts have been a hot topic since they were first announced in January, but pressure has mounted lately. Last week, more than 3,600 teenagers flooded the streets in a massive walk-out to protest the cuts. Afterward, Mayor Marty Walsh announced that high schools would be spared some of the controversial cuts.
Many parents worried that the money was "taken away'' from younger students when it was reallocated to the high schools. But, in the original budget, high school students would've been impacted by decreased funding due to a reduction in their weighted student funding model. Students in lower grades never had a planned decrease in their reimbursements, which is why Chang said Wednesday that the additional funding reallocated to the budget went to the high schools.
Parents still worry about the $32 million in budget cuts. Many had children attending one of the city's five early learning centers, which serve students as young as 3.
Earlier budget documents proposed cutting $1.4 million from the centers, but the figure was reduced to $850,000 hours before Wednesday's meeting. Still, many parents showed up, small children in tow, to voice their distress.
One parent from Haynes Early Education Center in Roxbury pointed to the large "Boston Public Schools: Focus on Children,'' logo that was projected above the stage where the committee sat.
"Look at that,'' she said. "If these cuts are going into effect, it takes the focus off of the children. It'll impact their social and emotional well-being and it'll compromise my piece of mind of knowing children aren't receiving appropriate and adequate care.''
High school students also spoke up on behalf of younger students, and expressed concern for lingering effects of the cuts on their schools.
"When the walk out happened, they said they wanted all the students back in their schools; Okay, we're back,'' said a student from Boston Latin Academy. "This is disgusting to me. It's insulting to me that I have to sit here and have to tell you to prioritize our educations.''
Testimony lasted for about 3.5 hours, but Davis spoke at the very beginning. As he spoke, Chang leaned in, listening carefully, and took a photo with his cell phone.
"I am thankful for the outstanding education I received,'' Davis said. "I believe that all children in the Boston deserve the same.''