Schools
The most Boston moments of Joe Biden's Class Day speech at Harvard
The former vice president even shouted out an infamous late-night spot in Cambridge.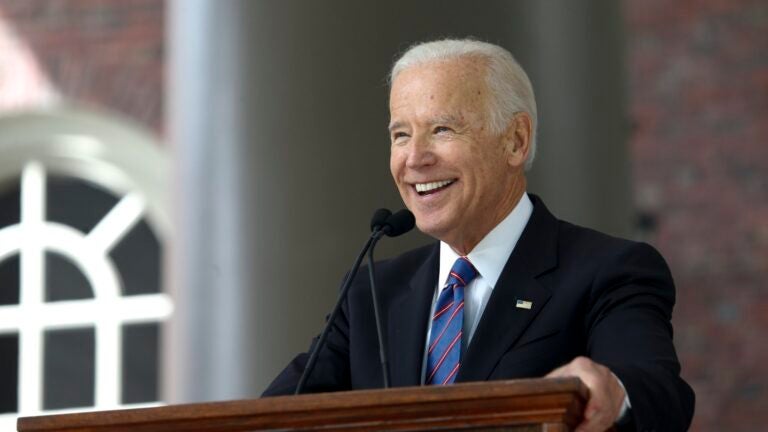 Joe Biden kicked off his Harvard Class Day speech Wednesday by pulling out his trademark aviators and taking a selfie with the college's dean, Rakesh Khurana.
Before delivering a passionate address decrying apathy and urging students to engage with others in a time of social and political turmoil, Biden treated graduating seniors to a monologue of both humorous local references and sincere anecdotes of how Boston has prepared them for life.
"I know a lot of you are counting the minutes until you can ditch your parents and head to the Kong," said the former vice president, referring to the longtime late-night favorite in Harvard Square.
"But this day's for them too, you know," he said. "It's not just yours, and the scorpion bowl can wait."
Biden implored the crowd of students to thank their parents — especially, he said, for putting up with Harvard students and alums' well–documented propensity for saying they went to school "near Boston."
"They paid a hell of a lot of money for you to say Harvard," said Biden, shaking his head. "We know you meant Harvard; we cracked the code."
Biden said he was honored to be invited by the class to speak at the pre-commencement ceremony, and noted that two of his nieces attended Harvard. He proceeded to rib the person the class invited to be their commencement speaker, Harvard dropout and Facebook co-founder Mark Zuckerberg.
"I bet when you found that Zuckerberg was going to be your commencement speaker, you figured out you needed someone who was more more in tune with your generation to speak, " said the 74-year-old.
Biden added that he and Zuckerberg actually have "a lot in common."
"Neither one of us have a Harvard degree," he said, "and together we're worth approximately $62 billion."
Zuckerberg himself is worth about that much alone, according to Forbes.
Biden went on to sincerely congratulate the graduating class for all challenges they had endured during their years at Harvard, academic or otherwise.
"You made it through four years of Boston winters — just in 2015," he said to laughs. "And you finally made it through the gnawing suspicion that your letter of acceptance must have been a mistake to realize that you really do — you really do — belong here."
Striking a more serious tone, Biden told the class that they were graduating to a word of "incredible change," anxiety, and uncertainty.
"I know you know this feeling as well," he said. "Your Harvard tenure has been marked by upheaval even before you arrived on campus."
The class's pre-freshman Visitas program in April 2013 was canceled by the school at the last minute in the midst of the manhunt for the Boston Marathon bombers.
"I'm sure that caused some anxiety for both you and your parents," Biden told the crowd Wednesday. "But then you saw how this city responded, how the people of Boston showed that America never gives up, never gives in, never bends, never ever bows.
"And we own the finish line," he said, echoing previous stirring speeches. "That's what Boston showed us all."
Watch Biden's full speech below:
https://youtu.be/RRNaFAa_uRU?t=1h19m30s