Schools
Why is everyone mad about the UMass-Mount Ida deal?
"Devastating." "Disappointed." "Insulting." Following the sudden announcement of the Newton college's closure, it seems no one is happy.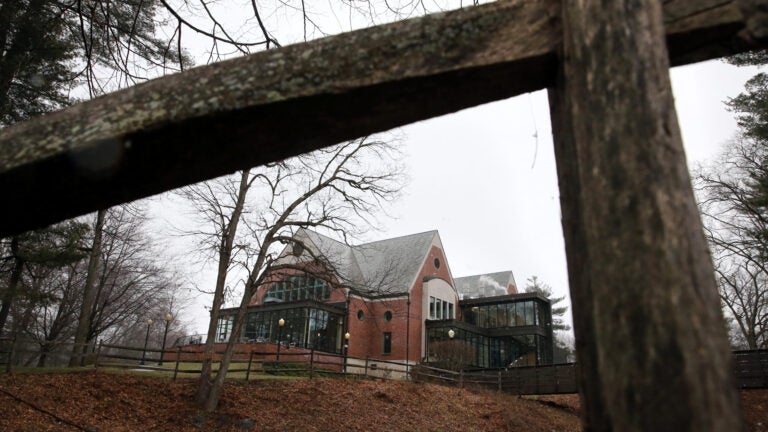 Mount Ida College is closing, UMass Amherst is getting a new campus, and a lot of people are mad about it.
The sudden announcement last week came after years of financial struggles and a last-ditch merger attempt to keep the Newton college of 1,450 students afloat. On Friday, officials broke the news that this spring's commencement would be the 119-year-old liberal arts school's last.
Here's a quick summary of the details of the agreement, as The Boston Globe reported last week: UMass Amherst will acquire Mount Ida and its campus, as well as its estimated debt of $55 million to $70 million. The college's remaining students will be offered admission at UMass Dartmouth at in-state tuition rates. And all 280 of Mount Ida's employees will be laid off.
Citing the heightened financial pressure on small colleges, Mount Ida President Barry Brown said he thought it was the best outcome for Mount Ida's students, community, and legacy. However, the announcement received such broad backlash over the past week that UMass system president Marty Meehan released a lengthy statement Thursday defending the arrangement.
"While this is certainly a difficult situation for the Mount Ida community, we believe strongly that in the final analysis, Mount Ida students and the Commonwealth will benefit from UMass's engagement," Meehan said.
Here's a look at all the groups who are upset about the deal.
Students are mad
Mount Ida's sudden closure has left both current and newly admitted students scrambling.
"It's devastating," Lacey Perry, a dental hygiene student at Mount Ida, told WBUR this week. "I think today has been the first day that I've kind of held myself together."
In interviews with the Globe, Mount Ida parents described their children being "totally blindsided" and brought to tears by the news of the college's closure.
"Devastated is an understatement," said Jeff Bennotti, a 53-year-old Medfield dad.
While current students are being offered automatic admission to UMass Dartmouth, the path forward is less clear for accepted high school students who hadn't yet begun classes at the college's more than 72-acre Newton campus.
"The initial shock has slowly worn out but I'm still very stressed out," Kaitlin Singarella, a high school senior who planned on attending Mount Ida in the fall, told WBUR.
A growing list of local colleges is offering expedited admission and other special accommodations in an attempt to woo current or accepted Mount Ida students.
According to Mount Ida's website, admitted students who have submitted their $300 enrollment deposit will get a refund. State education officials have said its their understanding that incoming students won't be eligible for the same UMass Dartmouth arrangement being offered to current Mount Ida students. Mount Ida officials did not immediately respond Thursday to questions requesting clarification on the opportunities available to admitted students.
Charlie Baker is mad
Speaking to reporters Tuesday at the State House, the Massachusetts governor said he was "stunned, shocked, amazed, and really disappointed by the current state of play at Mount Ida."
"This deficit that they are dealing with now has gotten worse and worse, and I feel terrible for the kids because as far as I'm concerned the grown-ups let them down, and I feel terrible for the staff at the school for the same reason," Baker said, according to the Globe, questioning why the announcement was so sudden when Mount Ida's problems were years in the making.
Maura Healey is potentially mad
Healey, the state's attorney general, is pledging to launch a probe into the planned closure due to similar concerns about the affected students and families.
"I understand it's a really distressing situation for students who are in the middle of their education, for families," Healey told reporters Monday, as MassLive reported.
Healey said she's looking to work collaboratively with both Mount Ida and UMass to make sure students are protected in the process. Healey's office has opened a hotline (888-830-6277) for students and parents with questions about the future of their education.
"Right now we're taking a look at what the current state of play is, because my first concern is making sure that everything is done to help these students right now in real time," she said.
State senators are mad
Leaders in the Massachusetts Senate are launching an inquiry into what they characterized as a "hasty acquisition" negotiated behind closed doors.
"When you spend five or six hundred million dollars of taxpayer money each year as we do at UMass, it's not really fair to imply that these deals can and should be done without the intrusiveness of the Legislature," Sen. Mark Montigny told reporters Wednesday, according to the State House News Service.
The Senate is reportedly moving to hold a hearing to get more information about the deal before it is officially completed.
"I don't want it done in the dark of night," Montigny said. "I want to know what the details are."
State education officials are mad
Members of the state's higher education regulatory agency are also upset about being kept out of the loop, according to the news service.
"We are disappointed with the lack of appropriate and timely communications with our office regarding the closure of Mt. Ida, and with the accelerated timeline that is now in place," Board of Higher Education Deputy Commissioner Patricia Marshall wrote in a letter to Brown, the school's president.
In the letter, Marshall said the board was aware of Mount Ida's attempted merger with nearby Lasell College earlier in the year, but weren't informed about the latest deal. Officials are also reportedly concerned about the lack of opportunities being afforded to current and admitted Mount Ida students, especially for those enrolled in unique degree programs. Marshall's letter expressed dissatisfaction with the arrangement of automatic admission into UMass Dartmouth.
"We're not clear that they put together the full range of choices and information that students should get," Board Chairman Chris Gabrieli told the State House News Service.
UMass Boston is mad
Meanwhile, UMass Amherst's acquisition of Mount Ida's campus in the suburbs of Boston has left students and staff at the state university's sister campus in actual Boston feeling snubbed.
"Students are furious," Katie Mitrano, the undergraduate student president at UMass Boston, told NECN.
"It's UMass Amherst trying to encroach on the region that we have been serving historically for years," Mitrano said.
Some students said the $37 million purchase of Mount Ida's campus  — even as the UMass system moves to cut its budgets — represents a continued lack of commitment to the financially struggling Dorchester campus, the only majority-minority school in the system.
"There is a lot of neglect of the Boston campus within the UMass system in a way that we can only link to socioeconomic discrimination," Charla Burnett, a UMass Boston PhD student, told the Globe.
Even Barry Mills, UMass Boston's interim chancellor, said "we don't need a campus in Newton," according to the Globe. In a letter in response to the uproar from students, UMass Boston deans wrote their students were "ill-served by this preferential treatment shown to UMass Amherst and its students" and said they planned to write to Meehan to express their "deep dissatisfaction."
Deans at UMass Boston send out a letter responding to uproar on campus over UMass/Mount Ida deal#bospoli #mapoli pic.twitter.com/3wCxXoZnFd

— Gintautas Dumcius (@gintautasd) April 11, 2018
According to the Globe, Meehan has said that UMass Amherst independently pursued the deal to acquire Mount Ida and that it wasn't the system's place to intercede in those efforts. That hasn't made students in Dorchester feel any better.
"It has been painful to watch our campus crumble and hear about students finding it increasingly difficult to afford to come here, but now it is just plain insulting as UMass leaders decide to purchase a new campus in the Boston area and do nothing to assist the campus that is already here and meeting the needs of an underserved population," UMass Boston student Madelin Walker said in a statement Thursday.
The Globe editorial board is mad
In a deeply skeptical piece Tuesday, the Globe's editorial board backed up the concerns being raising by other parties.
"For the Amherst campus, the transaction smacks of empire-building, with a thin educational justification," wrote the board.
The board questioned what UMass Amherst Chancellor Kumble Subbaswamy could have done with the money instead. Officials says "The Mount Ida Campus of UMass Amherst" will be used to support student career preparation and internships in Boston, the Newton-Needham Innovation District, and along the "tech-focused" Route 128 corridor.
However, the Globe questioned how exactly a campus with "terrible public transit access" would be helpful for those undergrads. Additionally, the board called for more scrutiny on how the deal will affect UMass Amherst's oft-slighted and struggling sister campus in Dorchester.
"The woes at UMass Boston shouldn't mean that UMass Amherst has to tread water," they wrote. "Still, the outcry on Monday was understandable."
Lasell College isn't mad; they're disappointed
Lastly, officials at Mount Ida's in-town neighbor, Lasell College, are bemoaning what could have been.
After publicly discussing a potential merger in February, a prospective deal between the two schools fell through last month. After news of Mount Ida's closure, Lasell officials quietly expressed frustration that their neighbor passed up a better offer.
In a Globe report Wednesday, three unnamed Lasell officials "with direct knowledge of the merger terms" said the failed agreement would have allowed most Mount Ida employees to keep their jobs and allowed the school to stay open. According to the Globe, Mount Ida and Lasell would have maintained separate boards and students would have been able to cross-register.
"The students would have been provided for completely, we would have maintained the faculty and, you know, just managed the place," said one of the unnamed sources.
According to a copy of Lasell's proposal obtained by the Boston Business Journal, the nearby schools would have continued as "independent, affiliated colleges."
However, Mount Ida officials told the Globe that the proposed agreement, described as an "ultimatum" from Lasell, was too strict. In a statement, Mount Ida trustees chairwoman Carmin Reiss said the "take-it-or-leave-it" terms demanded a response the following day and "offered no assurance that Mt. Ida's operating costs would be covered in the coming academic year."
According to the Boston Business Journal, Mount Ida officials rejected those terms on March 22. The following day, the two schools announced in a joint statement that the proposed deal had fallen through. Exactly two weeks later, Mount Ida announced its fateful agreement with UMass Amherst.