Schools
Here are the basics on the bill to reform how Massachusetts schools are funded
"It's about making good on what we've already promised."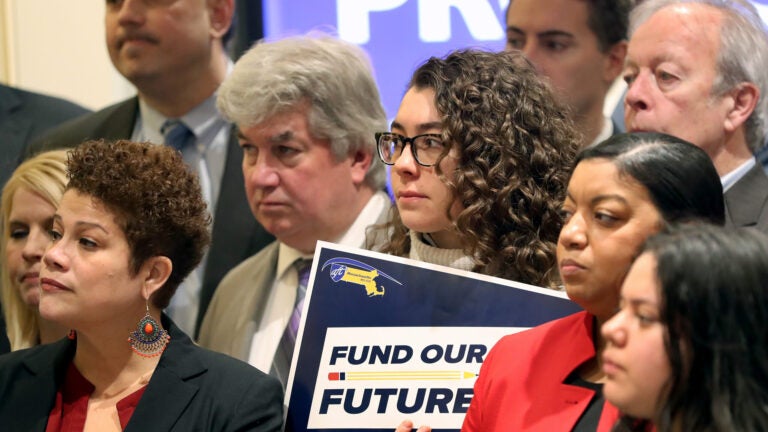 Massachusetts ranks pretty highly when it comes to its education system, but in some ways it is still falling short.
That's where the proposed PROMISE Act comes in.
With the State House back in session, lawmakers are reintroducing what would be the biggest overhaul of how public schools are funded in a quarter-century. If passed, the bill could result in more than a billion dollars a year in funding to Bay State schools.
However, Sen. Sonia Chang-Diaz, the lead sponsor of the PROMISE Act, says it "isn't about providing 'new' or 'extra' funds."
"It's about making good on what we've already promised," Chang-Diaz told Boston.com in a statement.
In a press conference Wednesday morning, the Jamaica Plain Democrat was joined by Boston Mayor Marty Walsh and other education advocates in a push to position the widely-supported legislation as a top priority this year. A very similar bill died in conference committee toward the end of the session in July.
Here's what you need to know about the PROMISE Act — and the problems that it's trying to fix — as momentum picks up in 2019.
How are Massachusetts schools currently funded?
After being sued by a collection of poorer communities, Massachusetts passed an education reform bill in 1993, which established the Chapter 70 formula for making sure each school district receives sufficient funding.
The program calculates a "foundation budget" for each school district — based on enrollment, student demographics (including grade levels, low-income students, and English language learners), inflation, and local wage levels — to determine the minimum funding needed to provide an adequate education to each student.
Every school district then gets a mix of local and state funding. Based on each municipality's wealth (using property values and personal income), the formula establishes a goal for how much each city or town should be contributing to its foundation budget.
All districts are guaranteed some minimum funding from the state. More affluent municipalities pay a larger percentage (up to 82.5 percent) of their foundation budget, while poorer communities see more state aid. Some wealthy communities also spend above and beyond their required local contributions.
What's the issue with the formula?
While the 1993 reform bill did help improve achievement in Massachusetts and close some of the inequality that existed at the time, there are still wide disparities in school funding between rich and poor communities. Those disparities have led cities like Brockton and Worcester — in the wake of teacher layoffs and increasing class sizes — to consider bringing new lawsuits challenging the formula.
In 2015, state lawmakers established the Foundation Budget Review Commission to review the Chapter 70 formula — and its shortfalls. In a report, the commission found that some of the formula's assumptions can become outdated, resulting in underfunding in three particular areas to the tune of $1-2 billion a year.
First, they found that school employee health insurance costs were exceeding their budget allotment, due to the trend of health care costs nationwide increasing at a dramatically faster pace than inflation since the 1990s.
Second, the Chapter 70 formula accounts for special education funding through an "assumed rate of district enrollment," rather than an actual count of the students in need to those services. Currently, the formula added funding by adding 3.75 percent to each school's budget under the assumption 15 percent of students needed special education services 25 percent of the time. In reality, 16 percent of students required extra help.
The commission also said the formula was underestimating the cost of the placement of students at a special education school outside their local district by 59 percent.
Third, despite the gains the state has made since 1993, the commission found that an achievement gap has persisted for low-income students and English language learners (ELL) — "often children from war torn regions, or refugees." The report said many school districts, particularly those with high concentrations of low-income and ELL students, faced "unique costs" and needed additional funding to close the achievement gaps for those groups.
Compared to other states, the commission said that the weighted rate at which Massachusetts provided funds to districts for low-income and ELL students in the 1993 reform bill was set below national best practices.
Lastly, the commission said there was a lack of adequate data collection and called for better tracking of school-level expenditures, including spending on low-income and ELL populations.
How would the formula be changed?
For the most part, along with a number of additional tweaks to the formula, the PROMISE Act would take the 2015 commission's recommendations and phase them into law.
To address rising insurance costs, the bill would change the formula so that the specific estimates for employee health care costs are attached to actual average costs from the Group Insurance Commission, which administers state employee benefits.
To boost special education funding to meet the estimated 16 percent of students requiring help, the bill would increase the current 3.75-percent assumed enrollment rate to 4 percent (as well as from 4.75 percent to 5 percent for vocational students).
The bill would also increase the base rate of funding schools get for low-income and ELL students by 50 percent to 100 percent per student, depending on the wealth of the district.
Lastly, the legislation would create a data advisory committee made up of education experts and officials focused on streamlining and strengthening school-level staffing, spending, and student demographics "to better inform future policy decisions."
"Children across our Commonwealth are waiting for us to fulfill the promise we made in our Constitution and in the 1993 Education Reform Act: that zip code should not be destiny," Chang-Diaz told Boston.com.
"For 25 years, we have failed to live up to that promise — first unknowingly and now, for the past three years, knowingly," she said, alluding to the recommendations in the 2015 report.
Gov. Charlie Baker is also expected to introduce legislation to amend the Chapter 70 formula this year and says he's optimistic lawmakers will get something passed by June or July.
During the event Wednesday introducing her own legislation (again), Chang-Diaz said the "time has passed for waiting."
"We must act with purpose and keep our promise," she said.
Correction: This article has been updated to clarify what happened to last session's bill. The bill died in conference committee, not the House. Boston.com regrets the error.