Schools
Hampshire College president releases statement on plan for 'strategic partnership'
The college may not accept a new class for fall 2019, but doesn't intend to close, officials said.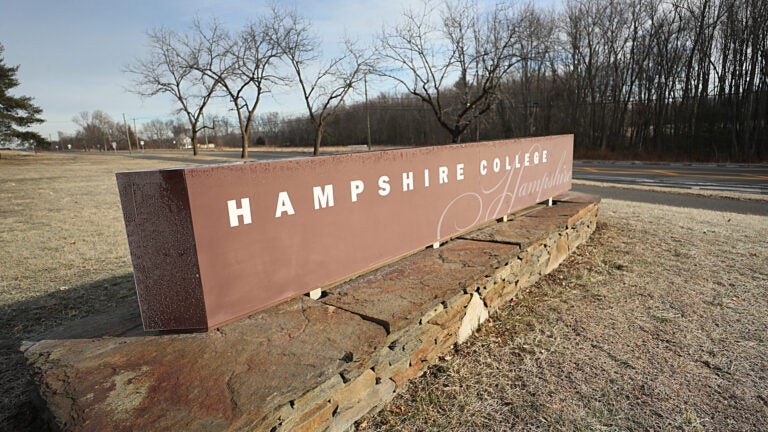 Citing "challenges" from under-endowment, Hampshire College has announced it is grappling with whether to admit an incoming class of freshmen for this fall as leaders search for a "strategic partnership" to help propel the college into the future.
College President Miriam Nelson announced the news via a letter to the community Tuesday morning.
The college is coming up on its 50th anniversary and has a $52 million endowment that "has performed well," she wrote.
Hampshire hopes to create a partnership by the end of the upcoming semester. This could affect the amount of staff and enrollment — Hampshire currently has 1,400 students.
A decision about bringing in a new class this fall comes down to whether or not new students would have the same experience throughout their college career. Officials anticipate making a decision by Feb. 1.
Despite "stiff headwinds" that Hampshire and similarly sized colleges face, the college will not close, as assured by a list of potential questions on the partnership. Leaders hope to transition Hampshire into its new model by July 2020 after the 50th anniversary festivities.
Read President Nelson's full statement:
Dear Hampshire Community,

As we begin the new year and students prepare to return to campus, I'd like to provide an update on the Hampshire Visioning Project announced last fall and tell you about an important decision we've made.

I'm announcing today our intent to find a long-term partner that can help us achieve a thriving and sustainable future for Hampshire. With the guidance and passion of Hampshire's trustees we've begun a process to seek a strategic partnership to address the challenges we've faced as an under-endowed institution, really from our very first days. As we approach our 50th anniversary, and as Hampshire continues to have an impact on students and society, the trustees and I are absolutely determined to find the best way forward.

As we embark on this process we're also carefully considering whether to enroll an incoming class this fall, and will work with the trustees to make that decision before the February 1 admissions notification date. This decision has significant ethical implications, and must take into account the welfare of our prospective students and community as a whole.

I would like to provide some context for such important news.

In November, we announced our plans to envision Hampshire's next half-century as we approach our 50th anniversary in 2020. What will Hampshire's future look like? is how we've framed the initiative, keeping top of mind that we would define what we treasure most about this special college—our mission, values, character—and leapfrog into the future. Articulating a clear and compelling value proposition, establishing financial sustainability, and guiding transformational change are goals that have animated the work we've done to date and will continue to do throughout the weeks and months ahead. I appreciate how the entire Hampshire community has responded in every interaction we've had.

Three questions lie at the heart of this effort: How do we retain what has made Hampshire so successful for the last five decades while solving for the challenges of 2020 and beyond? How do we continue to be an innovator and keep evolving our educational model? How do we build a long-term, stable financial platform given the challenges faced by so many small liberal arts colleges?

As we've begun answering these questions, some of the tough financial trends facing institutions similar in size to Hampshire have materialized with announcements of colleges closing their doors. There are bruising financial and demographic realities in play, and we're not immune to them. However, at Hampshire our budget is balanced, our $52 million endowment has performed well, and the success of our educational model is confirmed by an array of stellar data. We continue to be among the top three percent of institutions whose students go on to earn a research doctorate.

Two-thirds of our graduates earn advanced degrees. And even as the world knows us by the success of our distinguished alums in the arts, the National Science Foundation ranks us among the top fifty schools whose graduates receive a PhD in science or engineering.

We're convinced that seeking a strategic partnership is the right and responsible thing to do. And now is the time to do it. We have great resources in our people, in our pedagogy that has had outsize influence on higher education, and in our reputation for imaginative and forward thinking. By moving ahead so forthrightly now, we also have perhaps the most important resource of all—time. We have the time to undertake the awesome, exhilarating responsibility of evolving education at Hampshire.

Transformational change can be difficult and unsettling. You no doubt have questions. We'll be scheduling assemblies to discuss this decision with you in person, and will continue communicating regularly with you going forward. This week we'll also convene the first meetings of the Hampshire Visioning Task Force and Faculty Innovation Group, and reach out to other campus constituencies and alums in this essential work. I look forward to engaging with you in the days and weeks ahead.

Sincerely,

Miriam E. Nelson
President