Schools
Here's what parents, readers, and educators are saying about returning to school
Emotions are running high as children prepare for the new school year.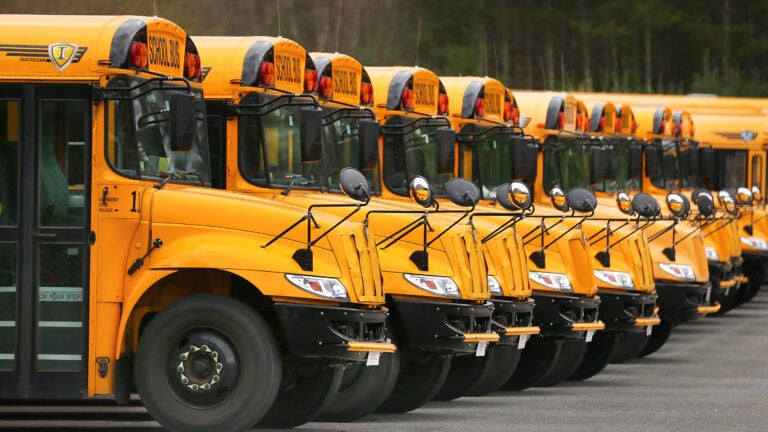 Parents, readers, and educators have strong feelings about whether children should return to school buildings this fall amid the coronavirus pandemic. Boston Public Schools announced last month that students will begin the school year fully remote, while other districts have chosen a hybrid learning model — a combination of in-person and remote learning.
Ahead, read what parents, readers, and educators have been saying in the weeks leading up to the new school year.
Matthew Back, president of the Andover Education Association, wrote the following statement after Andover teachers refused to enter school buildings for work on Monday (they "reluctantly" returned on Tuesday):
"It is simply not safe at this time for students and staff to be working together in crowded settings inside these buildings. Members have decided they will not risk the health and safety of students, staff, or the community by walking into buildings that for decades have been underfunded, understaffed, and poorly maintained while a global pandemic continues to affect Essex County, the state, and our country."
Commenter BadDad1 reacted to the discussion surrounding Andover teachers:
"No doubt, it is one of the toughest and important jobs that exist, but when your leadership took hostage of a global pandemic to the detriment of our children what did YOU think the result was gonna be. How is it you can shop, go to the beach, drive all around town, but you can't teach, even at a decreased level. I think you've squandered a chance to not only show how important and essential your jobs are, but more so to be the heralded champions of this crisis, a real shame."
Merrie Najimy, president of the Massachusetts Teachers Association, wrote the following statement after the Department of Elementary and Secondary Education updated guidelines saying teachers should conduct remote instruction from inside their classrooms:
"It is paternalistic and punitive and has no bearing on the quality of education that the real experts — the educators — provide so masterfully. This new guidance is clearly designed to force local educators' unions to agree to in-person learning regardless of the condition of the school buildings in their districts, indoor air quality, testing capabilities or area COVID-19 transmission rates."
Commenter Toby1818 reacted to educators conducting remote instruction from school buildings:
"Schools are not [as] sanitary as hospitals are…Unfortunately, the experience of most BPS teachers is that there are lots of promises made, but they are never kept. I do not have confidence that my school will be safe when I return in two weeks."
Commenter jjoeman added state-wide remote learning guidance is not the best approach:
"Different parts of the state are having different experiences with the virus, so the responses should be different. For my town, six people tested positive in the last TWO WEEKS…"
When asked if Mass. schools should reopen, Korri Crowley, a Boston parent, was prepared to homeschool her son:
"[I'm a] single mom and self-employed photographer in the wedding industry, so I'm essentially unemployed for the time being, and I can be home to help my son with remote learning. Remote learning is the only responsible plan at this time. If his district does not provide a supportive and dynamic plan for the families, I will unenroll him and we will independently homeschool."
Will Vazquez, a Milford parent, wants kids in the classroom:
"We need to get these kids back to school and stop giving into the teachers union. Low income and minority kids will suffer the most. Why does every other profession have to go back to work[?] Are teachers better than everyone else? What about service workers and cashiers who have been working the entire time."
Commenter MaddieYouLook said remote learning is safest:
"Teachers aren't nurses. Education can happen at a distance. Is it ideal? Nope. However, in person learning isn't safe. Period. Not going to debate that point when all evidence and a reason proves it. The concern really is child care. Our government should helping families not attempting for force everyone to put each other in harm's way. Leadership is failing, not the teachers.
Ken Chen, a Quincy parent, wants his boys back in school:
"I work [the] night shift, my wife and I are not native English speakers. It's a nightmare to have 2 boys, ages 8 and 9, at home. I would like them back to school in person."
Michelle Harris, a Pembroke teacher, supports fully remote learning:
"My sons and I go to 3 different districts. We will be exposed to 153 people every 2 days. Right now, we are exposed to 3 at most unless we are at the grocery store. We have worked so hard to stay safe just to be forced into an uncomfortable situation. [COVID-19] numbers are going up. There isn't a vaccine or a cure. My children's grandmother is high risk."
How are you feeling about your school's reopening plan? Let us know in the comments below. 
Get Boston.com's browser alerts:
Enable breaking news notifications straight to your internet browser.