Schools
Was Northeastern right to suspend 11 first-year students and keep their tuition? Here's what 6,000 readers said.
"They are there to learn, this is their first lesson."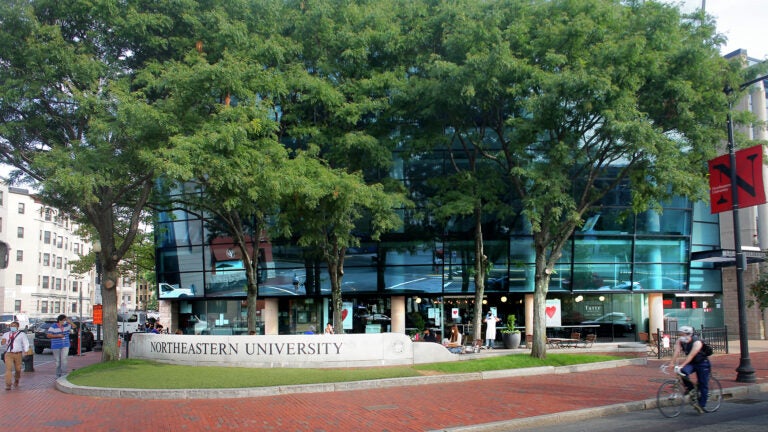 Northeastern has welcomed students to campus, but university officials are making one thing clear: There will be no gatherings.
The university is sharing the message in a variety of ways from a fun airline safety-style video, nighttime drones, and more direct warning letters.
For 11 first-year students, not heeding the call resulted in a much stronger message last week: immediate dismissal without tuition reimbursement.
The move by university officials ignited a debate on the appropriate student punishment and whether it should include keeping their tuition — $36,500 for the semester.
So we asked readers on Tuesday: Was it right for Northeastern to suspend the students and forfeit their tuition? More than 6,000 readers weighed in with their opinions. 
The main takeaway? Suspending the students is fair punishment, but keeping their tuition goes too far. 
Out of 6,552 responses as of this writing, 51 percent agreed to the students' dismissal and that it was wrong for the university to keep their tuition, 30 percent believed Northeastern was right on both accounts, and 17 percent didn't agree with either the dismissal or keeping tuition. Just under 2 percent voted "Other" and shared a more nuanced response that leaned toward suspension with varying forms of reimbursement. 
"We cannot comment out of respect for the appeals process that is still ongoing," a Northeastern spokesperson told Boston.com via e-mail.
Here are some opinions readers shared on the topic: 
Responses have been lighted edited for length and clarity
'This is real life, and they are adults' 
"They are there to learn, this is their first lesson." – Anonymous
"These students were warned, and warned, and warned again. NU made no bones about the seriousness of these important rules and the consequences of violating them, and if COVID gets out of hand on campus, it can shut the university right down again costing *twenty thousand* students their valuable education." – Bob, Northeastern '82, Northampton
"All the students understood the rules about returning to campus and probably signed a document acknowledging the rules about COVID… This is real life and they are adults being held accountable for their actions and violating University policy." – Anonymous
"The only way that we as a society will tackle this virus is to impose harsh punishments on those who violate the rules of social distancing and neglect mask-wearing. It may seem draconian to some but I believe it is absolutely necessary if we want to keep the virus under control." – Brooke P., Revere Beach  
"College freshmen, especially entitled ones will continue to push the envelope unless strict measures are taken. Everyone is going to call the university greedy but they did the right thing. My daughter is a sophomore at NEU and if she did that I would make her responsible for her actions as well." – Anonymous
This is 'a bit extreme' 
"The punishments are way out of proportion and are clearly just a way for Northeastern to pretend like they're being responsible when in reality they should never have brought students back to campus and are just doing so as a money grab. They're covering up an institutional failure by stealing absurd amounts of money from 18 year olds and their families." – Jameson from College Park, MD., Northeastern '19    
"No, it's a bit extreme. Caution should be taken to prevent the spread of COVID but suspension and/or expulsion and keeping their tuition money is ridiculous." – Bryan, Boston
"The data and the installed fear are no longer aligned… Educational institutions need to lead by using knowledge and not cowering in fear. Step up Northeastern. Your paradigm is wrong." – Anonymous
"Where is the compassion? These students are living away from home for the first time and have no friends to turn to. The sophomores, juniors and seniors have a support network. I have a freshman daughter at BU. She thankfully is on a sports team but is still pretty miserable… The schools should have done a better job organizing events for these incoming freshmen, instead of expecting them to sit alone in their dorm rooms. Student mental health needs to be considered here." – Anonymous 
It's a 'money grab'
"Freshmen are by their very nature inexperienced. They also, more than any other class, need to make social contacts because they don't yet have any friends at the school. The university was both too harsh, and too greedy to take their money. The university should have also provided ways for students to socialize without violating the rules." – Anonymous
"If NE is keeping the money, then let them DONATE it to the under-resourced people who have suffered from the economic and physical impact of COVID-19." – Anonymous
"It's difficult to comprehend a business being fined $300 for a COVID-19 related violation and a freshman college student essentially being fined $36,500." – Anonymous
"The students were thoroughly warned, so it's hard to argue that this is not a fair punishment. However asking so much of young adults is unrealistic and unfair in a way that, despite the clear communication of consequences, feels predatory." – Laura, Cambridge
"As someone who holds a degree from Northeastern and now lives in the Boston community outside of Northeastern, I applaud NU for holding themselves accountable for the decision to bring students back into the city during a public health crisis. I also think that this should be an opportunity to address the runaway cost of a $36,000 tuition fee at a time when student loans are becoming an economic burden across this nation. Perhaps the cost should not have been so high to begin with." – Anonymous
"This is robbery… Everyone is working their hardest to adhere to these new times and rules, there will be slip-ups. Northeastern admin is acting as a bunch of thieves, and calling it safety. I don't buy it. Shame on them. – Matt Z., Cambridge
Some NU alumni are 'disgusted'
"As a 2017 graduate of Northeastern who self-funded my education and still has thousands of dollars in loans, I believe it is incredibly wrong for Northeastern to keep the tuition money. The students should be punished for violating school policy but the paid tuition should be applied to the next semester." – Anonymous
"1) Knowing part of freshman year is meeting new people, making friends, etc. Did Northeastern make available space for kids to meet that would allow for social distancing? If not, why not? 2) Understanding they have to take Covid seriously, they're 17-18 yrs old [and] going to make mistakes. There has to be a less severe penalty than go home for the semester AND forfeit tuition." – Peter A., NU grad and former resident assistant, Woburn
"I am an alumna of Northeastern, and I am disgusted that the University would make it a point to state that tuition won't be returned to these students. That's unconscionable." – Anonymous
"I am horrified by the greed of the university. They can keep the students money, but they will not see one more cent from me. – Chris, Class of '86
"You're talking 18-19 year old students. They've suffered enough missing high school graduations last year. Cut them some slack. This could be a great learning experience in life. Don't make it [a] black mark on their 1st year experience in college." – An alum of Northeastern University, Class of '74
Get Boston.com's browser alerts:
Enable breaking news notifications straight to your internet browser.