Schools
'Educators will not be silenced': State teachers union responds to ruling of illegal strike in Andover
Andover teachers refused to enter school buildings last week.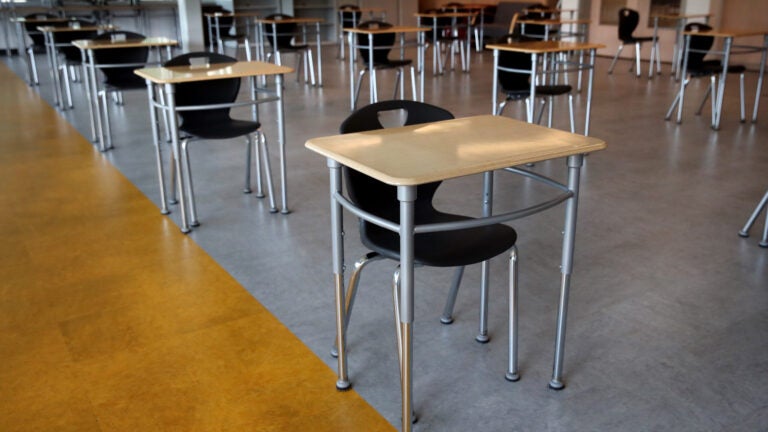 The Massachusetts Teachers Association is condemning the ruling from the Commonwealth Employment Relations Board that found Andover teachers participated in an illegal strike when they refused to enter school buildings for a professional development day last week.
Merrie Najimy, president of the MTA, castigated the decision from the board in a statement on Wednesday. 
"Andover educators only asked for transparency, information, and cooperation in order to ensure the safety of students, educators and their community," she said. "In response, they were met with autocratic decision-making and litigation. The CERB decision aligns with the Baker administration's attitude of proceeding toward 'normalcy' until something tragic happens. It calls for risk-taking over prudent planning, and the health and safety issues remain unresolved. That is reckless and shameful. The MTA vehemently disagrees with the decision – and educators will not be silenced."
The state-wide teachers union said in a statement Wednesday that it will continue to support local labor groups as they bargain with districts over health and safety concerns related to reopening schools amid the COVID-19 pandemic. 
About 45 percent of the members of the Andover Education Association — the union that represents district staff including teachers, guidance counselors, and social workers — refused to enter school buildings on Aug. 31 for in-person professional development training, citing concerns about safety related to COVID-19. Instead, the teachers stayed outside the building, doing the work outdoors. In response, the Andover School Committee petitioned the Massachusetts Department of Labor Relations, saying what the union called a "workplace safety action" was actually "illegal work stoppage."
In its decision, the state labor board found the Andover Education Association "unlawfully induced, encouraged and condoned that strike," saying the union's claim members were able to perform all the duties required of them on those days remotely was "inaccurate."
Andover Public Schools will begin classes on Sept. 16 with a hybrid learning plan, with students attending for in-person instruction two full-days per week. The teachers union, like others across the state, has pushed for the district to start the year fully remote and phase-in part-time learning, pointing to concerns about the potential spread of COVID-19 in school buildings.
The Massachusetts Teachers Association has been advocating for fully remote learning, stressing that members of the union will not return to classrooms until their districts meet certain criteria, including demonstrating that school facilities are safe to hold classes. As of mid-August, about 70 percent of the school districts in Massachusetts settled on plans that brought students back into classrooms at least part-time.