Schools
U.S. News & World Report's 2021 best college rankings are out. Here's how New England schools fared.
Some familiar local institutions got top marks.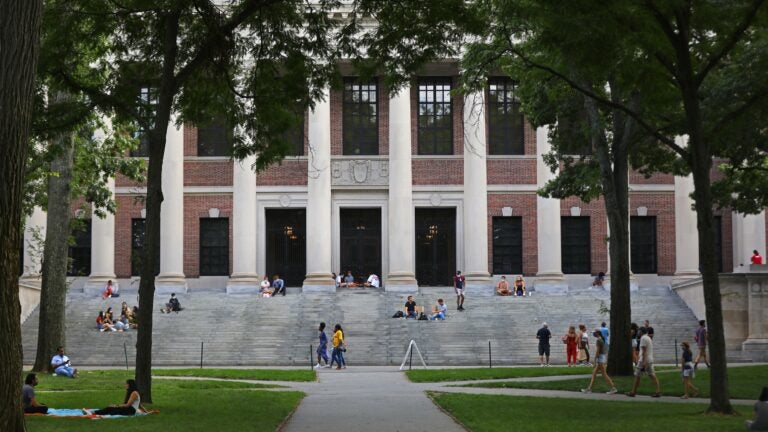 High school students may be putting their college visits on hold due to the coronavirus pandemic, but the annual rankings of schools from U.S. News & World Report can't be stopped. 
The publication released its 2021 Best Colleges rankings on Monday, and, per usual, more than a few New England institutions made the list. For another year in a row, Harvard held its No. 2 place behind Princeton University, which has maintained the top spot in the category of National Universities for a decade.  
Bay State schools continued their strong showing at the top of the National Liberal Arts Colleges list. Williams College held onto its No. 1 spot, followed once again by Amherst College at No. 2. 
U.S. News made some changes for its 36th edition of the rankings, updating methodology for evaluating more than 1,400 colleges and universities across 17 indicators of academic quality to address topics including student debt, test-blind admission policies, and social mobility. Previously, schools that did not make use of SAT or ACT scores in their admissions process were listed as unranked. 
Six categories influenced the rankings with the following weights: outcomes (40 percent), faculty resources (20 percent), expert opinion (20 percent), financial resources (10 percent), student excellence (7 percent), and alumni giving (3 percent.) According to U.S. News, the information used to compile the 2021 rankings comes from student and faculty data predating the coronavirus pandemic.  
"The pandemic has affected students across the country, canceling commencement ceremonies and switching classes from in-person to remote," Kim Castro, editor and chief content officer of U.S. News, said in a statement. "Whether students have slightly altered their college plans or changed them entirely, it remains our mission to continue providing students and their families with the tools they need to help find the right school for them."
Here's a look at how New England schools fared in the two primary categories for 2021.
Best National Universities
Top three:
1. Princeton University (NJ)
2. Harvard University (MA)
3. Columbia University (NY)
New England schools in the rest of the top 100:
4. Massachusetts Institute of Technology (MA) & Yale University (CT)
13. Dartmouth College (NH)
14. Brown University (RI) (tied with Vanderbilt University)
30. Tufts University (MA) (tied with New York University, University of California — Santa Barbara, and University of Florida)
35. Boston College (MA) (tied with Georgia Institute of Technology, University of California — Irvine, and University of California — San Diego)
42. Boston University & Brandeis University (MA) (tied with Case Western Reserve Univ., University of Texas at Austin, and University of Wisconsin — Madison)
49. Northeastern University (MA) (tied with Pepperdine University and University of Miami)
63. University of Connecticut (CT) (tied with Pennsylvania State U. — University Park and Rutgers University — New Brunswick)
66. University of Massachusetts — Amherst & Worcester Polytechnic Institute (tied with Fordham University, George Washington University, Loyola Marymount University, Southern Methodist University, Texas A&M University, and University of Minnesota — Twin Cities)
Best National Liberal Arts Colleges
Top three:
1. Williams College (MA)
2. Amherst College (MA)
3. Swarthmore College (PA)
New England schools in the rest of the top 100:
4. Wellesley College (MA) (tied with Pomona College)
6. Bowdoin College (ME) (tied with Claremont McKenna College and United States Naval Academy)
9. Middlebury College (VT) (tied with Carleton College, Hamilton College, and Washington and Lee University)
15. Colby College (ME) & Smith College (MA) (tied with Davidson College, Haverford College, and the United States Military Academy)
20. Wesleyan University (CT) (tied with Colgate University)
22. Bates College (ME) (tied with Barnard College and University of Richmond)
34. Mount Holyoke College (MA) (tied with Bucknell University)
36. College of the Holy Cross (MA) (tied with Oberlin College, Pitzer College, and Skidmore College)
44. Trinity College (CT) (tied with Denison University and Union College)
51. Connecticut College (CT)
76. Bennington College (VT) (tied with Cornell College, Lewis & Clark College, and St. John's College)
84. Wheaton College (MA) (tied with Earlham College, Gustavus Adolphus College, Juniata College, Lake Forest College, New College of Florida, Transylvania University, University of Puget Sound, and Ursinus College)
Get Boston.com's browser alerts:
Enable breaking news notifications straight to your internet browser.