Schools
Here's what Boston.com readers think about the decision to go all remote in Boston schools
"We have already lost so many lives, it makes sense to me."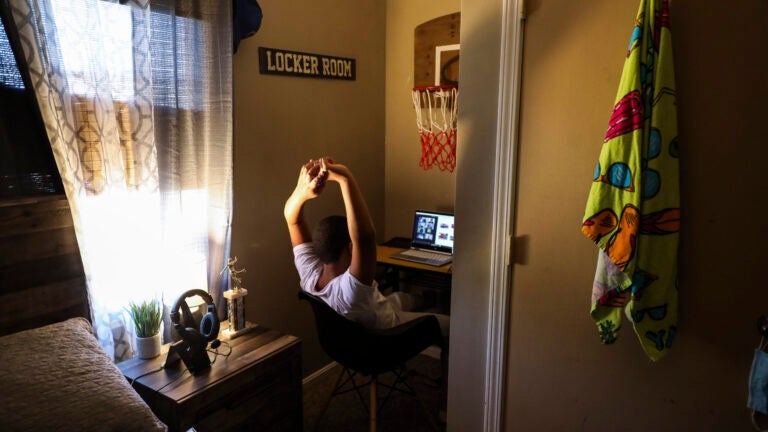 If you need proof that Boston was facing a no-win decision over whether schools should go fully remote in the wake of increasing COVID-19 cases, look no further than the Boston.com poll on the question. More than 3,000 weighed in, and they were fairly equally divided on the issue.
In total, 52 percent of the readers who responded agreed with the decision, which came Wednesday when data showed the citywide coronavirus positivity rate had jumped to 5.7 percent. That left 48 percent who were unhappy with the move, which forced the high-needs students who had returned to in-person learning to resume remote instruction instead.
"My heart goes out to the kids who are missing out on in-person learning, but we are in unprecedented times," one reader in favor of the move commented. "When teachers chose the profession, they did not think that they would be making a life-or-death decision."
"Our reaction to COVID-19 will go down as the largest overreaction in history," said another commenter who was opposed to the decision. "Death is a part of life. The illness kills the weak and old. Not our children. Enough is enough."
Officials said the positivity rate will need to drop to 5 percent or lower for two consecutive weeks before the families of students prioritized for in-person learning will be given the choice to return to school buildings. The rate will have to fall to at least 4 percent for two consecutive weeks before the phased-in reopening can start for other students.
More than 400 readers elaborated on why they agreed or disagreed with the decision; here's a sampling of their responses.
YES
"Parents and all Boston residents need to take this virus seriously. Please target the communities with the highest infection rates." — Mar, Taunton
"Nothing about the virus has changed since earlier this year, and the exponential spread of a deadly virus is just that – exponential." — Ben, Cambridge
"The positivity rates in the city are climbing. When looking neighborhood by neighborhood we can see that Roxbury, for example, is at 11 % and other neighborhoods are significantly over 6%. A few neighborhoods are bringing the average down. The high-need students in neighborhoods where the rates are highest are being put at a huge risk by continuing to have school buildings open. Good call on the part of BPS."
"They should have honored the 4% they had agreed on when numbers went over. They also should have focussed on a remote plan from the start in June when they knew the pandemic was going to impact the '20/'21 school year. Instead teachers and students are still waiting for online resources and materials." — F.S. West Roxbury
"I hope other 'red' cities and towns follow suit. Students, their families, and teachers need to feel safe."
"BPS is not in control of the virus — the pubic is. If we want to have kids going to school people need to get a lot better at infection control. It is in our hands … literally."
"It sounds like a wise idea to respond to the positivity rate data and close things down again … not what many folks commenting on Boston.com want to see but it was inevitable as a few of us have pointed out with the respect to the danger of opening restaurants and bars fully in Boston. Opening up too soon will just result in having to close down again. COVID doesn't respect the wishes of anyone — it spreads when given an opportunity." — Patty, Lincoln
"It's the right decision but when high schoolers come to basketball courts 20-30 at a time, pull up in cars and get out and play and scream in the courts — all with no masks, I'm not sure pausing school is enough. The parks are a big source of interaction with no mask or social distancing." — Susan, West Roxbury
"It is absurd that schools that shut down because of the pandemic have re-opened for in-person learning WHEN ABSOLUTELY NOTHING HAS CHANGED SINCE THEY SHUT DOWN IN MARCH. Further, it is absurd and patently wrong to force special ed teachers to work in person while regular ed teachers work remotely. The lives of special ed teachers are just as important as those of regular ed teachers … My heart goes out to the kids who are missing out on in-person learning, but we are in unprecedented times. When teachers chose the profession, they did not think that they would be making a life-or-death decision. For those who think that remote teaching is easy — it is not. It is more burdensome on teachers, who now, in addition to doing their jobs, have to become tech experts and entertainers. I am NOT a teacher." — Lisa, Franklin
"ALL schools need to follow BPS's lead and transition back to fully remote learning — it's the only way our COVID numbers will flatten again. In person learning is irresponsible and dangerous when cases continue to rise."
"They are using metrics conceived by experts and are trying to balance safety with the needs for admittedly very needy students who in all actuality require in person instruction to make meaningful progress. It is a no win situation unfortunately, but I feel we have to err on the side of protecting everyone's health."
"A greater urgency for daily testing in BPS schools, as well as HVAC modifications to be completed and school ventilation systems updated before schools can safely re-open."
"I believe the discussion was the right one due to the increase in COVID spread. I do hope BPS can find a way to provide services to the special needs population and their families."
"I think they are making the right decision. Many healthcare professionals have been sounding the alarm in recent days that the worst days of the pandemic are ahead of us specifically November – January. We have already lost so many lives, it makes sense to me." — Jenni, Natick
"As a mother of a teacher in the Boston Public Schools I feel it was very prudent and the right move to shut down in classroom learning even for the disadvantaged students my daughter teaches, who had returned to the building. Why this wasn't done when the cases started ticking up above 4% I am not sure. Safety must be foremost for both the teachers and their students. Teachers cannot be effective teaching virtually and in person, and with the added stress of the danger of exposure and the conditions in the schools themselves. Boston schools with the help of the unions need to develop a better strategy before schools re-open."
"BPS didn't do enough to ensure students and staff were safe in buildings. Air quality was not good enough in most buildings. As a teacher in another district, I hope we follow this example. It's not safe right now. Forcing teachers into buildings to teach online while students are home is also not okay!" — Nicole, Boston
"It's lousy for the highest need students, who really need a place to go and/or in-person education, but it's the responsible thing to do until the numbers start trending downward again."
"There is a callous disregard of recommendations about gathering, masking, social distancing on the majority of Mass. residents I have been in contact with. It's only going to get worse." — Martina, Cambridge
"I have no problem with the decision. I do have a problem with everyone blaming the teachers. This wasn't their choice, look to the Mayor's office if you are assigning blame."
"Yes, they made the right decision but they should have given families with 'high needs' whose students had been attending in person more notice."
NO
"These children will never recover."
"If the restaurants can be open, so can the schools."
"They should take into account the rate of spread within schools when making this decision. By shutting down schools, these children are more likely to be in community-based care which isn't going to stop the spread of the virus." — Heather, Dracut
"Our reaction to COVID-19 will go down as the largest overreaction in history. Death is a part of life. The illness kills the weak and old. Not our children. Enough is enough."
"Crime rate in Boston will go through the roof when these students reach 18."
"The children are not at significant risk from COVID-19 according to the statistics. They are suffering many secondary impacts from isolation at home, and need to be in school. Other countries and states have been able to do this, and so should we in Massachusetts and in Boston." — Michael, Boston
"Only one child under the age of 18 has died of coronavirus in Massachusetts. Compare that to the number of kids who are suffering from depression or may go hungry (if they do not get a meal at school). The costs to our children vastly outweigh the benefits. We are sacrificing our children to protect those with underlying conditions." — Sherry, Carlisle
"It's unacceptable that BPS/city and teacher union can't accommodate 1,300 high-need kids. All K-3rd grade should be in school at a minimum. Figure it out if education matters. It can be done." — Guillaume, Dorchester
"Scaremongering over asymptomatic 'cases' that lead to few or even zero hospitalizations means that things will remain closed with no end in sight. You are hurting the children and their parents. I'm looking to move my family out of this city before our children reach school age." — Don, Hyde Park
"My children are learning five days per week in Catholic school with absolutely no health or safety issues to date." — Nadine, West Roxbury
"It's not the public school students, especially not the elementary school students, who are driving the rates higher. These children need to be in school, and the community needs them to be in school if we want to see any rebound in our economy." — A mother, Charlestown
"This virus is not in the schools. It is being spread by people who are not following the rules." — Chuck, Abington
"This will negatively affect those students that are vulnerable the most. The old are being prioritized over the young as usual and dragging down our country and communities."
"The teacher's union dictates whether our children receive an education or not. Their influence cannot be ignored. If school staff or students test positive than by all means contact trace and close that SPECIFIC school."
"The city of Boston has not gone on lockdown. Gyms, restaurants, salons etc. are all open for business but educating public school children is not. One could assume by the actions of BPS that the spread of COVID-19 should weigh exclusively on the shoulders of BPS students versus the 695,000+ residents of the city of Boston. Not to mention the 250-350,000 visitors and workers that enter the city every day." — Liz, Boston
"Teachers should be considered essential workers and should be in school teaching every day to our children who desperately need to learn and the daily structure. We know that wearing masks, washing your hands, etc. helps stop the spread of the virus. We have grocery store workers, barbers, waiters and waitresses working everyday to serve the public while wearing masks without getting the virus. So why can't our teachers teach in person?" — Ryan, Hopkinton
"Boston Public Schools should have opened late August and September when the COVID numbers were low. It is inexcusable that they did not use the long summer break to make all necessary preparations for a responsible reopening either at the normal September date or even an anticipated opening in late August. This created real hardship for Boston children and families. Everyone expected that COVID numbers would go up in late fall, why on earth did they waste early fall for children to be in the classroom with their peers?! What a disgrace!" — Chris, Boston
"Grade: F."
"Students, teachers and staff should all be in school with a medically approved option to opt out. How are private and parochial schools running at 100% without people dropping dead left and right? There are cases that pop up that may require some students to go remote, but for the most part they are full steam ahead. This is another instance of teachers putting union power over student learning." — Mike, Lowell
"Families need to work, kids need to learn. Period. You will put them at higher risk for a host of other reasons long before they ever catch COVID. If all you are basing this on is the positivity number, then you will never get kids back to school. Good luck with that."
"There are children with disabilities, complex disabilities, that involve speech interventions, one-on-one communication assistance, vision challenges, comprehension challenges, especially at younger ages who literally cannot engage through distance learning … So now here's the great divide that's always discussed, and kids who desperately need to be in school because they have no other option are left behind. Children's Hospital has come out and said it's more important to have kids like these in school vs. the corona[virus] risk, considering you can get your nails done, go drinking, people are at work all over the city, South Bay is packed every night, but 3,500 kids who were considered the highest need for multiple reasons are being left behind, kids federally entitled to an education … This is atrocious and feels illegal." — Amanda, Dorchester
Get Boston.com's browser alerts:
Enable breaking news notifications straight to your internet browser.