Schools
Boston Teachers Union passes vote of no confidence in Superintendent Brenda Cassellius
The vote came just before 28 more schools reopened for in-person learning on Monday.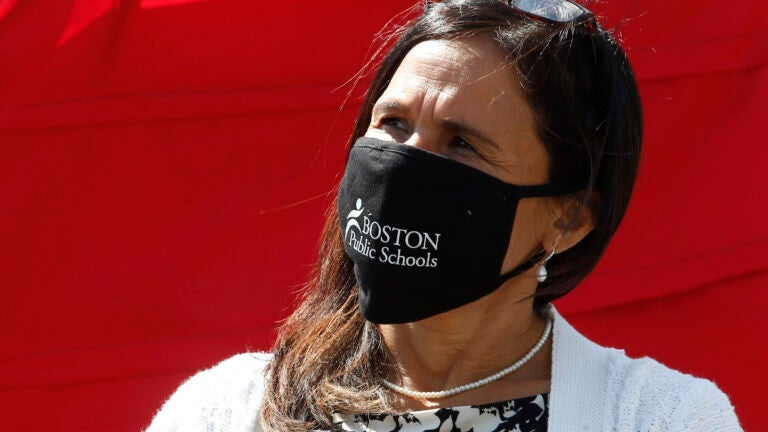 On the eve of 28 additional schools reopening in Boston for students with the highest needs, the Boston Teachers Union passed a vote of no confidence in Superintendent Brenda Cassellius.
The vote, which was supported by 97.5 percent of members during an emergency meeting Sunday, came as city educators say Cassellius has not agreed to the same "equal and uniform safety provisions" for the newly reopened schools as the four that reopened to in-person learning back in November, according to a press release from the union.
That didn't mean, however, that educators planned not to show up for work — staff said they would be in the schools come Monday morning.
"We will proudly be there for our high-needs students when they arrive at schools in the morning, but it is very disheartening that the superintendent has refused to officially ensure equitable and uniform safety provisions and instructional practices at the additional schools slated for reopening on Monday," Boston Teachers Union President Jessica Tang said in the release. "Our educators, as always, are doing their part to ensure our students have what they need for safety and for quality instruction, whether learning in-person or remotely. We are simply asking that the superintendent do her part, as well."
Some of the measures used in the four schools reopened in November that educators say were not guaranteed in the 28 newly reopened schools included:
— Safe ventilation and air quality standards
— Vents in bathrooms and working sinks with soap for handwashing
— A scheduling process that takes into account pre-existing medical conditions of educators and their families
— PPE for educators, nurses and staff working with students who cannot socially distance or wear masks
— Access to COVID-19 testing
"The provisions reflected in the prior November 15 agreement are practical, student-centered, and essential to keeping our communities and school buildings safe and ensuring the highest quality of instruction for all students," Tang said in the release. "There is no logical reason — and the superintendent has stated no explicit reason whatsoever — why those provisions should not be formally extended to the other 28 schools. There is nothing extraneous in this safety agreement covering the four initial schools to open which should not apply to the additional 28 schools."
Cassellius issued a statement to The Boston Globe on Sunday about schools reopening.
"We know that many of our students require in-person services to support their learning, particularly those with complex needs that are difficult to address online," she said, according to the newspaper. "I am grateful to the entire BPS community and our city colleagues for all they've done to ensure a safe reopening."
Cassellius also tweeted a photo while visiting a classroom in session Monday morning.
"Great to see you all and visit with you and see learning in action both online and in person!" she said.
Hello happy faces of children. Thank you teachers and staff. Great to see you all and visit with you and see learning in action both online and in person! Thank you! Headed to my next school. pic.twitter.com/Vj25mXmFjA

— Brenda Cassellius (@BCassellius) December 14, 2020
In addition, the superintendent highlighted the "additional safety measures" being implemented in the 28 schools, which included access to testing for students in grades 9-12 who are learning in person:
— Installing freestanding air purifiers for every space that will be occupied
— Installing the highest available filter in all HVAC systems
— Providing medical grade personal protective equipment for staff
— Delivering an additional 1,000 disposable masks for students and 1,000 disposable masks for staff
— Testing and reporting on air quality and ventilation in school buildings
— Limiting the number of persons in a classroom and their interaction
— Inviting staff to participate in free COVID-19 testing at or near their school