Schools
Holding back students because of COVID? Some Boston officials want the option on the table.
"We cannot expect them to simply rebound once full, in-person learning returns."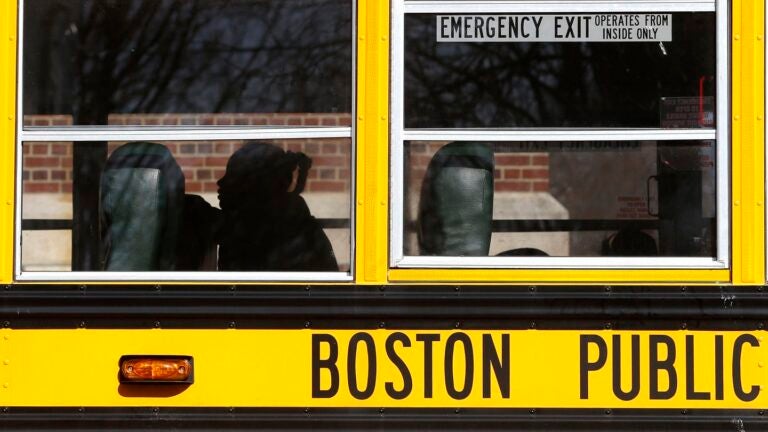 In a school year filled with unprecedented challenges and burdened by the limitations of remote learning, Boston city and school officials are considering avenues to ensure struggling students get the help they need — including, possibly, by holding them back a grade.
Last week, the Boston City Council unanimously adopted a resolution filed by At-Large Councilor and mayoral hopeful Annissa Essaibi George. The non-binding measure vocalizes council support for Boston Public Schools and the state Department of Elementary and Secondary Education to "determine every way to support our students educational, social, and emotional development, including pursuing a student retention policy" amid the COVID-19 pandemic.
"This resolution urges the district to formulate a policy allowing students the ability to repeat a grade or get additional support going into the next school year," Essaibi George, who chairs the council's Committee on Education, said while introducing the resolution at the council's Feb. 10 meeting. "We don't have time to wait for a student retention policy or to have a hearing on this matter … because we cannot let more of our students fall behind developmentally and academically due to this pandemic."
Essaibi George, a former East Boston High School teacher, said educators and officials must be proactive in their approach and work to put summer learning programs in place with enough time for students and families to review options and make a decision beforehand.
"We also know that this pandemic has been too disruptive for our students, and we cannot expect them to simply rebound once full, in-person learning returns," she said.
Under Boston Public Schools' current policy, students are promoted to the following grade based on passing certain identified courses and tests.
But school leaders are giving thought to how the pandemic should provide for flexibility of existing rules, particularly around promotion and retention, attendance, student assessment, graduation, and the district's "advanced work class," which allows for an accelerated curriculum for students in the fourth, fifth, and sixth grades.
Superintendent Brenda Cassellius pitched to the School Committee the need for slightly altering policies in those areas last month. The group voted unanimously on Feb. 3 to support the changes and grant Cassellius the temporary authority to set standards for each policy.
"Throughout School Year 2020-2021, the district has been implementing a plan for equitable recovery from learning interruptions resulting from school closures during School Year 2019-2020," Cassellius wrote in a Jan. 27 memo to School Committee members outlining her proposed alterations. "Our strategy has focused on a strong, standards-aligned instructional plan that addresses students' unfinished learning while incorporating social and emotional learning practices.
"At the same time, we have been assessing the COVID-19 pandemic's continued impacts on our students, and we recognize the need to temporarily alter some of our policies in order to provide our students with the best possible chance of academic success during this challenging and unprecedented time," she wrote.
Under Cassellius' plan presented to the committee, the district will pause its current promotion and retention policy for one year.
School leaders will sign off on whether to retain a student, according to Cassellius' presentation. Students who have "academic concerns" will receive a personalized "Student Success Plan" and summer learning will be provided to students whose parents request they be considered for retention, Casellius indicated.
The superintendent's overview also noted that "summer school, tutoring, or other supplemental learning may be required."
"Boston Public Schools (BPS) is grateful for the partnership of the Boston City Council and the leadership of the Education Committee Chair, Annissa Essaibi George, as we all work to ensure our students are accessing the teaching and support they need to thrive — especially in response to the global pandemic," a spokesperson for Boston Public Schools said in a statement to Boston.com on Wednesday, in response to the council's resolution.
"We value the Council's voice in all policy considerations and likewise have been engaged in an important conversation about promotion and retention policies," the statement continues. "BPS shares the Council's commitment to arriving at an approach that accounts for each student's unique experience and includes input from families, teachers, and school leaders."
In particular, the spokesperson said the superintendent's policy change "complements (the) Council's resolution by outlining a process through which final decisions about promotion and retention are made, and was one part of a larger approach to reviewing and amending policies in our current hybrid/remote learning model."
According to district data Cassellius shared with the committee, 1,117 students were identified to be retained between June and October last year — a slight decrease compared to 1,984 students identified the previous year. There are over 54,000 students districtwide.
Black and Latinx male students along with students with disabilities and English language students "account for a disproportionate share of retentions," according to the presentation.
In the council resolution, Essaibi George noted that accommodating a large number of retention requests could be logistically difficult for the district. But she urged school officials to review the feasibility of such a policy, set its criteria, assess students, and discuss the options available with students and their families.
The maneuver could also include offering priority seating for "intensive in-person educational opportunities during the summer and during out-of-school-time in the 2021-22 school year" as well as retention for the fall of that school year with advancement the following spring, or retention for the entire next school year, the resolution says.
"My resolution addresses the needs of Boston's most vulnerable students — those that need and deserve someone in their corner," Essaibi George said in a follow-up statement. "Actual readiness must guide our students' grade placement. We know that moving a student up a grade level when they are clearly not ready to do so, is ultimately failing that student, their family, and educators."
Read the resolution: