Schools
Adults are worried about student 'learning loss' due to the pandemic. A Boston teacher says they should listen to what kids have to say.
"Nobody's learning if they're suffering."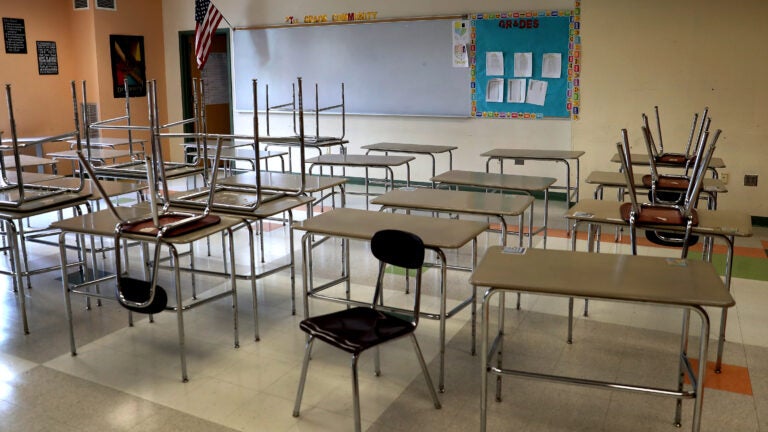 A Boston Public School teacher is asking adults to listen to what kids have to say about how the last year has impacted their education, as officials across the country discuss options for addressing student "learning loss" due to the coronavirus pandemic.
Neema Avashia, who teaches 8th grade civics at McCormack Middle School in Dorchester, wrote in an op-ed in Education Week that if the educational responses to the pandemic are "the same tired approaches" that existed before — like more assessments, longer school days, and "pages of standards" — the interventions will fail just as they did before the virus shut down normal operations.
"We have an opportunity to think and plan differently in this moment—to build a system that is responsive to the needs of the students it purports to serve," Avashia wrote. "Doing so requires that we begin by listening to those young people and amplifying what they say they need, as opposed to what we as adults think they need."
The 8th grade teacher did just that, asking her students to fill out a survey with a series of questions ranging from "During the pandemic, what are the things you feel like you have lost?" to asking them to share how they felt they've grown or learned. She also asked them to weigh in on the idea of "learning loss" by asking "What do you want those adults to know about you and your experience during the pandemic?"
In response, many students shared that during the pandemic they feel they have lost friends, lost time and celebrations with family, lost connections with others, and lost the ability to go outside and pursue their favorite activities like sports.
Some spoke of losing their sense of self during the pandemic.
"I lost family, I lost myself and what hurts me more is that I lost everyone who said they were going to be there for me," wrote one student.
It is the emotional state and health of students that officials need to focus on, before pressing interventions to try and catch up to the "normal" that existed before COVID-19 hit, Avashia told Boston.com.
"If we don't actually address the emotional struggles that the kids are having, then all the intervention is for nothing," she said. "Nobody's learning if they're suffering. You can't. So I have just been really distraught to see all this emphasis on the academic intervention side, with zero conversation about what are the actual mental health resources we need in place. … Do we need to think differently about the standards for the next couple years and pare back so that people can really focus on relationship building? There is none of that happening."
The message the middle school teacher said she's been getting from officials is that getting kids back into school buildings "solves" the mental health issue, which is why remediation steps are at the forefront.
She said she's concerned officials think adding more school hours and getting kids back into buildings alone will address the trauma students have experienced over the last year, arguing that pre-pandemic there was a lack of mental health support for kids in schools, with far more students needing counseling than available slots.
Ensuring that there are structures and systems in place to support student mental health and relationship building should come first, but at the moment that doesn't appear to be part of the conversation, the teacher said.
"I just don't understand how we are ignoring the fact that children are surviving a pandemic and that they're going to need help processing that before we're like, 'And now you need to have remediation in your math skills,'" Avashia said.
The 8th grade teacher urged officials and adults to switch away from talking about young people solely from a "deficit mentality."
Everyone is living through the pandemic, and it's impacting each person — kids included — differently, she said.
"There are ways in which we're suffering, and there are also ways in which every single one of us is growing and changing right now," Avashia said. "So in the list of standards that students are supposed to meet in 8th grade before they go to 9th grade, are they necessarily going to meet every single one of those standards? I don't know. But I also know that I have kids who have engaged with remote learning in a way that they were never engaging in-person because too many other things were getting in the way."
Even with the change in the educational system due to the pandemic, kids still are learning, the teacher stressed. Before the pandemic, she saw some students struggle with anxiety or school rules — such as dress codes — which impacted their engagement with learning. For others, attendance was more challenging.
But with virtual learning, some of those barriers have been lowered, according to Avashia. Remote learning just requires students to "come as they are," she said.
For some of her tech-savvy students, they're able to explore more of their own interests. She also has students who are becoming creative — making art and becoming entrepreneurial — over the last year.
"Kids innately are learners," Avashia said. "So there's lots that they're learning, but the really narrow focus on learning in tested subjects erases all of that."
If remediation solely focuses on catching up to pre-pandemic requirements with testing, it discounts those other ways students are growing and learning in an unprecedented and challenging year, the teacher said.
Likewise, she said summer school, extended days, and intervention classes also are likely to be seen as punitive by kids.
"This isn't their fault," Avashia said. "If anything, this is adults' fault. And if anything, really it's the same people who are saying there is learning loss who also said we're going to open casinos and restaurants and gyms before we think about a plan for schools … Adults have messed this up and then we're putting all of the burden for solving it on the backs of kids. That's incredibly unjust." 
The idea that "learning loss" is an adult problem is a belief Avashia said she's heard from her students, who called out the issue as adult "discomfort" that things aren't operating the way they normally do and are trying to make students fit back into pre-pandemic paradigms.
"A lot of young people struggled in our schools prior to the pandemic," Avashia said. "To act like going back to that is the right thing to do is just horrible to think about because we needed to do better before and all this pandemic has shown is that we really need to do better now. We really need to ground our schools in strong relationships. We really need to ground our schools in responding to what the community needs. We really need to be listening to what young people are saying and using that to drive what education looks like."
In response to a question on her survey about what they wanted adults to know when it comes to "learning loss," her students offered a range of messages:
"Learning online is already pretty hard so more testing will be a terrible [idea]. I think we shouldn't worry as much about the school than the students."

"MY GRADES ARE BETTER now stop tryna change things because you are uncomfortable thank you."

"I think [it's] a very dumb idea. This pandemic is already very stressful for students and giving us more work [won't] help. Also, [it's] very risky, since kids can bring back the virus and family members might not have the healthcare they need."

"I want them to know I am not learning as much as I would in real school [but I'm] still learning a lot."

"My experience is not the best because online school is not easy. Online [school] makes some students stressed out way more than if they were in school."

"I want them to know that some kids may be struggling, but some are having less of a problem with remote learning than others because every person has different experiences with things."

"That it is not easy to get work done [after] being on the computer all day."

"I want them to know that during this pandemic it could be harder for us because we could get distracted quicker but in my opinion I'm doing great. My experience with only is good because my grades are higher than before ([I've] improved)."

"The reason is because we have no motivation to do anything and being pressured to do more work is overwhelming."

"I want them to know how hard it is to focus at home when you're staring at a bright screen for almost 3 hours."

"I just want the adults to know sometimes it isn't that easy but I believe they know that so just the fact that we all know this remote learning is stressful so not being pushed can probably help a child not feel so stressed."

"My experience during the pandemic hasn't been the best but it has not been the worst either. I say this because online school is going [quite] good, [and] sometimes it can be stressful but I get through it. A lot of [things] go on outside of school that make the pandemic even harder then it is."
Avashia said she hopes officials remember that the lives of kids have changed just as much — if not more maybe — than adults during the pandemic.
Normalcy has been taken away from them, too.
"Policy decisions have gotten us here — leadership has gotten us to where we are," Avashia said. "So what does it mean that kids are going to experience, you don't get to have your summer and connect with people and be social and do the things that you haven't been able to do for a whole year? You need to go to school, you need to be on Zoom more. That to me, is just really gutting."
The 8th grade teacher said when it comes to designing summer school interventions, she'd like to see efforts to get kids outdoors and connected with one another, as well as the adults who care about them, to help address the loss of connection kids have suffered all year.
"I have kids saying they've lost who they are," Avashia said. "I'm not worried about math and English right now — I'm worried about that kid as a human in the world. If you don't know who you are anymore, then I've got to help you get that back first. And I just feel like that's not the conversation we're having."