Schools
Cornel West is in a fight with Harvard, again
The popular professor, who left Harvard in 2002 after a dispute with its president, says he may leave again if the university does not grant him tenure.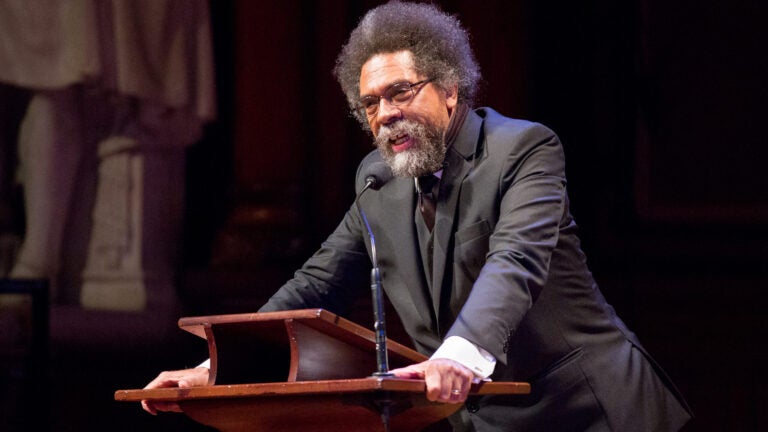 When Cornel West's Harvard position came up for review recently, West said he believed his long career as a public intellectual and his past tenure at Princeton, Yale and Harvard itself qualified him for not just a renewal of his contract, but for tenure, the ultimate honor.
He had been a prolific writer and popular professor in African American studies at Harvard from 1994 to 2002, before moving to Princeton after a dispute with Harvard's then-president, Lawrence Summers.
About five years ago, when he had just remarried and wanted to live in Boston, he returned to Harvard, accepting a nontenure position. At that point, he says candidly now, he needed a job, and also considered Roxbury Community College and Boston University.
Now, West, 67, believes he has earned the right to be considered for tenure. A faculty committee has agreed, but he says that Harvard has rebuffed the request, setting off student outcry, a petition drive and new questions about whether the university has done enough to elevate its Black and Latino faculty.
Tenure is the difference between "first-class citizenship and second-class citizenship in the academy," he said. "I refuse to go through the back door."
He added, "I am about ready to pack my bags."
A Harvard spokesperson, Jonathan Swain, said he could not comment on the negotiations. But at a Harvard faculty meeting Tuesday, Lawrence Bacow, the university's president, alluded to the dispute, saying he was "firmly committed to the success of our Black faculty."
He added that it was not his role to put forward candidates for tenure — that was done by "the dean of the relevant school" — though he was the final arbiter.
West's complaint adds new fuel to a debate over race and tenure that is being waged at Harvard and other universities where Black and Latino professors say they are underrepresented in the ranks of tenured professors.
Universities say that they have made progress in diversifying their faculty, but that progress is slow because the pool of Black and Latino Ph.D. candidates, who feed the tenure track, is smaller than for white candidates.
Hundreds of students have quickly mobilized to support West's bid for tenure, saying that a scholar of his eminence and reputation hardly needs to prove himself all over again.
"We say that it is almost difficult to believe Harvard's dismissal of West's prolific intellectual output because we are keenly aware of how predominantly white institutions disregard the contributions of Black scholars," says a letter of protest signed by Ph.D. candidates.
The letter goes on to say that Harvard's Divinity School, where West has his main appointment, has only two tenured Black faculty members out of 21, and one African American in a tenure-track position, out of four.
His threat to leave and the protests over his treatment appear to be having an effect, West said. Last week, the African American studies faculty voted to initiate the tenure process for him and on Monday the Divinity School faculty followed suit.
Tenure was also a flash point at Harvard in December 2019, when more than 100 faculty members signed a letter calling for a comprehensive review of the tenure process. The letter came after Harvard denied tenure to Lorgia García Peña, a professor specializing in Latino and Caribbean studies. Many colleagues and alumni saw the decision not just as a rejection of García Peña but as devaluing the field of ethnic studies.
Harvard's annual diversity study for 2021 shows that the percentage of tenured faculty who are not white males has risen to 41%, from 29% in 2007. The shares of white women and Asian men were the highest, but the number of underrepresented minority women grew the most. The proportion of tenured underrepresented minority men, which includes Black men, grew to 5% from about 4%.
A study by the National Center for Education Statistics in the fall of 2018 found that 75% of college professors nationwide were white. Of the remaining 25 %, 6% were Black, 6% were Hispanic, and 12% were Asian. The study noted an increase from 1997, when 14% of college professors were nonwhite.
Harvard is not alone in its tenure disputes. The University of Virginia and Yale, for instance, both granted tenure to Black or Latino professors in recent years after their initial denials drew protest.
Patricia A. Matthew, an associate professor of English at Montclair State University in New Jersey, edited a book of essays on the experience of Black faculty members after she was denied tenure by a prior university administration in 2007, a denial that was also reversed.
"It's particularly cynical given how many campuses there are across the country where students are crying out for Black faculty," said Matthew.
The tenure process is notoriously opaque, and while faculty have a strong hand in determining who gets tenure, Harvard's president and provost are the final arbiters. As a result, critics say, it is fair to see the tenure process as a reflection of Harvard's institutional priorities.
On a personal level, the graduate students supporting West's pursuit of tenure said in their petition that he is an electrifying presence. In his philosophy classes at the law and divinity schools, the letter said, West taught the students to appreciate the unexpected connections between Nietzsche and Nina Simone, between Chekhov and Coltrane.
Meshaal Bannerman, a senior at Harvard who took West's popular introductory African American studies class, described his former professor as warm and approachable despite his celebrity.
"A lot of Black students at this school are very disappointed and very upset, but also a lot of non-Black students as well," Bannerman said.
West rose to prominence with his 1993 bestselling book, "Race Matters," followed by another bestseller, "Democracy Matters." He graduated from Harvard in 1973 and was recruited to its faculty in 1994 as part of a "dream team" to help rebuild the foundering African American studies program.
Over the years, he branched out from academia to advise or campaign for presidential hopefuls like Bill Bradley, Ralph Nader, Al Sharpton and most recently Bernie Sanders. He dabbled in hip-hop and played "Councillor West" in two Matrix movies. An album he collaborated on, "Four Questions," is up for a Grammy.
West says the tenure issue arose when he came up for his five-year employment review recently. The faculty committee that oversaw that review recommended that his position of Professor of the Practice be converted to a tenure job, people familiar with the committee's work said.
Although he had been offered more money and an endowed chair, the dispute, West said, is not about money. (Nontenured professors can sometimes make more than tenured ones.)
The last time West clashed with Harvard's administration was in 2001, when Summers, a former treasury secretary in the Clinton administration, took over as the university's president, vowing to imbue the place with creative tension and to curb rampant grade inflation.
Summers suggested that West was spending too much time on outside activities and not enough time on serious scholarship and teaching in the classroom, according to accounts at the time.
An aide to Summers said at the time that it was all a "terrible misunderstanding." But West would not be placated and left for Princeton in April 2002. On the way out, he called Summers a bully and "the Ariel Sharon of American higher education," a characterization criticized as having anti-Semitic overtones.
By the time West returned to Harvard in 2017, Summers was long gone. Harvard's current president, Bacow, "actually has some decency," West allowed.
He said he is mystified as to why he would not be given a tenure review, but offered some possibilities: a reluctance to grant a coveted position to someone of advancing age, whose best work might be assumed to be behind him, and concerns that his support for the Palestinian cause might offend the prevailing orthodoxy and donors.
"More than anything else, there's a certain disrespect for Black scholars and taboo issues that don't allow us to have a robust and respectful dialogue," he said. "And both of those are very much tied to the way in which the university's become commodified. It's a money-driven institution, and it's sad."
Get Boston.com's browser alerts:
Enable breaking news notifications straight to your internet browser.