Schools
Students demand changes on Boston Student Advisory Council amid allegations against leadership
A student who recently resigned from the council alleged that a supervisor "has been running a cult right under our noses for years now."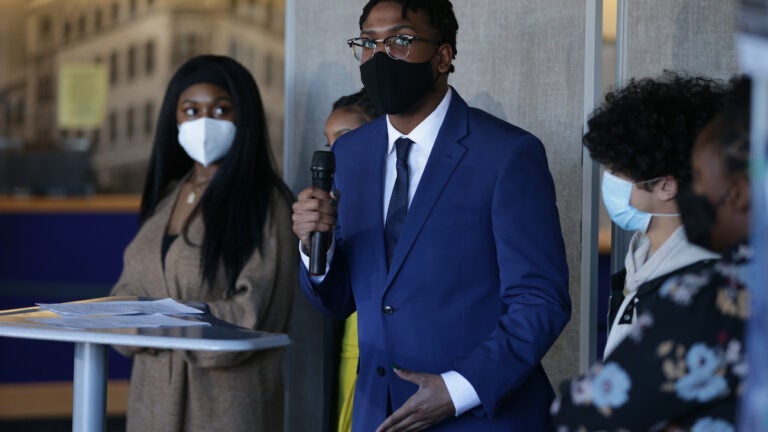 Following a wave of resignations among members of the Boston Student Advisory Council last week over a supervisor's alleged conduct and how the group is administered, students who remained on Sunday demanded several reforms and called on the supervisor to resign.
In a statement shared on Twitter, the BSAC disclosed that the council met last Thursday, before resignations were submitted, "to share our concerns and traumatic experiences with BSAC adults" outlining grievances that included "emotional manipulation, senior staff lying to students, senior staff attempting to force students to participate in re-evaluation counseling (which contains cultist behavior), and senior staff silencing/moderating students (especially students of color)."
About a dozen of the 49 students who make up the council resigned as of Saturday, pointing to those issues and others, such as feelings of being ignored when raising problems about and questions relating to Boston Public Schools, as reasons for stepping down.
Khymani James, a senior student at Boston Latin Academy who was a BSAC representative and the student representative to the Boston School Committee, resigned from both positions last week. In doing so, he described, among other issues, disrespect he received while serving on the committee, including racism and "blatant disrespect + adultist rhetoric used towards me in public meetings."
On Saturday, students who resigned from the BSAC detailed the problems at a press conference, where they accused a BSAC supervisor of psychological abuse and explained how they felt pressured to participate in re-evaluation counseling in order to serve on the council, according to The Boston Globe.
Also known as "RC," re-evaluation counseling is a controversial, peer-based therapy dating back to the 1950s, the newspaper reported.
Two students who spoke to reporters said they did not attend RC sessions but their peers described the sessions as a "cult" operated by Jenny Sazama, cofounder and director of the nonprofit, Youth on Board, which administers the BSAC alongside the school district, the Globe reported.
James said Sazama "has been running a cult right under our noses for years now."
BSAC representatives — who attend various high schools in the district — are paid an hourly minimum wage for their positions and meet twice a week to help advise the School Committee and district at-large, though students who resigned said they felt their input had little impact on school officials' decision making.
Students who spoke Saturday said students were encouraged to cry while participating in RC sessions and felt that their privacy, if they did express their emotions, would not be respected.
One student told the Globe students were paid for attending, which added to the pressure to participate.
Charlene Adames-Pimentel, a senior student at Boston Latin Academy, said she almost shared a personal story at a December RC meeting but ultimately refrained from doing so, according to the Globe.
"It was very scary in a way to think that if I were to share something, it wouldn't stay within this space," Adames-Pimentel, who resigned from the council, said. "I'm just very fortunate to have not shared as much. You can't trust strangers."
Youth on Board director, BPS respond
On Friday, students who resigned from BSAC said they felt staffers of Youth on Board were "emotionally manipulative," stating that staffers would often bring up their own personal issues in their private lives when students tried to raise problems and policy ideas, the Globe reported. Students said Sazama's conduct was a driving factor in their decisions to resign.
"Youth on Board creates optional, safe spaces for students to support each other," Sazama told the newspaper in an e-mail. "The organization values the health and well-being of every participant."
In a text message to Boston.com Monday morning, Sazama said "optional gatherings" are offered to students for an hour every two weeks "as a basis for providing emotional support to students through supportive listening."
Students must have a permission slip both they and their parents signed in order to attend, Sazama said.
"No student was ever compelled in any way to attend, and students were not paid to attend these sessions," Sazama said. "Student information is held in strictest confidence."
According to Sazama "the class was not a re-evaluation co-counseling class and participants were not part of RC." The group has met virtually over Zoom for the past year.
Asked for a response to allegations of emotional manipulation and other issues raised by students, Sazama wrote: "The purpose of Wellness Wednesdays is peer support among students. There is no other purpose, and the staff of BSAC and Youth on Board regret if there was any other impact."
A spokesman for Boston Public Schools told the Globe on Saturday the district heard the statements from students and is discussing its next steps.
BPS takes the allegations "seriously and is meeting with (students) to learn more about their concerns," he said.
"James' accusations are concerning, but we want to emphasize that we are meeting with students, families, and staff to understand more and learn if these are the shared feelings of other students on BSAC," he said.
The students' demands
On Sunday, students who still remain on BSAC said in their statement that they want RC sessions replaced with therapy conducted by trained professionals, and called for Sazama to resign as BSAC co-leader.
Other demands included that BSAC part ways with Youth on Board, that the council operate "in partnership with the district rather than under the district," that students are given authority to set agendas and determine which projects, guests, and partnerships to pursue, and that each school in the council be allotted the same number of representatives, according to the statement.
BSAC respects the decision of anyone who has chosen to resign, the statement says.
"While we respect anyone's decision to resign and hope to ally with them in the future, the vast majority of our body agrees that BSAC has the potential to do immense good for students and families," the statement continues.
The group, however, raised objections over the sharing of student testimonies provided in Thursday's meeting to the public "by other students without their consent." The council asked that anyone who shared a story that was not their own to remove it from the internet.
"In conclusion, Boston students recognize the opportunity BSAC presents to make our voices heard. We have a vision for the future that will allow us to continue the work we have been doing while removing the barriers that have silenced us," the statement says. "Others may want to burn BSAC to the ground but when the fire dies out and the smoke clears we will be here to build it with the new materials that didn't fit with the old structure. Now, we are ready to reimagine the system so that students are centered and given the autonomy they deserve."
We respect the former BSAC members choice to resign. Us members who are choosing to stay should be respected and our voices should be valued as well.

Feel free to DM this account with questions. We will keep the public updated.

Review statement below ⬇️ #bsacbuzz pic.twitter.com/Etuq092npV

— Boston Student Advisory Council (@BSACbuzz) March 7, 2021
Get Boston.com's browser alerts:
Enable breaking news notifications straight to your internet browser.