Schools
A school bus driver shortage is posing challenges in Massachusetts
"The pandemic just changed everything."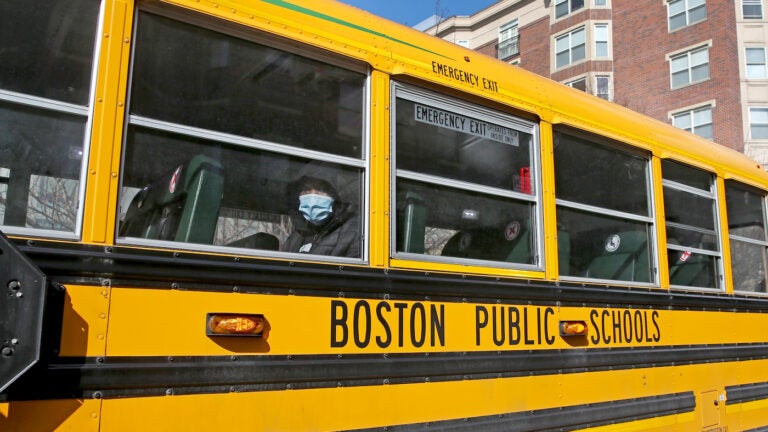 In Lynn, schools have reopened for some, but students haven't returned everywhere just yet.
Children are absent from school buses though — because the familiar black-and-yellow vehicles are absent from the city's streets.
Lynn Public Schools Superintendent Patrick Tutwiler told the city's School Committee last week the district has opted to temporarily suspend its transportation services because there aren't enough drivers to transport all students who rely on the bus. Families were first notified of the issue when service was cut last month.
The problem, Tutwiler said, stems from a nationwide bus driver shortage — and Massachusetts is no outlier.
The School Transportation Association of Massachusetts estimates there are approximately 1,200 vacant driver's seats to date across the state. The industry, built heavily around independent companies who contract their services to local schools, was hard hit by the initial shutdown of brick-and-mortar schools during the early days of the COVID-19 pandemic.
Schools in Springfield and Framingham have also reportedly faced driver shortages this year.
According to Tutwiler, Lynn schools, which rely on a private company for transportation needs, only have 18 bus drivers available — enough to bring 680 students to school during its phased-in reopening this spring — roughly 60 percent of the students who regularly take the bus.
The district is also the defendant in a lawsuit filed last week by its transportation provider, North Reading Transportation, which claims Lynn schools have not paid the company since March 2020, The Daily Item reports. NRT was able to reach agreements with most other districts it works with during the pandemic but not all. The drop in revenue has spurred business-threatening financial hurdles for bus operators around the commonwealth, the lawsuit says.
Lynn schools reopened classrooms for students with prioritized needs in February, followed by kindergarten and grades one through five. Middle and high school students are slated to return in May.
Tutwiler said bus service has been suspended for another month until May 12.
"I want to underscore that in an effort to meet every student's transportation needs, we have left no stone unturned," he said, during the April 8 committee meeting. "We have explored numerous alternatives, evaluated multiple options, all of which have not yielded a substantive, comprehensive, reliable, and safe means for transporting our students."
'No question about (it): The pandemic just changed everything'
A driver shortage has been sizzling for years, according to David Strong, president of STAM, a nonprofit trade association that represents school transportation providers across the commonwealth.
But when schools closed their doors and went online last year, as the health crisis hit the United States, what was once a pesky issue reached a boiling point.
"No question about (it): The pandemic just changed everything," Strong told Boston.com. "It just created a situation that took a difficult situation and turned it into an impossible situation."
The longer schools were closed, the more transportation providers had to consider how to keep their businesses afloat. Many continued to pay their drivers for as long as they could, Strong said.
The state Department of Elementary and Secondary Education encouraged districts to keep the payments steady to the companies, too.
"Most of the cities and towns and districts understood the need for people to still have cash flow and they continue to pay, if not 100 percent, at least a reasonable, negotiated number," Strong said. "But there were several that just said, 'No, you're not running the buses, we're not paying anything.'"
Drivers were laid off or sought other jobs to make ends meet, potentially spurred by personal COVID-19 health vulnerabilities or concerns, according to Strong, who also cites commercial trucking such as Amazon delivery as another draw from the industry's hiring pool.
"A lot of us have been reaching out, trying to find more drivers," Strong said. "And when you do that, you've got to get somebody to come in the door and be interested in driving, and then you've got to put them through the training, especially if they're not already licensed."
The whole process can take two to three months to complete, he added.
Even with high unemployment last year, some employers had difficulty enticing new employees due, in part, to the extra $600 weekly unemployment benefit provided to people out of work, John McCarthy, CEO of North Reading-based NRT Bus Inc., said last fall.
"We had eight recruiters," he said while discussing the COVID-19 pandemic's impact on the industry. "I think out of the eight recruiters, we had seven applicants."
Tom Hamilton, STAM's executive director, also thinks the unpredictability of the current school year played a role in the problem.
Companies did not know when schools would reopen — if they did at all — this year, he said.
"I think a lot of people who were bus drivers, longtime bus drivers, they saw that situation, and, you know, like everybody else, they got to put food on the table, and they got to pay the light bills, just like everybody else," Hamilton said in a recent interview. "So they got to take care of their family …. They got concerned, and they went out for other jobs."
'The people that are in the school bus industry are people that are going to keep working at this'
Strong believes most school districts are engaged with their transportation providers in finding solutions to fill the employment gap.
"I think … most of those conversations are conversations that are very cooperative ones, you know: 'We're in this together, we need to try to work together to come up with a solution as quickly as possible.'" he said.
The problem is also on DESE's radar.
Hamilton said STAM is currently reviewing the bus driver training and certification process to see if changes can be made to speed up the procedures.
"Obviously nothing will be taken out that takes away from the safety parts of the training," he said. "Safety is number one for everybody, you know, and that's a good focus of the training that these new bus drivers get. But there may be some other issues that we may be able to speed … up."
STAM, notably, has not yet brought the prospect to DESE, he said.
"But you know, we're working aggressively to get the process, I guess, to run a little smoother," he said.
STAM is also promoting the details and perks of the job online in hopes of wrangling a few new drivers.
"Unfortunately, it's not a situation that's going to go away, that there's a quick fix for," Strong said. "But I also believe that, you know, the people that are in the school bus industry, are people that are going to keep working at this and we're going to do the best we can to fix it as quickly as we can."
'It's a very rewarding job, really, in a lot of ways'
For those considering becoming a driver, Strong said there are definite benefits to the job.
"Depending upon their situation, it's a great job for the stay-at-home mom whose kids are in school because she works in the morning and then she works in the afternoon when our kids are in school anyway.
"Scheduling wise, it's also not a bad job for retired people," he added.
Prior experience is also not necessary for prospective drivers, according to STAM.
"Our training gives drivers all the tools that they need to successfully operate the buses, and most drivers tell us that they find that it's easier than they expected," Strong said in a statement. "People who are interested in becoming a bus driver shouldn't let the size of the vehicle be a deterrent."
But Strong also notes there's a larger sense of purpose and community inherent in the job as well.
Drivers become very familiar with the students and families they serve, Strong said, noting that a bus driver is usually one of the first people school children will see in a given day.
"It's a very rewarding job, really, in a lot of ways," he said.
In the meantime, Strong asked the public to remain patient as bus operators and schools try to figure out a solution.
"I'm not going to lie. I'm not going to say it's going to be a piece of cake," Strong said. "It's going to be a struggle for a while. But I just believe that we are going to be able to get through it, and we're going to be able to get more and more drivers and more buses on the road. Things are going to get better. We'll get there."
Get Boston.com's browser alerts:
Enable breaking news notifications straight to your internet browser.