Schools
Massachusetts orders all high schools to fully resume in-person classes by May 17
"By bringing high school students back now, we will be in a stronger position to start school in the fall."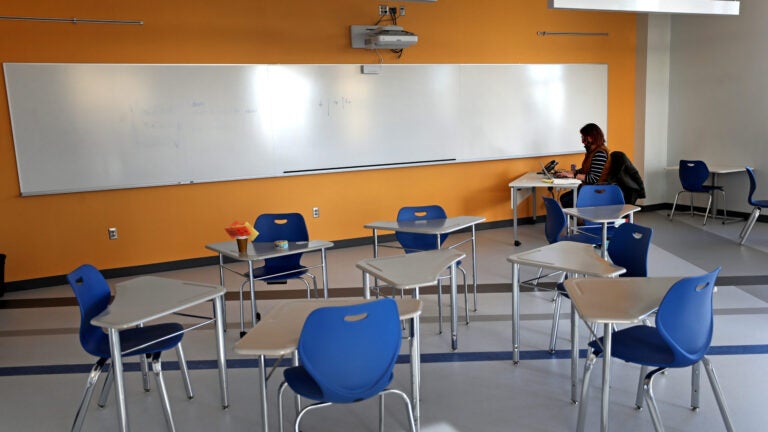 Massachusetts officials are moving to ensure that every high schooler in the state will get at least a month back in the classroom this spring, despite the ongoing COVID-19 pandemic.
Jeff Riley, the state's commissioner of elementary and secondary education, announced Tuesday afternoon that all high schools must resume in-person classes five days a week by May 17.
The move — announced as Gov. Charlie Baker unveiled plans to phase out COVID-19 business restrictions this spring and summer — comes after Riley ordered all public elementary and middle schools in Massachusetts to fully resume in-person learning this month, citing the adverse academic and mental health impacts of remote learning and research suggesting that in-school transmission of COVID-19 is rare.
Do you agree? Scroll down to take the Boston.com poll at the bottom of this post.
Massachusetts made all residents and students as young as 16 eligible to get the COVID-19 vaccine last Monday, and teachers and school employees have been eligible since March 12. The state's first-in-the-nation pool testing program has also found the COVID-19 positive test rate among students, teachers, and staff no higher than 1 percent.
"With the robust mitigation strategies schools have put in place and all the scientific data around schools' safety, it is time to begin the process of returning all K-12 students to classrooms," Education Secretary James Peyser said in a statement. "By bringing high school students back now, we will be in a stronger position to start school in the fall."
According to state officials, about two-thirds of all high schools in Massachusetts already have plans to fully resume in-person learning by May 17. Riley's order, made under authority granted to him in March, means that the remaining third will have to formulate plans to offer classes to high schoolers five days a week (though parents can opt to keep their children remote through the end of this school year).
Districts will be able to apply for a waiver from the Department of Elementary and Secondary Education in order to delay the full resumption of high school classes past the May 17 deadline, though officials say they will be "considered only in a limited set of circumstances." Any district that doesn't get a waiver will have to make up missed in-person learning time.
State officials are also encouraging districts to bring back high school students with learning disabilities or limited English language proficiency before May 17.
"As we have stated repeatedly during this school year, there is no substitute for in-person learning, particularly for students with disabilities and English learners," Peyser said.
"Every day a child is in a classroom is crucial," Riley added. "In addition to academic instruction and support, we know when students are in school, they have the opportunity to learn important social and emotional skills and have access to healthy meals as well as mental health and other support services."
Take the Boston.com poll on this subject below.