Schools
Mass. to put over $70 million into summer school programs in effort to make up for COVID learning losses
"This summer for many kids may be a little different than it's been in previous years."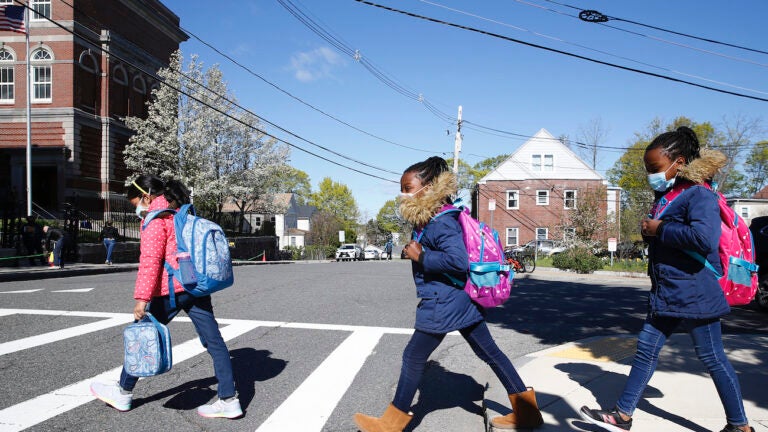 Gov. Charlie Baker announced on Friday that Massachusetts will pour over $70 million into summer school and recreation programs aimed at helping students make up for the learning losses suffered through remote learning during the COVID-19 pandemic.
The boost in cash from state and federal funding will be offered to support a "full menu" of options for school districts, from individual subject-geared supports to recreational activities, Baker said.
Studies show school closures meant many students missed out on "some fundamental issues around math and reading," he said.
"Under this plan, students at every grade level will have opportunities to take part in a mix of academic and recreational programs offered in schools, local community organizations, community colleges, and recreation sites," the governor told reporters at a press conference.
In whole, the state anticipates "tens of thousands of students" across Massachusetts will enroll in the programs this summer, according to Secretary of Education James Peyser, who said the blow dealt by the health crisis will likely be felt in schools for years to come.
"This is not a one and done project," he said. "We have to sustain our focus at the state and local level to accelerate student learning and address the lingering social and emotional issues that COVID has caused in order to help all of our children fully recover from this most challenging school year."
The announcement comes as more school systems return to in-person learning, as initiated by the Baker administration over the past month. Baker said officials hope to see all kindergarten through grade 12 students back in brick-and-mortar classrooms full time by May 17.
"Now that people are heading toward what we might call the final turn before the end of the year in the summer break, I just want to make everybody aware of the fact that we are taking quite seriously the notion that this summer for many kids may be a little different than it's been in previous years," Baker said.
Here's what to know about the initiatives:
Acceleration academies
The state Department of Elementary and Secondary Education will aid schools in establishing "acceleration academies," programs that will allow rising first and second grade students to hone their literacy development and rising third, fourth, eighth, and 10th graders to focus on improving their math skills.
The program boasts longer instructional blocks and smaller class sizes that allow for more "individualized attention" and project-based lessons, according to the Baker administration.
The program will be a multi-year initiative that officials expect will reach over 50,000 students annually, Baker said. The state will commit up to $25 million in grants for districts to operate the academies.
Matching grants
Schools across the commonwealth will have an opportunity to receive grants — up to $15 million in total — from federal funds in order to support four-to-six week, in-person summer school programs that offer a mix of academic instruction and recreational activities, officials said.
"The plan doesn't ask schools to focus merely on academics — kids also need opportunities to play with their friends and participate in safe environment and enrichment activities," Baker said Friday. "We're offering schools and community partners opportunities and funding to make these important activities happen this summer."
Summer acceleration to college
Another initiative will offer high school Class of 2021 graduates college-credited math and English courses for free, according to state officials.
Fourteen community colleges in Massachusetts will participate in the program, which the Baker administration is earmarking $1 million to operate.
Summer Step Up
The state Department of Early Education and Care will also offer funding for a new program, "Summer Step Up," that is geared toward some of the state's youngest students.
"With pre-school and kindergarten enrollments down over the last year, 'Summer Step Up' is an opportunity to engage young learners and accelerate learning while smoothing the transition to in-person learning for young children to provide them a stronger foundation for academic success," the Baker administration said in a statement. "The Administration will commit up to $10 million to this program."
Other efforts
The Baker administration announced several other investments intended to help students get back on track, including $10 million in early literacy tutoring grants, a K-8 "math acceleration program," an expansion of a $2.5 million math program for gifted students, $1 million to fund summer college courses for high school junior and senior students enrolled in early college programs, and $3 million for camps and community organizations to boost "educational enrichment" in their summer programs, officials said.
Get Boston.com's browser alerts:
Enable breaking news notifications straight to your internet browser.