Schools
The Boston School Committee has raised the graduation standards for the Class of 2026
The new regimen brings the district in line with state recommendations aimed at equipping students with classes required for entrance to state-run universities.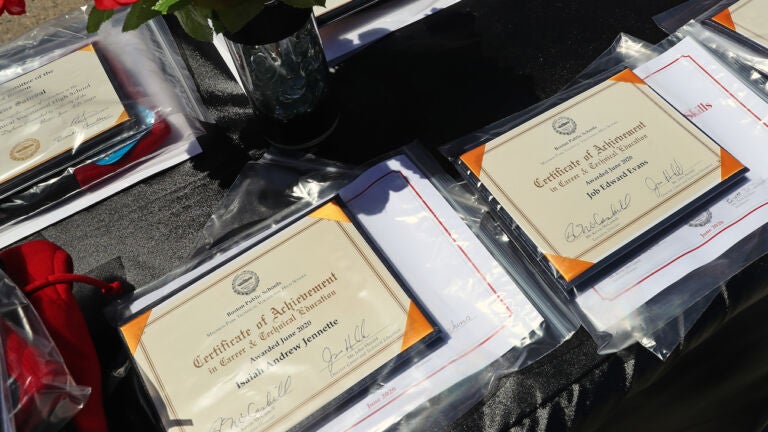 The Boston School Committee voted Wednesday to raise the graduation standards at the district's high schools, bringing the school system in line with a state-recommended program geared toward mandating core classes.
According to The Boston Globe, the policy — passed in a 6-1 vote — is based on MassCore, state recommendations aimed at giving students classes required to enter state-run, public universities. The new rules will apply starting with the Class of 2026, which is currently in the seventh grade, across the city's three dozen high schools.
"It really sets a high standard for our students — that allows us all the way from pre-K to 12th grade to get the students to a more rigorous education so they're prepared for college and career," Superintendent Brenda Cassellius said during an appearance on GBH's "Boston Public Radio" Friday.
"Many in the community feel as though our exam schools are the only schools that offer rigor. That is just not the case," Cassellius added. "We need to do a better job of celebrating the great schools, high schools that we do have in our district, and I think this is one step in showing that we have high standards."
Under the MassCore requirements, students take four years of math, English, and physical education; three years of social studies and science; two years of world languages; one year of the arts; and five electives, the proposal says.
Graduation requirements currently vary among high schools in Boston, according to the Globe.
In the proposal, school officials wrote that eliminating opportunity and achievement gaps is central to the district's mission.
"Maintaining policies that propel students toward College, Career and Life Readiness and ensure that graduation requirements are uniform, transparent, rigorous, and consistent in the district and that ensure the ability of our stakeholders to trust the district's commitment to equity is pivotal to this responsibility," the proposal says. "This policy affirms the district's commitment to providing a rigorous and equitable learning environment for all students, in particular at the secondary level, regardless of the school in which they are enrolled, and governs district-wide graduation requirements for all Boston Public School students."
The adoption of new standards has long been a goal for district leadership — even before Cassellius's tenure — though one that had met pushback from school administrators and teachers, who raised concern that setting higher standards would adversely impact graduation rates, the newspaper reports.
Last year, the Boston High School Heads Association criticized Cassellius for developing the proposal without their input and for pushing to make changes during the COVID-19 pandemic, according to the Globe.
"We're voting to change the graduation requirements during what I believe is the worst time imaginable," said committee member Lorna Rivera, the mother of a seventh-grade student. "As an education researcher, I know that whenever we raise standards and adopt more rigorous curriculum, there are unintended consequences, collateral damage, such as higher dropout rates and lower graduation rates for the students who are most disadvantaged."
Still, less than a third of Boston's high school graduates have completed MassCore in recent years, according to the Globe. Research in 2019 found students who finished the curriculum regimen performed better in college than those who did not.
Other committee members said the district should act on the change soon and pointed to Cassellius's plans for rolling out the new standards and funding the undertaking, which could cost $10 million and require 57 new positions, the Globe reports.
"Ever since I came on the School Committee we've been talking about MassCore — that's eight years," committee member Jeri Robinson said. "Two groups of kids have come through high school, and we are still where we were. So if we don't start at some point, we'll never get there. … I know that we are starting at a time when there are a lot of challenges."
The change also has the support of state Education Commissioner Jeffrey Riley and two mayoral candidates, City Councilor Annissa Essaibi George and Boston's former chief of economic development John Barros, who both urged committee members to pass the proposal on Wednesday.
Barros said setting MassCore "as a base-level standard is a big step in investing in our young students."
"I know adopting MassCore will take time, but I'm optimistic by doing so it will yield improvements in graduation rates and student success after BPS," Essaibi George said.
Newsletter Signup
Stay up to date on all the latest news from Boston.com