Schools
Parents concerned about Eversource 'propaganda' in Cambridge classrooms
"My real problem is Eversource trying to sneak it by. It's just cruel, honestly."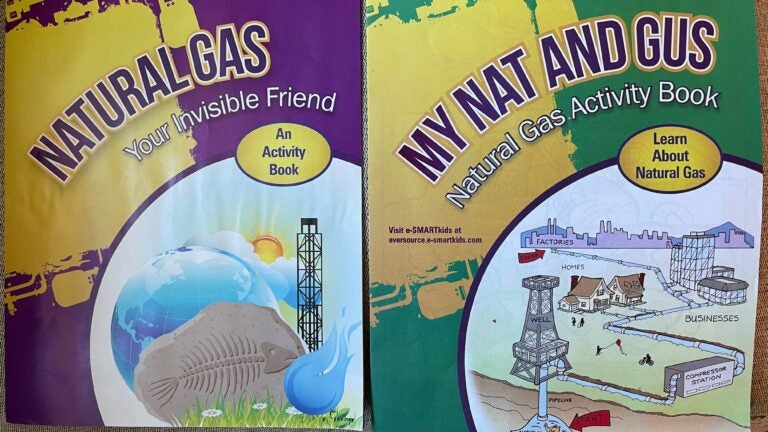 When Cambridge parent Gleb Bahmutov picked up his third grader from the Tobin Montessori school a few weeks ago, he was shocked to see an Eversource logo peeking out of his son's backpack.
The booklets, titled "Natural Gas: Your Invisible Friend" and "My Nat and Gus: A Natural Gas Activity Book," contain colorful illustrations about pipelines, energy consumption, home use, and safety tips.
Bahmutov told Boston.com that everyone in his son's class received one, but not everyone at the school. Since speaking with the district, he's learned that the booklets are something that are filtered out and not sent home with students, but it slipped past the school this time.
"They claim this will never happen again, and this was breaking a rule," said Bahmutov. "I don't blame the school or our teacher. My real problem is Eversource trying to sneak it by. It's just cruel, honestly. It's fine to try to convince me but to try to push it to kids when they don't know the consequences they will have to deal with is cruel."
This isn't the first time the district has managed this issue. In June 2018, a parent contacted Cambridge City Councilor and former School Committee member Patty Nolan when she found the same booklet in her child's backpack.
Nolan told Boston.com that the district has two policies that the distribution violated: one against sending home commercial flyers and another mandating that all distributed materials be approved by principals or the superintendent. Nolan said it appeared Eversource had sent the materials directly to at least two schools — the Tobin and the Haggerty – and some made it home with students.
"It was wrong in 2018 and it's infinitely more wrong in 2021 given the climate crisis," she said. "I think the problem is that we are facing such an incontrovertible looming crisis with our climate and planet, that to send home a book that makes light — it doesn't even mention concerns of climate — and makes it seem like a fun thing to do, to play with gas, love gas, and want gas as your friend; it borders on immorality these days."
In an email to Boston.com, Eversource Spokesperson William Hinkle said the books were developed to help raise awareness about the importance of natural gas safety at home.
"We recognize and agree that these materials can be improved, and moving forward, we will work to include climate change information in future educational materials, as well as continue to provide important natural gas safety tips," he wrote.
He also noted that there are different versions of the book dating back to 2011, which are updated periodically, and that books are provided upon request to schools in Massachusetts and Connecticut.
Nolan is confident the district did not request any books – now or in 2018 – but said it's possible a teacher may have requested them for the activities included.
Local members of Mothers Out Front (MOF), an organization advocating for sustainable energy and climate policy, have spoken out against the booklets.
Speaking with Boston.com, Cambridge parent and local MOF chapter leader Kristine Jelstrup called out the hypocrisy of Eversource saying they're planning for renewable energy while trying to teach children how great gas is.
"They're trying to say, 'gas is our friend, gas is a nice, wonderful thing, and it's going to see us through to the next generation' – it's just garbage," she said. "They know – all of the utilities, all of the big industries – they know that fossil fuel's time is over and they're still trying to reach out."
Newsletter Signup
Stay up to date on all the latest news from Boston.com