Schools
'There's really zero excuses': Boston city councilors want to know how schools keep classrooms cool from summer heat
"The reality is this is a serious matter."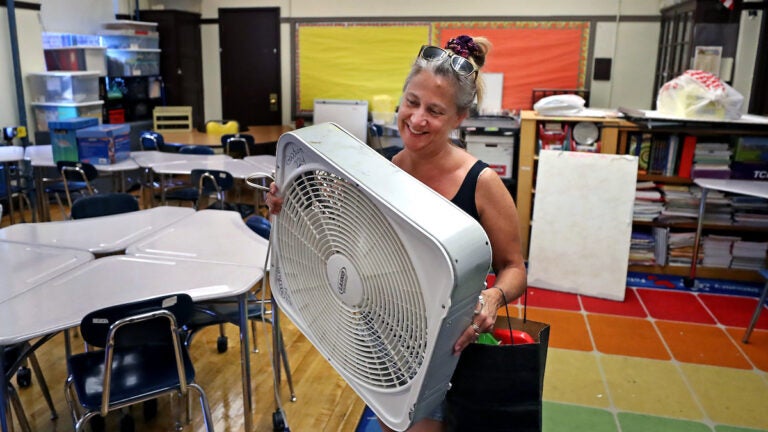 Following record highs for daily temperatures in Boston and a heat wave that left students and teachers in sweltering classrooms last month, city councilors want to know how Boston Public Schools are keeping their buildings cool.
Councilors Ricardo Arroyo and Ed Flynn filed a hearing order on Wednesday to get an understanding of just how many schools are facing extreme temperature issues and what education officials are doing to address them.
"The reality is this is a serious matter in the sense that when you are trying to, say, take an MCAS exam and your classroom is 85 or 90 degrees, there's a real impact that has on somebody's ability to focus, on somebody's ability to make it through that program," Arroyo said. "It's an unfair disadvantage."
While the lack of air conditioning in schools has been a longstanding issue, the problem was made starkly apparent during a heat wave in early June when local teachers spoke up about scorching temperatures in their classrooms.
Jessica Tang, president of the Boston Teachers Union, said at the time the union received reports from "hundreds" of classrooms without air conditioning recording temperatures in the 80s and 90s.
Many classrooms lack blinds, which means the sun shines through windows and heats up classrooms like it would a greenhouse, she said. There were not enough fans to go around.
"Students are lethargic and falling asleep in the heat," Tang said. "I've seen pictures of students with their clothes completely soaked through with sweat. When you have three fans on, it's really hard to teach because it's so loud and papers go flying. There are just so many impacts, and they are not adequate conditions for teaching and learning to be happening."
Under requirements issued by the Massachusetts Department of Elementary and Secondary Education, temperatures in rooms where students are present must not fall below 68 degrees when the outdoor temperature is zero degrees and must be no higher than "the outside temperature when the outside temperature is above 80 degrees."
The department allows districts to take half days due to heat only if schools can still meet the required instructional hours. If not, schools can cancel classes for a day, but that time lost must be made up, which could mean an extension of the school year.
Flynn said he wants Boston school officials to provide a detailed list of what buildings face air conditioning and heating problems prior to a hearing with city councilors.
"With the hundreds of millions of dollars this school department is receiving from the federal government, in my opinion, there's really zero excuses for not ensuring that our kids study in a healthy environment," Flynn said.
In Boston schools, classroom temperatures are monitored by school officials three times per day.
As teachers sounded the alarm last month, the district, in a statement, said fans were deployed to schools (between 600 and 800 in total, with two in each room without air conditioning) and that others were available upon request:
"BPS has also made sure that HVAC systems are fully functioning in schools that have them. Additionally, BPS shared guidance with school leaders suggesting that teachers limit outdoor activity, schedule cool-down breaks for students between lessons, and distance students so they may remove their masks whenever possible. There is a large supply of water for students to drink at each school and we ask that educators keep students hydrated with frequent water breaks throughout the day, regardless of activity level. BPS also encouraged school leaders and staff to take measures to keep learning spaces cool including minimizing the use of overhead lights, opening windows and operating fans, and closing shades and blinds to block sunlight."
A few weeks ago, the district ordered 6,000 air conditioners for school buildings, although a timeline for when those units will be delivered is not yet known.
Arroyo highlighted on Wednesday parents entrust schools with the safety of their children. The matter could also be perpetuating inequity, he said, considering that some schools may have temperature problems that others do not.
"But more importantly, we're creating real dangers to their health and real dangers to their ability to learn and retain information and do the things that we want them to do to be successful," he said.
Read the hearing order:
32633507212021033027691 by Christopher Gavin on Scribd
Newsletter Signup
Stay up to date on all the latest news from Boston.com